LT breathing tubes after cardiac arrest could save 10,000 more lives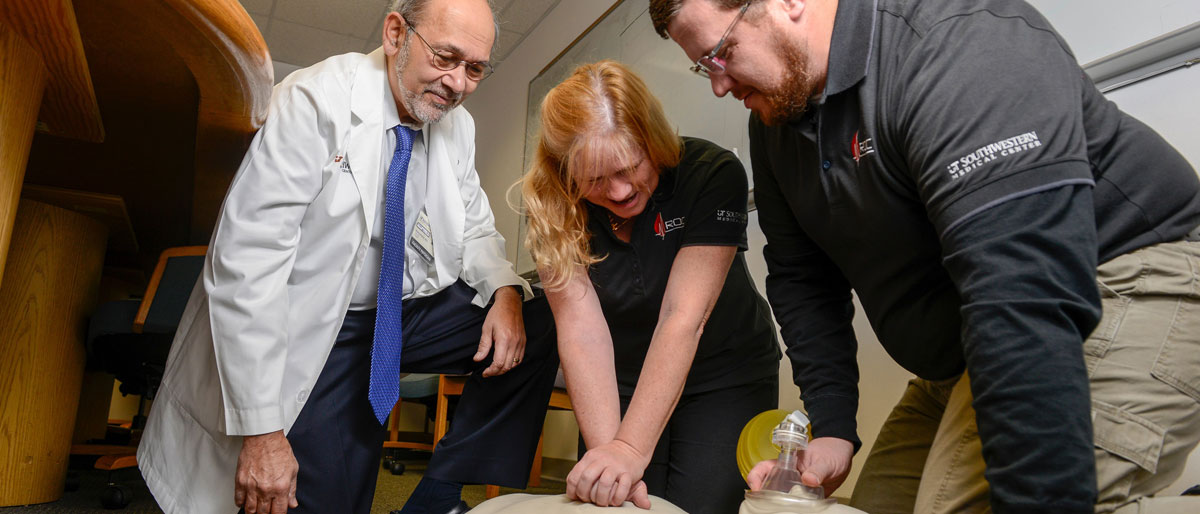 Heart attack patients given a different type of breathing tube by paramedics had better survival rates than those treated by traditional intubation breathing tube methods – findings that could potentially save more than 10,000 lives annually.
Only about 10 percent of people who suffer cardiac arrest outside hospital settings survive, and paramedics currently use both breathing tube techniques. By comparing the two techniques in real-world cases, investigators identified a 3 percent better survival rate for patients who received the laryngeal tube (LT) device on scene vs. standard intubation. The landmark study was the latest in a decadeslong series of investigations that have improved paramedic care after cardiac arrest.
"When we first started working with EMS agencies in Dallas-Fort Worth in 2006, the survival rate from out-of-hospital cardiac arrest was about 4 percent. Because of the efforts we have made in measuring and improving CPR performance, the rate is now about 10 percent – more than double," said Dr. Ahamed Idris, Professor of Emergency Medicine and Internal Medicine at UT Southwestern who led the North Texas arm of the study.
"A further improvement of 3 percent because of better airway management translates into a survival rate of 13 percent, which is a relative 30 percent improvement in the DFW area."
The Pragmatic Airway Resuscitation Trial (PART) – funded by the National Heart, Lung, and Blood Institute, part of the National Institutes of Health – was the largest randomized clinical study of its kind. The findings were reported in JAMA.
"This is the first randomized trial to show that a paramedic airway intervention can improve cardiac arrest survival. Based on these results, use of the newer LT devices could result in over 10,000 extra lives saved each year," said first author Dr. Henry E. Wang, Vice Chair for Research in the Department of Emergency Medicine at UT Health Science Center at Houston.
Intubation outside of a hospital setting is very difficult and fraught with errors, Dr. Wang said. Benefits of the newer LT airway include its easier technique, leading to better blood flow and oxygen delivery. The LT devices allow first responders to continue uninterrupted CPR on cardiac arrest patients, with a potential to get thousands of additional cases into the nearest hospitals for further care.
For the study, responders from 27 EMS agencies administered either traditional endotracheal intubation breathing tubes or an LT airway to about 3,000 adult patients with sudden cardiac arrest. The study, conducted by the Resuscitation Outcomes Consortium, tracked emergency care delivery in Dallas-Fort Worth; Birmingham, Alabama; Milwaukee; Pittsburgh; and Portland, Oregon, from December 2015 to November 2016.
A total of 18.3 percent in the LT group survived three days in the hospital compared with 15.4 percent of cardiac patients who were initially intubated. A total of 10.8 percent in the LT group survived to reach 10-day hospital survival compared with 8.1 percent in the intubation group.
"PART provides knowledge that will improve survival from cardiac arrest," said Dr. Idris, also Division Chief for Research in Emergency Medicine and Director of the Dallas-Fort Worth Center for Resuscitation Research, sponsored by the National Institutes of Health, part of the North American Resuscitation Outcomes Consortium.
Sudden cardiac arrest is most often caused by a heart attack, and delivery of oxygen to the lungs is a critical part of reviving a patient. More than 400,000 individuals are treated for out-of-hospital cardiac arrest each year, according to the American Heart Association.