Hispanic and Latino Heritage Month event celebrates cultural diversity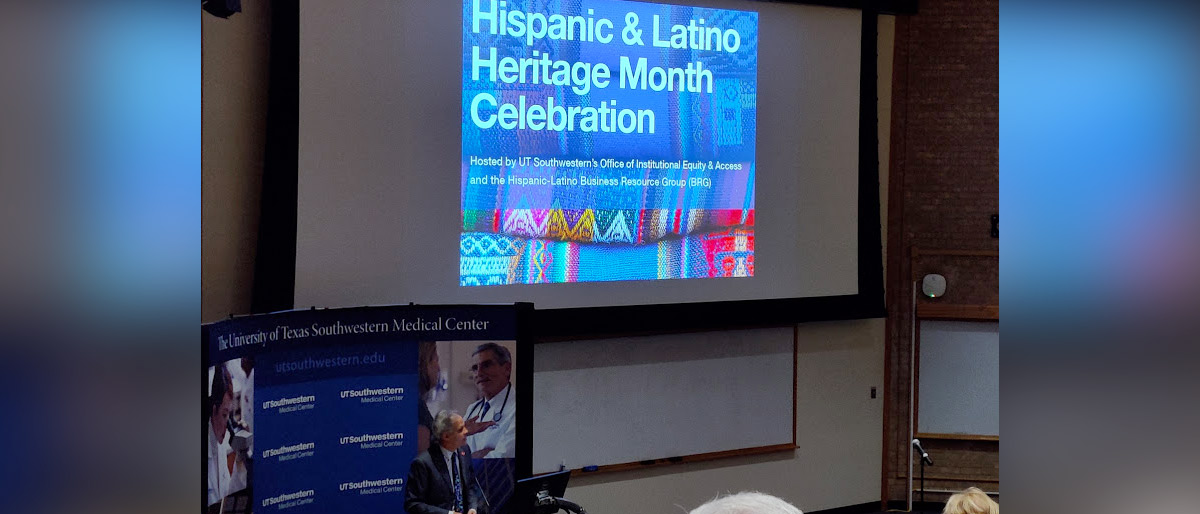 Growing up, Dr. Eduardo Sanchez always felt tremendous pride and a strong connection to his ancestry.
Dr. Sanchez, Chief Medical Officer for Prevention at the American Heart Association, shared with the campus community the joys – and challenges – of identifying as "Latinx," or Hispanic American. As keynote speaker, his inspirational message set the celebratory tone for UT Southwestern's Hispanic and Latino Heritage Month Celebration, held Oct. 14 on South Campus.
"It is my hope, with a high degree of humility, that my reflections provide some insight and historical and cultural context to add to your appreciation of the objectives of National Hispanic Heritage Month and what it means to be Latinx," said Dr Sanchez, whose parents immigrated to the U.S. from the Dominican Republic.
UTSW President Dr. Daniel K. Podolsky welcomed members of the campus community to the now-annual event, which was hosted by the Office of Institutional Equity & Access and the Hispanic-Latino Business Resource Group (BRG). The campus celebration fell during National Hispanic Heritage Month, a recognition honoring the histories, cultures, and contributions of Americans whose ancestors came from Spain, Mexico, the Caribbean and Central and South America.
As of 2013, the U.S. Hispanic population reached an estimated 54 million people, or 17 percent of the nation's total population, making it the second-largest Hispanic population in the world after Mexico. Here at UT Southwestern, more than 2,700 employees self-identify as Hispanic, accounting for nearly 15 percent of staff. Our ratio of Hispanic UT Southwestern Medical School students is similar, at 14.6 percent.
Dr. Sanchez, a 1988 alumnus of UT Southwestern Medical School, is a first generation American who was born in Vermont and then raised in Texas.
The challenges of overcoming inherent biases never kept Dr. Sanchez from achieving his goals. Remaining intensely proud of his "Latinx" roots inspired him as a change agent, he said.
"As a fifth grader, our class was asked to raise our hands when the racial or ethnic group we were a part of was called out," Dr. Sanchez recalled. "I did not raise my hand for Anglo or white, I did not raise my hand for black, and I did not raise my hand for Mexican American."
His teacher sent him to the principal's office for being defiant. She assumed he was Mexican, judging from his last name.
"If I were of Mexican background, I would proudly raise my hand," Dr. Sanchez told the principal at the time. "But my family is from the Dominican Republic, not Mexico, and I will not raise my hand."
Implicit bias can work both ways, added Dr. Sanchez. In his third year of residency, he often performed Spanish-English translation for physicians and their patients. With one patient, Dr. Sanchez immediately dove into interpreting.
"When I was finished going back and forth from English to Spanish, the patient said to the doctor in English, 'So pleased to meet you. I look forward to having you as my doctor,'" Dr. Sanchez recalled. "I looked at her and said, 'I didn't know you spoke English.' 'You never asked,' she said, with a smile on her face and a twinkle in her eye." And Dr. Sanchez learned something about his own biases that day.
After closing remarks by Rudy Rodriguez, Chair of the Hispanic-Latino BRG, the audience was treated to a musical performance from UTSW employee Judith Ramos, accompanied by a mariachi band. The event ended with a reception featuring more mariachi music and a variety of Hispanic-Latino foods.