New Dedman Family Scholars in Clinical Care named
Heading into college, neither of UT Southwestern's 2018 Dedman Family Scholars in Clinical Care had any desire to become doctors. One pursued engineering, the other molecular biology. But intellectual curiosity and a desire to help others soon drew them both to the medical field.
The newest Dedman Scholars are Dr. Jacob Hunter, who joined UTSW in 2016 as an Assistant Professor of Otolaryngology-Head and Neck Surgery, and Dr. Maria E. Florian-Rodriguez, FACOG, a graduating fellow who began in September as an Assistant Professor of Obstetrics and Gynecology in the Division of Female Pelvic Medicine and Reconstructive Surgery.
The Dedman Foundation established the Dedman Family Endowed Program for Scholars in Clinical Care in 2009 with a $12 million gift to Southwestern Medical Foundation. The gift was matched to create a $24 million endowment to help recruit the most promising early career physicians to UT Southwestern and launch their careers under the mentorship of senior clinicians and clinical scientists. The program includes a four-year grant worth up to $150,000 a year for each recipient to cover research expenses and salaries.
Dr. Jacob Hunter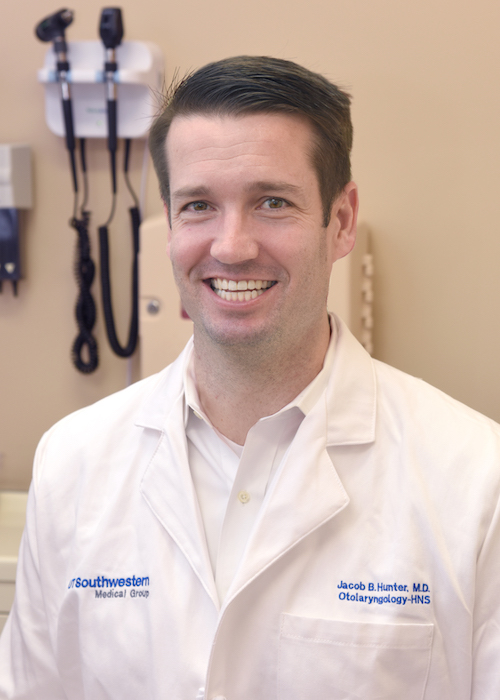 Growing up in the San Francisco Bay Area, Dr. Hunter initially saw himself as an engineer.
"I remember thinking when I graduated from high school that there was no way I was ever going to be a doctor," he said. "But after taking a freshman biology class, one thing led to another, and recognizing that I could pursue a profession that satisfied my intellectual curiosity while being able to directly help others, it made more and more sense to me that medicine was my calling."
After graduating from UCLA with a B.S. in biochemistry, he earned his M.D. from Albert Einstein College of Medicine in New York, where he also served his internship and residency in otorhinolaryngology. He completed a fellowship in otology, neurotology, and skull base surgery at Vanderbilt University Medical Center before he and his wife, Dr. Kathleen Tibbetts, also an Assistant Professor of Otolaryngology-Head and Neck Surgery, were recruited to UTSW in 2016.
Being named a Dedman Scholar is a "tremendous honor," Dr. Hunter said, and he plans to use the award to explore the relationship of cochlear implants and cognitive decline in patients.
"We recognize that hearing loss is associated with social isolation, depression, and cognitive decline. We also know that only a fraction of patients who could possibly benefit from a hearing aid actually obtain a hearing aid, and the same goes for a cochlear implant," he said. "UTSW has a strong history with cochlear implantation, and I would like to strengthen our clinical and research experience with cochlear implants, further establishing UTSW as a worldwide center for cochlear implantation."
Dr. Maria E. Florian-Rodriguez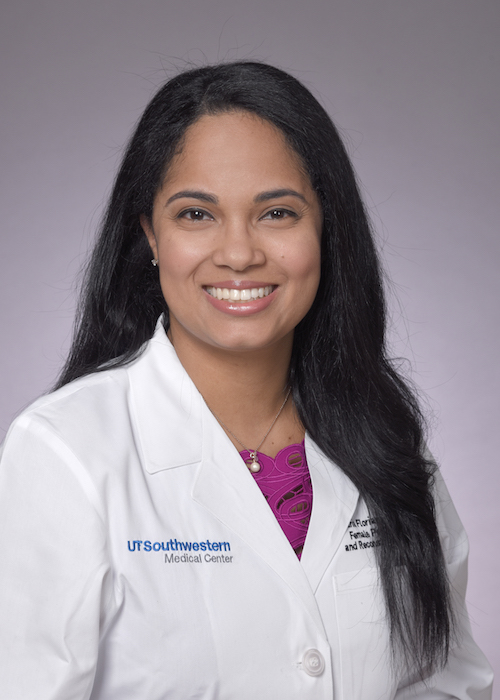 Growing up in San Juan, Puerto Rico, Dr. Florian-Rodriguez had an early interest in science. Even though she was exposed to medicine through her mother, a psychiatrist, she didn't think that would be the career for her.
"I thought, 'I'm never going into medicine,'" she recalled. "While in college I volunteered at different hospitals and decided I wanted to directly help people and that medicine was going to be the best career path for me."
She earned her bachelor's and medical degrees from the University of Puerto Rico, graduated from obstetrics and gynecology residency at Temple University Hospital in Philadelphia, and completed her three-year Female Pelvic Medicine and Reconstructive Surgery fellowship at UT Southwestern.
Dr. Florian-Rodriguez received the President's Award for Gynecological Research at the Society of Gynecologic Surgeons' 2017 annual meeting and the Best Fellow Paper award at the American Urogynecologic Society's 2017 annual meeting.
The scope of obstetrics and gynecology drew her to the specialty and being able to improve patients' quality of life drew her to the pelvic medicine and reconstructive surgery subspecialty.
Dr. Florian-Rodriguez said she is honored, grateful, and excited to be selected as a Dedman Scholar. "As a young clinician-investigator, there's really no greater accomplishment than being done with your training and actually having the funding to continue doing the work you want."
She plans to use the Dedman award to explore ways to improve outcomes following pelvic reconstructive surgery. "Our field is fairly new and a lot of procedures that we do have high failure rates," she said, a statistic she hopes to change.