Renowned data scientist reveals the mysteries of cellular shape-shifting at President's Lecture Series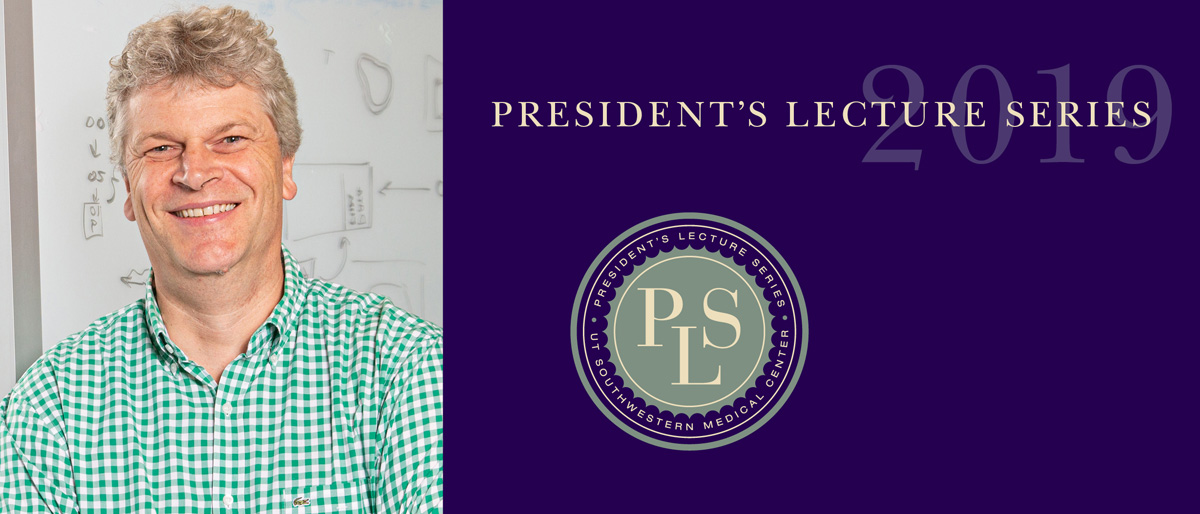 Dr. Gaudenz Danuser – a world-renowned data scientist and cell biologist – honed his people skills as a young engineer leading surveying teams on massive water dam projects in the Swiss Alps.
They'd drop us off from a helicopter near a shelter with enough food for four days. We had to measure through the protocol – in snow, rain, or sunshine – before the helicopter returned to pick us up, Dr. Danuser said. That experience provided the steepest of learning curves to teach him how to motivate diverse groups of people to meet demanding goals.
The UT Southwestern community is invited to hear him describe a recent, larger team exploration when he delivers the next President's Lecture, titled How Cell Shape Shapes Cells. His presentation will be at 4 p.m., Oct. 17, in the Tom and Lula Gooch Auditorium on South Campus.
I think the audience will primarily remember the dazzling beauty of the cell shapes that I plan to show as well as the astounding diversity of self-organization inside these cells. But the deeper message will be that cells are living in and responding to a complex microscopic world where their shape really, really matters, said Dr. Danuser, Chair of the Lyda Hill Department of Bioinformatics.
The Professor of Bioinformatics and Cell Biology is the corresponding author of a study published earlier this year in Developmental Cell that found cellular form drives function in melanoma.
Specifically, that work focuses on actin, a protein governing the crawling movements of cells. The team found that actin helps promote cancer cells' ability to resist chemotherapy and thrive in a new, stressful environment after metastasizing (traveling) from another location.
Drug resistance and metastasis represent two of the most critical factors in determining a cancer patient's prognosis, Dr. Danuser said.
My team has studied the role of cell shape mostly in the context of cancer metastasis; but the principles we discovered likely apply to all biological processes – from cell functions in fetal development to the generation and degeneration of neurons and the differentiation of immune cells, he said. That cell shape is a driver and not merely the result of cell function is an atypical view.
For decades sporadic experiments had hinted at this different perspective, Dr. Danuser said. But until recently scientists lacked the technology to elucidate it.
This discovery by Dr. Danuser's team built on his mission to develop a research program that combined computer science, molecular cell biology, and live cell imaging to help determine what makes a cancer cell become metastatic. To help accomplish this, he recruited two lab members who later joined the UTSW faculty: Drs. Reto Fiolka, Assistant Professor of Cell Biology and Bioinformatics, and Kevin Dean, Assistant Professor of Cell Biology.
After he joined UT Southwestern in 2013 as a Cancer Prevention and Research Institute of Texas (CPRIT) Scholar and Professor of Cell Biology, Dr. Danuser gathered a collaborative group of highly motivated computer scientists, physicists, and cell biologists committed to the quest. Using advanced imaging technology and CRISPR/Cas9 gene editing to screen for genetic mutations, plus molecular biology techniques to obtain the best images possible, the team has published study after study.
This will not be a talk about my work. This is a talk about our work, he said, adding that their most recent study reflects the work of at least 40 researchers, dating back to when he was at Harvard University prior to his recruitment to UTSW by Cell Biology Chair Dr. Sandra Schmid.
Dr. Danuser's recent achievements in cell biology and bioinformatics reflect an important lesson he learned leading surveyors in Switzerland – that anything is possible with determination and teamwork.