Medical School alumni reminisce, connect at 2019 reunion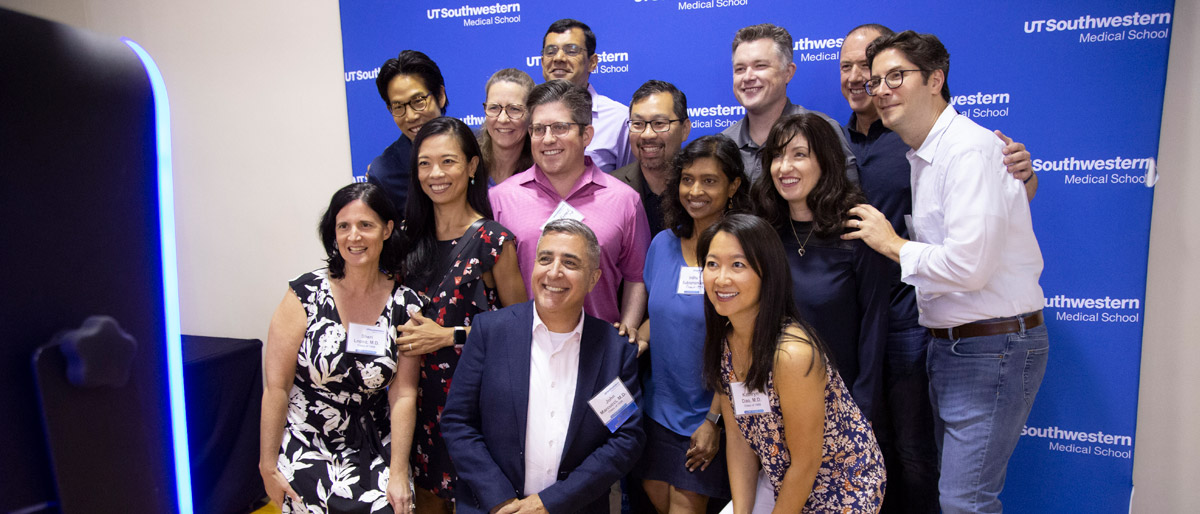 UT Southwestern Medical School alumni from the Classes of 1969, 1974, 1979, 1984, 1989, 1994, 1999, and 2009 gathered on campus last month to reconnect with fellow graduates and their alma mater.
The multiday reunion event kicked off with a special dinner in honor of the Class of 1969, which celebrated its 50-year reunion. Attendees shared fond memories of their time at UT Southwestern and stories about revered instructors.
Over the subsequent days, all reunion classes were treated to Southwestern Medical District tours. They visited William P. Clements Jr. University Hospital, Parkland Memorial Hospital, and the Simulation Center in West Campus Building 3. Highlights of the visits included trying out the Simulation Suture Lab, stepping inside spacious patient rooms at Clements University Hospital, and exploring Parkland's Emergency Department.
Throughout the weekend, alumni were invited to attend talks with UT Southwestern executive leadership, including Dr. Daniel K. Podolsky, President; Dr. W. P. Andrew Lee, Executive Vice President for Academic Affairs, Provost, and Dean of the Medical School; and Dr. John Warner, Executive Vice President for Health System Affairs. They discussed education, research innovations, and hospital expansions. On the last day of the event, graduates heard from fellow alumni Dr. Angela Mihalic ('95), Dean of Medical Students and Associate Dean of Student Affairs, and Dr. Joseph Chang ('99). Alumni were also put to the test in the Team Based Learning Center with Dr. Robert Rege, Associate Dean for Undergraduate Medical Education.
The reunion celebration wound down with a Texas-sized family barbecue in the Bryan Williams, M.D. Student Center. After enjoying their meals, alumni reminisced over old yearbooks and stepped up to a photo booth for a picture to commemorate the weekend. Attendees also had the opportunity to view the College Commons, which replaced the former study carrels.