Tribute to Veterans event honors UTSW community members for their service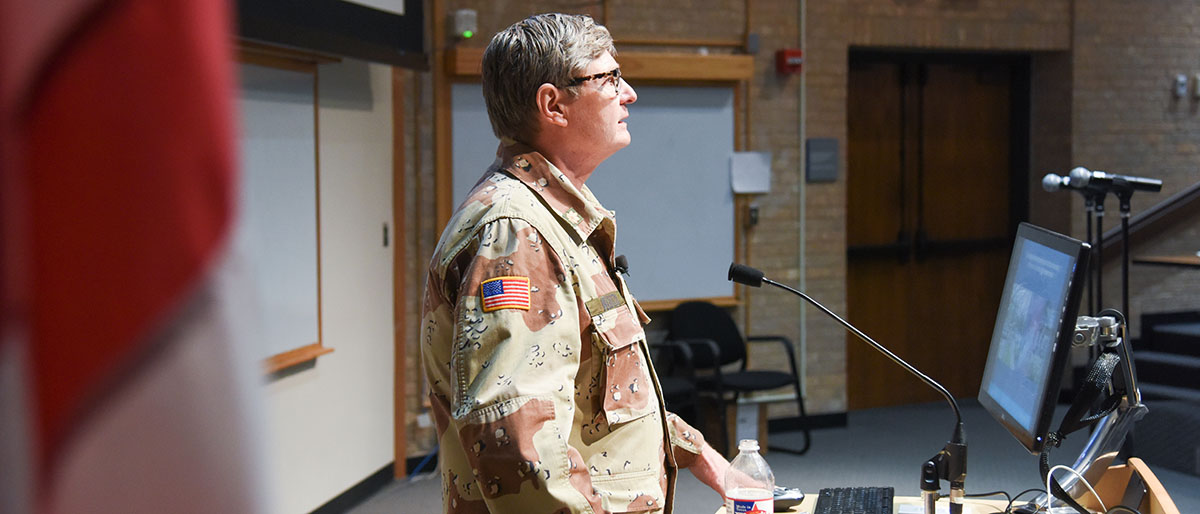 This story was originally posted on Center Times Plus on November 15, 2018.
---
Throughout the month of November, which is designated as Veterans Month, Center Times Plus will feature content that showcases our faculty, staff, students, and patients who have served, or are still active, in the United States Armed Forces. Please keep visiting CT Plus for new content throughout the month.
---
It was a gathering dedicated to those who gave years of their lives in service to their country – sharing memories, saluting their peers, and savoring camaraderie.
In celebration of Veterans Month, UT Southwestern honored active and retired military faculty, employees, and students in its fourth annual Tribute to Veterans Celebration. The event featured remarks from President Dr. Daniel K. Podolsky; a keynote presentation from Dr. Dane Wukich, a Professor and Chair of the Department of Orthopaedic Surgery who served in the Army as a Medical Corps Major; and closing remarks from Kim Siniscalchi, Vice President of Strategic Initiatives, Executive Sponsor of the Veterans Business Resource Group, and a retired Major General in the Air Force.
UT Southwestern is home to more than 800 veterans and 100 active-duty military members; those at the event were invited to stand and be recognized.
"We're very pleased to have this opportunity to thank the veterans of our community and the 23 million veterans nationwide who served in our military to keep our country safe," Dr. Podolsky said. "Beyond your contributions made to our country, bringing your experience and skills from your time served makes UT Southwestern a better place."
In his keynote presentation, Dr. Wukich shared details of his extensive career in the military and how he brought those experiences to his current work at UT Southwestern. As an Army Medical Corps officer, he served as Chief of Orthopaedic Surgery for the 5th Mobile Army Surgical Hospital in Operation Desert Shield and Operation Desert Storm. Dr. Wukich achieved the rank of Major in the Army, receiving several Army Commendation Medals, an Army Achievement Medal, the Southwest Asia Service Medal, and the National Defense Service Ribbon.
"When the war in Iraq was over, I learned a lot about the Geneva Conventions, which dictated that you don't treat people based on race, sex, religion, or anything other than how sick or injured the patient was," Dr. Wukich said. "We took this really seriously. A soldier from Iraq who was injured more severely than a soldier from the U.S. got priority care – and we were really proud of that."
Today, Dr. Wukich dedicates significant time to the VA North Texas Health Care System: "Since my military days, the VA has been and remains an important part of my professional experience. Twenty-seven years later and growing, this is what it's all about – when you come home and see your family. And Texas is a phenomenal place to be if you're a veteran."
The Voices of Hope choir, comprised of breast cancer survivors and affiliated with Susan G. Komen North Texas, sang the national anthem. Two members of the choir, Suzette Boese and Donna Wood-Martin, are employees of UT Southwestern.
The fourth annual Tribute to Veterans Celebration was sponsored by the Office of the President, the President's Council on Diversity and Inclusion, and the Veterans Business Resource Group.