McGregor named first holder of Professorship honoring pioneering female doctor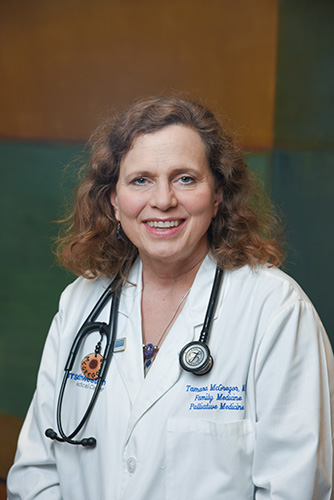 Decades separate the lives, medical educations, and careers of Drs. Ozora Young and Tamara McGregor. But the two physicians share common experiences and traits, including growing up in small Texas towns, pursuing lofty ambitions, facing educational challenges, and, ultimately, delivering valued family medicine practices.
Dr. McGregor, Associate Professor of Family and Community Medicine and Internal Medicine, has been named inaugural holder of the Ozora F. Young, M.D. Professorship in Family Medicine. Dr. McGregor earned her medical degree from UT Southwestern Medical School in 1991, while the late Dr. Young graduated as one of five females in UT Southwestern's Class of 1957.
"When I began as a medical student at UT Southwestern, we were happy that at 40 percent female, we made up almost half the class. Reading about Dr. Young's legacy truly reminds me that we stand on the shoulders of giants, of pioneers who felt the drive and passion to become physicians as women and who were undaunted by the gender biases of that time," Dr. McGregor said.
Dr. Young, who died in 2016, started out as a teacher and then worked at a Cisco, Texas, physician's office in the 1940s and 1950s before attending medical school. Dr. McGregor, in contrast, was raised in Cisco and Mineral Wells, Texas, graduated premed from Tarleton State University, and earned a master's degree in biology/parasitology at Southern Methodist University before her acceptance to UT Southwestern.
"I think the biggest challenges in my path to medicine had to do with my own misgivings, insecurities, and fears that somehow I would not be able to handle all that it took to become a physician," said Dr. McGregor, who is married to UTSW physician Dr. Lee Pride (Professor of Radiology and Neurological Surgery) and the proud mother of two grown children, also in the science field. "Gratefully, I have come to learn from peers and other role models that if I live a purpose-driven life and choose happiness in action, I am better able to provide good care and support for my loved ones with a little time for my own growth and wellness."
Those who know Dr. McGregor say her personal values and leadership qualities are inspiring. "Dr. McGregor is a well-respected and long-standing faculty member here," said Dr. David Schneider, Chairman of Family and Community Medicine. "The Young endowment will give Dr. McGregor some freedom to develop innovative programs for our medical students and residents. She is one of the most compassionate family physicians I know and is an outstanding role model for our learners."
Dr. McGregor said she has provided family medicine to a longtime group of patients "who have known me since my kids were little" as well as to patients at Parkland Hospital and at community clinics where she volunteers. She believes in empowering her patients as partners in their own care – teaching them as well as treating them – so they can maintain healthier lives. Throughout most of her years in practice, she has been active in hospice and palliative medicine, an area that has been integral to her practice and provided a core mission to her educational efforts in teaching medical students, residents, and fellows. Per Dr. McGregor, "Palliative physicians, like family doctors, accept patients as they are, treat the whole person and the family as a unit, and work to bring comfort and health to patients through symptom management, respecting goals of care and maintaining patient dignity and choice regardless of life expectancy."
Family medicine training gave Dr. McGregor the ability to understand broad areas of medical problems and care for patients of all ages, diagnoses, and genders at all stages of life, she said.
"In the same vein, my job as a medical educator will hopefully translate to a greater influence on public health and for future generations," Dr. McGregor added.