'She cultivated the human side of medicine': Alumna inspires gift for family medicine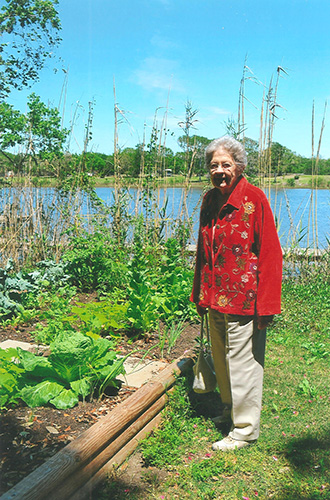 Dr. Ozora "Ozzie" Young was a Texas pioneer in family medicine who dedicated her life to those in her care. After Dr. Young's death in 2016, her friend, Irene M. Moore, made a $100,000 gift in her memory to support the Department of Family and Community Medicine at UT Southwestern.
"This gift in Ozzie's honor is especially meaningful because I know how hard she worked for her patients, for her practice, and for the field of family medicine," said Ms. Moore. "As a family practitioner, she embraced each family as a group, knew each person's ailments, and sent them to specialists when necessary. She cared for each one on a personal level and took great interest in their lives."
"Dr. Ozora Young cultivated the human side of medicine," said Dr. Daniel K. Podolsky, President of UT Southwestern. "Family doctors have been the bedrock of comprehensive, compassionate, and patient-centered care, and their role is more critical now than ever. This gift will help our family medicine physicians provide the finest medical care for their patients at every stage of life, as well as educate exceptional family physicians for the coming generation."
Born in 1919, the eldest of four children, Dr. Young grew up on the prairies of West Texas. After earning an education degree from Texas Tech University in 1941, she taught school for several years in the small Texas town of Cisco. She then took a job in a busy medical office, assisting with clerical work and patient care. When the medical care load became too much for the medical staff to handle, Dr. Young found herself administering patient care that required skills far beyond her training. This experience ignited her passion for medicine.
Dr. Young was one of five female medical students to graduate in 1957 from The University of Texas Southwestern Medical School (now UT Southwestern Medical School). She was keenly interested in family medicine, which had just emerged as a medical field after World War II due to a shortage of general practitioners. After working as a physician for a short time in Dallas, she joined the medical practice of Dr. George J. Merriman in Houston. They were instrumental in developing the practice of family medicine in Houston and served in leadership roles in local and state medical organizations.
"Gifts such as these provide opportunities for our faculty to conduct innovative research and change how family medicine is practiced," said Dr. David Schneider, Chairman of Family and Community Medicine at UT Southwestern. "It also recognizes faculty for their unique contributions to medical education."