Hispanic and Latino Heritage Month event showcases vibrant leaders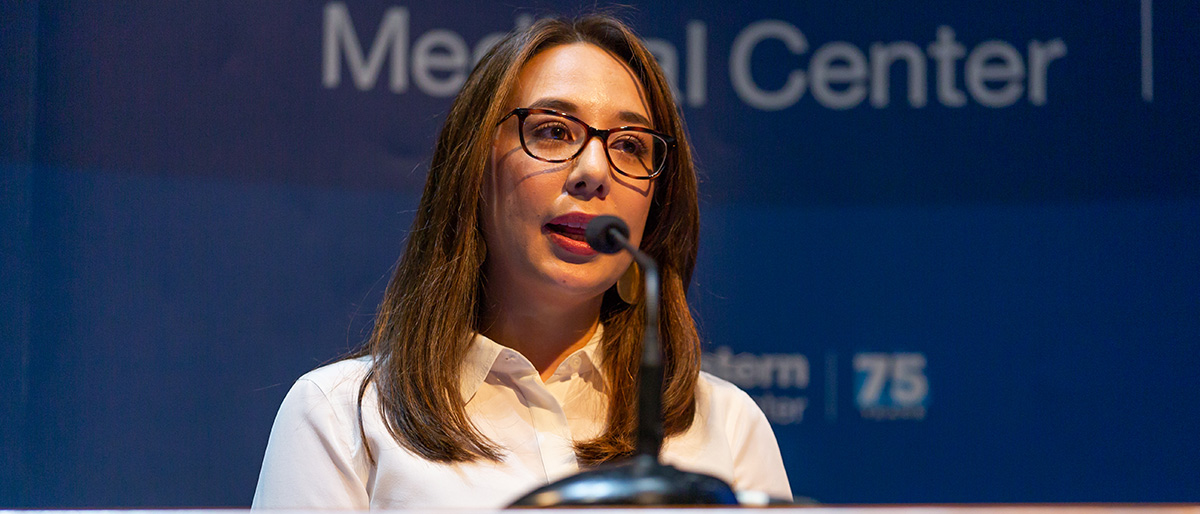 This story was originally posted on Center Times Plus on October 25, 2018.
---
Storytelling, history, and inspiration took center stage Oct. 15 inside UT Southwestern's Excellence in Education Auditorium, as more than 120 members of the campus community gathered to celebrate Hispanic and Latino Heritage Month.
Two dynamic speakers captivated the crowd with personal, often emotional tales that included narratives of rich cultural experiences and personal triumph. The now-annual UTSW program falls within the Sept. 15-Oct. 15 National Hispanic Heritage Month recognition period and honors the enduring contributions of individuals whose ancestors came from Spain, Mexico, the Caribbean, and Central and South America.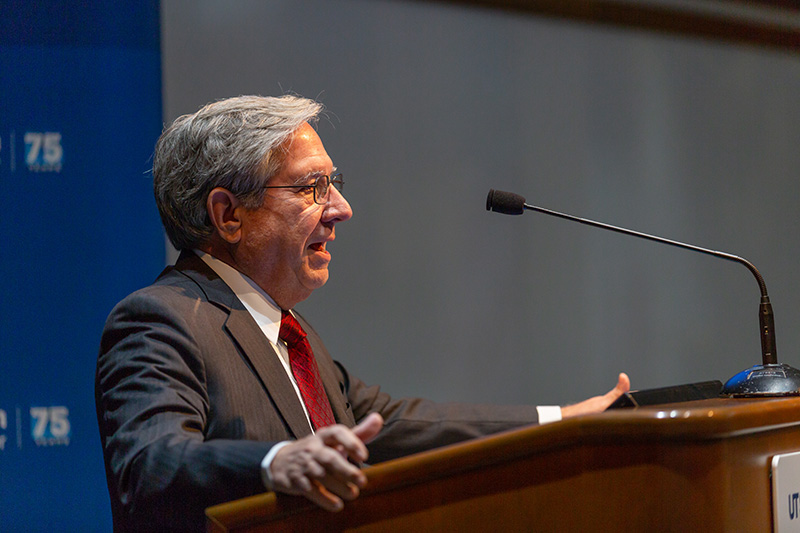 The dates were chosen to coincide with a number of independence days celebrating the break of many Latin American countries from Spanish colonial rule: Sept. 15 for Costa Rica, El Salvador, Guatemala, Honduras, and Nicaragua; Sept. 16 for Mexico; and Sept. 18 for Chile. Columbus Day and Dia de la Raza celebrations also fall within this time frame.
According to the Pew Research Center, the Latino population has accounted for half of the national population growth since 2000. This demographic is also the country's second-fastest-growing racial or ethnic group.
The program was introduced by UT Southwestern President Dr. Daniel K. Podolsky, who noted that there are more than 2,400 colleagues working at UT Southwestern who identify themselves as Hispanic or Latino, "and even within the group, there is great diversity in their cultural and geographic roots. I am enormously proud that this is a workplace that fosters deep respect for cultural differences and that we honor the vitality that diversity brings to us."
The opening speaker was Stephanie Florez-Pollack, who immigrated to Texas from Colombia at the age of 15. She is now a fourth-year UTSW medical student, a researcher, and a campus leader. She also is a former Co-President of the UT Southwestern Chapter of the Latino Medical Student Association (LMSA). Under her leadership, the Chapter added new members, increased its opportunities with the national LMSA, and in 2016 organized UTSW's first Hispanic and Latino Heritage Month program on campus.
"After college I realized that as an educated Latina woman in the United States, I have a special privilege to represent the Latino community and create change in our society," Ms. Florez-Pollack said. Because of this, she added, she aspires to be a leader in dermatology after graduating in May 2019.
Ruben E. Esquivel, Vice President for Community and Corporate Relations, introduced the afternoon's keynote speaker, Miguel Solis, Dallas ISD Trustee for District 8.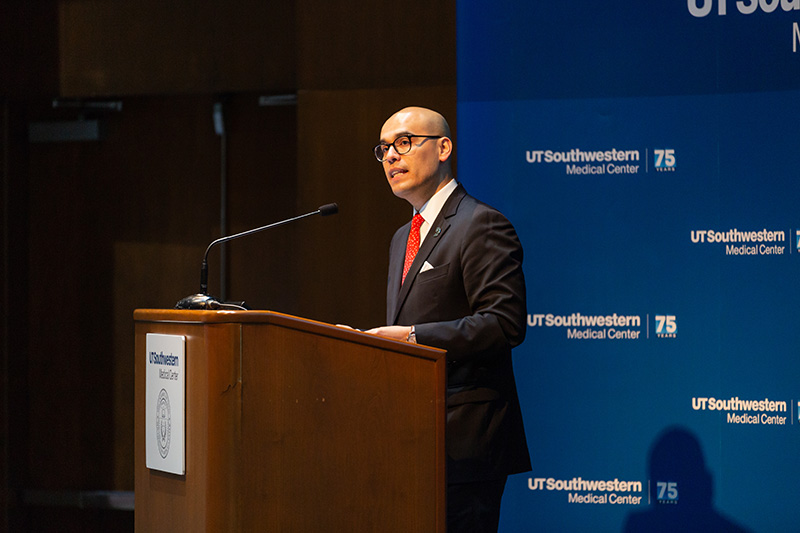 Mr. Solis vividly narrated the tale of his great-grandfather, Ramon Diaz de Leon Medina, who served as Mayor of Ojuelos, Jalisco, in Mexico. He was assassinated in 1920. The Mayor's wife and children then became political refugees who immigrated to Texas in search of safety.
"Though a tragedy, the loss of Ramon's life in Mexico would initiate a century-long series of events that would one day be the saving grace of another's in America," Mr. Solis said, referring to his own 7-month-old daughter's battle with aortic valve stenosis, a congenital heart defect. The baby was diagnosed shortly after birth. The Solis family endured a series of health challenges with their newborn – including an incident in which she received more than an hour of CPR – leading up to a successful heart transplant when the child was 3 months old.
"By the grace of God and the hands of miracle workers, Olivia survived both CPR and the ECMO surgery and two days after was transported here to Children's Medical Center Dallas under the care of UT Southwestern's own Dr. Robert Jaquiss and the Cardiac Intensive Care Unit team," Mr. Solis said, adding that it was because his great-grandmother came here as a Latina immigrant that his daughter had access to the world-class health care that saved her life.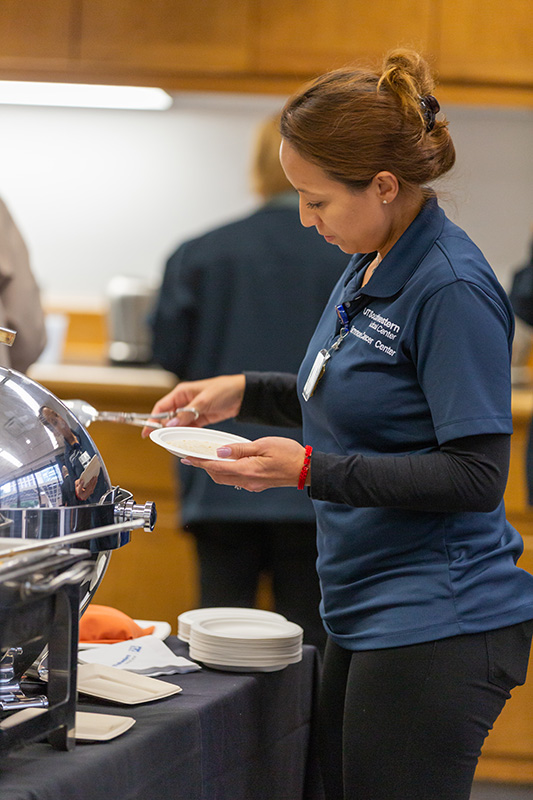 "This celebration featured two leaders who are changing our community for the better and using their lens of empathy to positively impact young lives. Miguel's leadership for Dallas ISD, which includes the area around the Southwestern Medical District, is innovative and at the forefront of educational reform," Mr. Esquivel said. "Stephanie embodies the best of our student leaders at UT Southwestern. Her fervor for making a difference is inspiring. We are so grateful she shared her story of leadership with the campus."
Both speakers answered audience questions on topics ranging from mentorship to the impact of charter schools in Dallas. To close out the program, Dr. Podolsky presented Ms. Florez-Pollack and Mr. Solis with paperweight gifts as tokens of his appreciation, after which attendees enjoyed a Tex-Mex-themed reception that featured street tacos, quesadillas, churros, and more.
The program was hosted by the Office of the President, the President's Council on Diversity and Inclusion, and the Hispanic-Latino Business Resource Group.