UTSW receives inaugural ACHE North Texas D&I Award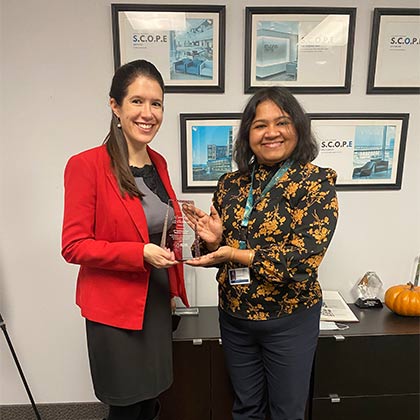 The North Texas Chapter of the American College of Healthcare Executives (ACHENTX) presented its inaugural D&I Award to UT Southwestern in recognition of the Medical Center's commitment to and extensive work in diversity and inclusion.
ACHENTX serves the professional development needs of Dallas-Fort Worth and 19 surrounding counties. The D&I Award was created to honor individuals and organizations that embody and promote values focusing on diversity and inclusion. It was presented during the ACHENTX annual General Membership Convocation on Nov. 30, 2021.
UT Southwestern was nominated collectively by several ACHENTX Diversity & Inclusion Committee members. The nomination described UTSW as a leader in diversity and inclusion that "promotes an equitable environment of care for the communities they serve, fosters and embodies an inclusive environment and the spirit of inclusion and belonging, and serves as a role model for others through empowerment of those around them through DEI activities and professional advancement."
Nominators pointed to UTSW's recent INSIGHT Into Diversity Health Professions Higher Education Excellence in Diversity Award and INSIGHT Into Diversity Inspiring Programs in STEM Award and INSIGHT Into Diversity Inspiring Programs in STEM Award.
"Clearly, UT Southwestern Medical Center is reaching far into the community to provide resources and education elevating diversity and inclusion to provide excellence in care to their patients and families," the nomination continued. "The influence UT Southwestern has on the community also expands into the health care community locally and nationally."
"UTSW is increasingly becoming more and more recognized as a national leader in inclusive excellence," said Travis Gill, J.D., Assistant Vice President of Institutional Equity & Access. "This award reflects UTSW's commitment and excellence in advancing diversity and inclusion initiatives and programs on our campus and across the DFW community. As a campus community, we look forward to further elevating this important work as we create new opportunities to advance and highlight the many people, cultures, and transformational diversity efforts that make our institution a great place to work and belong."