UTSW PA students take top honors in TAPA Challenge Bowl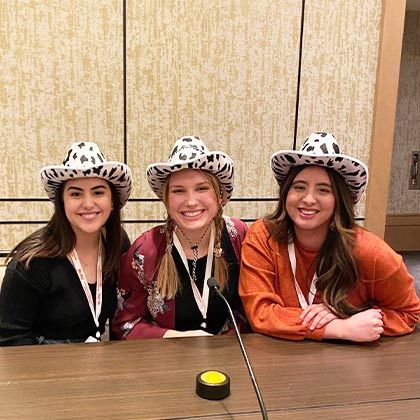 A team of first-year students in the UT Southwestern School of Health Professions Physician Assistant Studies Program won first place in the Texas Academy of Physician Assistants (TAPA) Student Challenge Bowl, a medical quiz competition among Texas PA programs.
"This is a first in a while for the UT Southwestern PA Program and is very exciting as these students have worked so hard and persevered despite numerous obstacles," said Temple Howell-Stampley, M.D., M.B.A., Professor of Internal Medicine and Department Chair and Program Director of the Physician Assistant Studies Program in the School of Health Professions.
Four UTSW teams competed in this year's Challenge Bowl, held in February at TAPA's 47th annual meeting in Plano, Texas. Fifteen student teams representing PA schools from across the state fielded a wide variety of clinical questions, hitting buzzers to submit their answers in the fast-paced, rapid-fire competition. Questions covered physical diagnosis, anatomy, women's health, emergency medicine, pharmacology, and essentially all the organ systems.
All but one of the 12 UTSW students who competed are first-year students – meaning they are still in the didactic/classroom phase of the PA program, Dr. Howell-Stampley noted. Furthermore, the students were preparing for the Challenge Bowl during the midst of the pandemic's Omicron surge.
"The 2023 cohort started the program in May 2021 remotely due to the Delta surge. They have spent the bulk of their didactic education learning virtually, with the exception of some hands-on, in-person small group physical diagnosis training. All of our students have weathered or are weathering the storm while balancing their studies, family, and living life during a pandemic," Dr. Howell-Stampley said.
First-year PA students Estela Cias, Yadaris Bonilla, and Shannon Conway made up the winning team, named Boots & Bling.
"We ended up winning the whole competition! It was all very surprising and exciting," said Ms. Conway, who especially enjoyed being with classmates and faculty in person.
"At that point, we had been online for lectures and hadn't had a lot of opportunities to come together due to COVID-19. It was great to be able to put school to the side for a couple of hours and all have fun as we cheered each other on," she said, noting that when her teammates answered correctly, classmates ran up to give them high-fives. "The faculty who attended were so encouraging and cheering passionately, which made it extra special.
PA faculty members from UTSW supporting the students in the competition included Assistant Professor Veronica Coleman, M.P.A.S., PA-C; Assistant Professor Bau Tran, Pharm.D., PA-C; and Associate Professor Carolyn Bradley-Guidry, Dr.PH., M.P.A.S., PA-C, who also serves as Assistant Dean for Diversity, Inclusion, and Equity Affairs.
"This is a wonderful opportunity to highlight the UTSW PA Program and its students, who are committed to academic excellence as they prepare to become certified PAs who will make great contributions to health care. Not only were they great representatives of the PA Program, but also of UT Southwestern as a whole," Dr. Howell-Stampley said.