Hoxhaj, Obata receive Pew Charitable Trusts research awards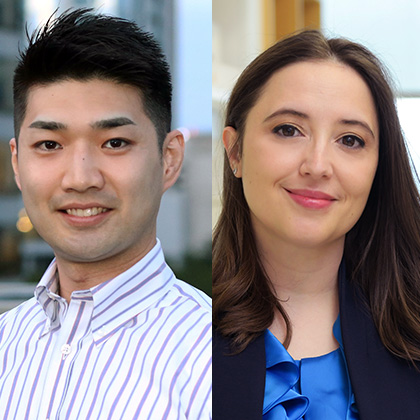 Two UT Southwestern faculty members have been selected for prestigious Pew Charitable Trusts biomedical research programs: Gerta Hoxhaj, Ph.D., Assistant Professor at the Children's Medical Center Research Institute at UT Southwestern (CRI) and of Pediatrics and Biochemistry, and Yuuki Obata, Ph.D., Assistant Professor of Immunology and Neuroscience.
Gerta Hoxhaj, Ph.D.
The Pew Charitable Trusts and The Alexander and Margaret Stewart Trust chose Dr. Hoxhaj as a Pew-Stewart Scholar for Cancer Research. Now in its 10th year, the national initiative supports promising early-career scientists whose research will accelerate discovery and advance progress toward a cure for cancer.
Dr. Hoxhaj is among five scholars recognized for their tremendous potential to solve some of cancer's greatest challenges. She will receive a four-year grant of $300,000.
"I am incredibly honored and humbled to be selected as a Pew-Stewart Scholar," said Dr. Hoxhaj, who is also a Cancer Prevention and Research Institute of Texas Scholar and a member of UT Southwestern's Harold C. Simmons Comprehensive Cancer Center. "This award recognizes the creativity and hard work of my laboratory, where we continually strive to make important contributions to our field."
Dr. Hoxhaj's lab studies metabolism, which she describes as a complex web of thousands of chemical reactions that generate energy to support life. A major focus in her lab is uncovering the biological roles and regulation of a molecule called NADPH.
"By donating electrons, NADPH charges a battery of biochemical reactions that protect cells from oxidative damage and facilitates their growth and survival. However, dysregulation of NADPH metabolism has been linked to several human diseases, including cancer, metabolic disorders, and neurodegeneration," she said.
Dr. Hoxhaj's lab is developing new biochemical and genetic approaches that allow the study of NADPH molecules in specific cellular compartments, tissues, and cancer types.
"Our ultimate goal is to gain a complete understanding of NADPH metabolism and harness this knowledge to develop new strategies to combat cancer and treat disease," she said.
Dr. Hoxhaj received her bachelor's degree from Bogazici University in Istanbul, Turkey, with a double major in molecular biology and genetics and chemistry. She earned her Ph.D. in biochemistry and cell signaling from the MRC Protein Phosphorylation and Ubiquitylation Unit at the University of Dundee in Scotland. She joined UTSW in 2019.
Yuuki Obata, Ph.D.
The Pew Charitable Trusts also announced Dr. Obata as a 2023 Pew Scholar in the Biomedical Sciences. The program provides funding to young investigators of outstanding promise in science relevant to the advancement of human health.
Dr. Obata is among 22 Pew Scholars selected from 188 nominations submitted by leading U.S. academic and research institutions. He also is one of five new Pew Scholars who will make up the eighth class of the Kathryn W. Davis Aging Brain Scholars. This subset of the Pew Biomedical Scholars is supported by the Kathryn W. Davis Peace by Pieces Fund, an initiative that aims to increase understanding of the processes and conditions of the brain as people age. Dr. Obata will receive $300,000 in funding over four years to invest in exploratory research.
"I am honored to be named a Pew Scholar and to be a part of the Pew research community," said Dr. Obata, who is also an investigator in the Peter O'Donnell Jr. Brain Institute at UT Southwestern. "I am very grateful for the opportunity to develop a high-risk multidisciplinary project as a new direction for my research program."
Focusing on the circadian clock, Dr. Obata will test his hypothesis that the gut harbors its own day-to-day pacemaker.
"This idea is inspired by the fact that the gut has its own independent nervous system, the enteric nervous system, which is often referred to as 'the second brain,'" he said.
Using a combination of novel techniques in neuroscience, immunology, microbiology, and chronobiology, his lab will explore whether the inactivation of the circadian clock in the enteric nervous system affects the rhythmic activity of immunity and cyclic daily behaviors.
"I hope that my research will advance our understanding of the gut neural regulation of the body's circadian clock and lead to the development of novel therapeutics for diseases that can maximize efficacy and minimize adverse effects based on time of the gut clock," he said.
After earning a Ph.D. in immunology from RIKEN (Joint Graduate School of Chiba University) in Japan, Dr. Obata served a postdoctoral fellowship at the Institute of Medical Science at the University of Tokyo, followed by two postdoctoral fellowships (European Molecular Biology Organization and Human Frontier Science Program) to study neuroscience at the Francis Crick Institute in London. He joined UT Southwestern in 2021.