UTSW Building Interruption Alert system earns Critical Event Management Impact Award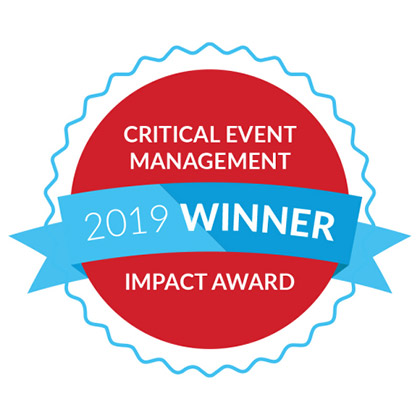 UT Southwestern's Office of Safety and Business Continuity has received a 2019 Critical Event Management Impact Award from Everbridge Inc., a global leader in mass notification systems and the vendor for "UTSW Alert."
The award recognizes unique, innovative, and inspiring uses of the Everbridge critical incident management platform. UTSW is being honored for enhancing organizational resilience and life safety through its UT Southwestern Building Interruption Alert system, a project implemented in partnership with the Facilities Management Department.
"This award highlights the partnership between the Office of Safety and Business Continuity and Facilities Management to meet the needs of our UT Southwestern customers. UT Southwestern personnel need to be informed of an incident in their work area such as a water leak, loss of cooling, or a power outage so they can activate their plans to minimize any damage or preserve their work," said Dr. Bruce J. Brown, Assistant Vice President of Safety and Business Continuity.
UTSW's 24/7 Building Interruption Alert system is a voluntary, self-enrolling online notification system that warns subscribers by text and email of issues in their selected work area. Participants can choose to receive alerts for the entire campus or individual buildings or floors.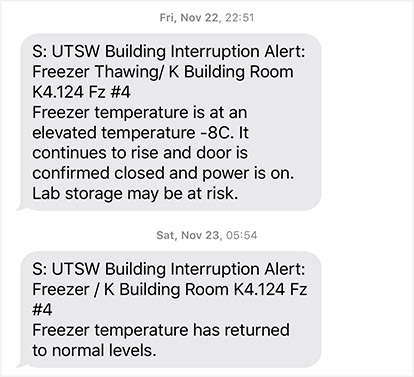 When an issue is identified, Facilities Management assesses the situation for potential property damage or conditions that could impact supplies, equipment, or work in the area. If there is a determination that individuals in the area need to be notified to potentially activate their response and business continuity plans to protect their work, a Building Interruption Notice is sent via text and email to subscribers of that specific area, Dr. Brown said.
The current subscriber count totals 1,146 – a number both departments hope to see increase.
"Use of the Everbridge notification tool has allowed us to streamline and broaden our approach to informing and updating the campus community about emergencies as well as scheduled utilities outages," said Juan M. Guerra Jr., Vice President of Facilities Management. "I encourage everyone to sign up and tailor the notifications they receive through Everbridge so they are well informed about scheduled and unscheduled building interruptions that directly affect their spaces."
Sign-up information is available on My UTSW.