Kidney Cancer Program, Sim Center recognized among North Texas' leaders in innovation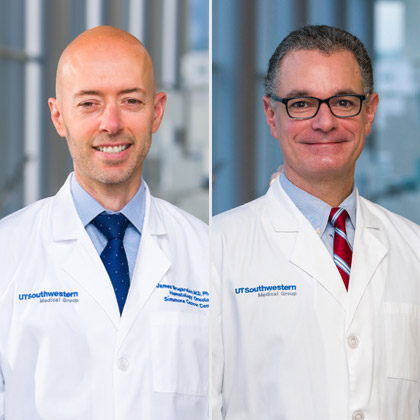 UT Southwestern's Kidney Cancer Program (KCP) and Simulation Center have been named finalists in D CEO and Dallas Innovates' inaugural Innovation Awards honoring companies, entrepreneurs, and other leaders in North Texas. The KCP is one of five finalists in the Innovation in Healthcare category, and the Sim Center is among five Innovation in Education finalists.
Winners for each of the 13 categories will be announced at an awards ceremony on Jan. 7, 2020. All of the finalists will be featured in the January/February issue of D CEO magazine as well as online at dallasinnovates.com.
The Innovation Awards shine a spotlight on the innovators who are redefining their industries and contributing to Dallas-Fort Worth's growth as a national economic force.
"The breakthroughs we're seeing in immunotherapy, precision medicine, imaging, and radiation are furthering patient survival and improving quality of life," said Dr. James Brugarolas, Director of the Kidney Cancer Program (KCP), who holds the Sherry Wigley Crow Cancer Research Endowed Chair in Honor of Robert Lewis Kirby, M.D.
Not long after its founding in 2013, the KCP earned the National Cancer Institute's prestigious Specialized Program of Research Excellence (SPORE) award, making it one of only two in the country. Recently, the KCP was recognized with the Leaders in Clinical Excellence Program Development Award at UT Southwestern.
Among its accomplishments is a breakthrough drug targeting the HIF-2 protein, previously regarded as undruggable. Starting with the discovery of the gene, the drug is now in clinical trials. The Program's unveiling of new radiation protocols to control metastatic tumors marks a paradigm shift in the treatment of advanced disease by delaying the immediate need for drug therapy. Other highlights include pioneering radiology tests – one to identify patients likely to respond to immunotherapy and another designed to detect bone metastases at early stages.
Opened in September 2018, the 49,000-square-foot Simulation Center is purposefully designed to provide experiential learning outside of actual clinical environments.
"We are exceptionally delighted to receive this specific recognition and give credit to the tremendous number of dedicated and bright people at UT Southwestern who have worked incredibly hard to make our Sim Center a reality," said Dr. Daniel Scott, Director of the Simulation Center and Assistant Dean of Simulation and Student Integration. "This has taken years of effort and we have benefited from outstanding teamwork."
This unique initiative centralizes simulation-based activities on campus – including all specialty areas and disciplines. In its first year, the Center hosted 499 individual simulation events that included 16,430 learner encounters and 22,721 contact hours.
"These metrics represent logarithmic growth compared with prior years," said Dr. Scott, who holds the Frank H. Kidd, Jr., M.D. Distinguished Professorship in Surgery.