Hogan awarded prestigious 2021 Zimmerman Medal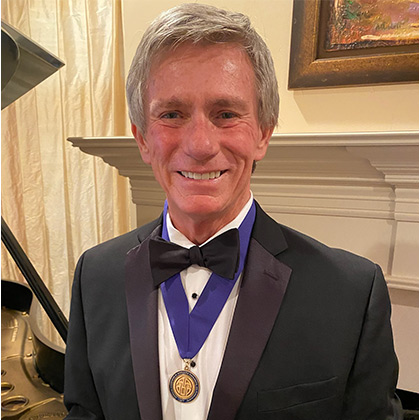 Internationally renowned for his research in neuro-ophthalmology, ocular pathology, and prion disease, R. Nick Hogan, M.D., Ph.D., Professor of Ophthalmology, Neurological Surgery, Neurology, and Pathology, recently received the 2021 Zimmerman Medal for his outstanding contributions in ophthalmic pathology. The award was presented by the American Association of Ophthalmic Oncologists and Pathologists during the American Academy of Ophthalmology (AAO) annual meeting in November.
"The Zimmerman Medal is one of the most prestigious awards in ophthalmology and a well-deserved tribute to Dr. Hogan's distinguished contributions to the field of ophthalmic pathology," said J. William Harbour, M.D., Chair and Professor of Ophthalmology and a member of the Harold C. Simmons Comprehensive Cancer Center. "We in the Department are extremely proud of him and this truly distinctive honor, as he continues to make important contributions to science, education, and his patients."
The medal is named after Lorenz E. Zimmerman, M.D., considered the "father" of ophthalmic pathology.
"I am humbled I was chosen for this honor given the reputational magnitude of previous awardees," Dr. Hogan said. "To be chosen is especially rewarding because my selection as an awardee was made by my peers. As I near the end of my professional career, receiving the Zimmerman Medal is the most gratifying finale I could have hoped for."
Specializing in neuro-ophthalmology disorders, ophthalmic pathology, and oncology, Dr. Hogan is the author of numerous publications, an editorial board member for Frontiers in Neuro-Ophthalmology, and a reviewer for many scholarly journals. He is also a grant reviewer for the National Science Foundation and the National Prion Research Foundation.
As part of the award, Dr. Hogan had the honor of presenting the Zimmerman Lecture at an on-demand a symposium during the AAO annual meeting. His "Ocular Manifestations of Prion Diseases" lecture summarized the discoveries his team has made concerning retinal degeneration in prion diseases, the amount of prions present in the various tissues of the eye, and what that might mean in terms of risk for corneal transplantation and transmission of prion disease.
"We have demonstrated that the amount of prions in the cornea is much lower than that present in the brain, retina, and optic nerve," he said. "This points to a low chance of disease transmission after corneal transplantation, even if the donor cornea is from a patient with prion disease."
"Further research on application of reliable and sensitive tests for prions that can be used in living patients will add additional safeguards against accidental transmission of disease via surgery and transplantation," he said.
After earning his medical degree from the George Washington University School of Medicine and a doctorate in neurobiology and anatomy from the University of Rochester School of Medicine & Dentistry, Dr. Hogan completed a residency in ophthalmology at UT Southwestern and then received advanced training in neuro-ophthalmology, ophthalmic pathology, and ocular oncology through three fellowships – the first at UTSW, the second at Harvard/Massachusetts General Hospital, and the third at Harvard/Massachusetts Eye and Ear. He joined the UT Southwestern faculty in 1996.