Rainwater Charitable Foundation selects UTSW graduate student as Tau Leadership Fellow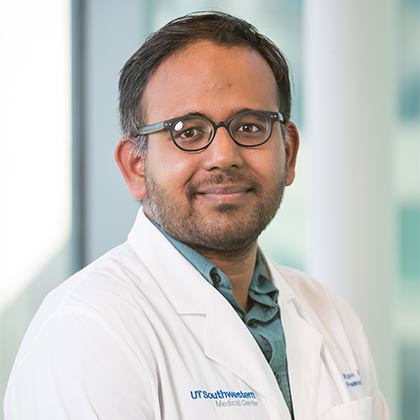 Rupam Ghosh, a fifth-year student in the Biological Chemistry Graduate Program, has been named a 2022 Tau Leadership Fellow by the Rainwater Charitable Foundation, an honor bestowed on early-career postdoctoral researchers and graduate students whose work has the potential to be a breakthrough in the field of tau-related pathologies. The award carries a monetary prize of $10,000.
"I have been working with tau for a couple of years now, and this award provides a lot of encouragement at this stage," Mr. Ghosh said. "Being an international student, there are limited options of grants and fellowships for me, so an opportunity like this is great. Also, the competition was quite tough as graduate students and postdocs were competing in a single group."
In the lab of Kendra Frederick, Ph.D., Assistant Professor of Biophysics, Mr. Ghosh studies how the tau protein causes Alzheimer's disease from a structural biology point of view.
"Alzheimer's disease pathology is highly variable across different patients and stages of the disease even though the causing agent – tau protein – remains the same. The mystery I'm trying to address is to figure out how a single protein can cause multiple pathologies. Understanding this will be very helpful to design specific and targeted therapeutic strategies," he said.
Studying an intrinsically disordered protein like tau in its native cellular environment may reveal unique insights that would be useful in understanding physiological and pathological processes of conformational diseases, such as neurodegenerative diseases, he added.
"Rupam has been intimately involved in developing the technology to apply a cutting-edge structural biology technique – sensitivity-enhanced NMR (nuclear magnetic resonance) spectroscopy – to biological systems to establish a platform to determine structures at atomic resolution for proteins inside of living cells," said Dr. Frederick, who holds an additional appointment in the Center for Alzheimer's and Neurodegenerative Diseases. "This methodology will be critical to bridge a current gap in our ability to determine structures of the proteins at the center of many neurodegenerative disorders in relevant biological contexts, such as in genetic backgrounds that include genetic risk factors for disease or in the presence and absence of potential therapeutics."
Last year, Mr. Ghosh was selected for the Peter O'Donnell Jr. Brain Institute's Neural Scientist Training Program. He received an integrated Bachelor-Master of Science degree with majors in biological sciences and minors in chemical sciences from the Indian Institute of Science Education and Research Bhopal, in India.
"One of the best things that attracted me to UT Southwestern was the possibility of collaboration with a world-class hospital," he said. "In addition, the freedom to do lab rotations across different departments, world-class faculties, the very diverse and collaborative research culture, wonderful student center and clubs, and great Texan food, were the other factors that helped me choose UT Southwestern over other U.S. institutions."