Crandall Selected for 2021 Excellence in Postdoctoral Mentoring Award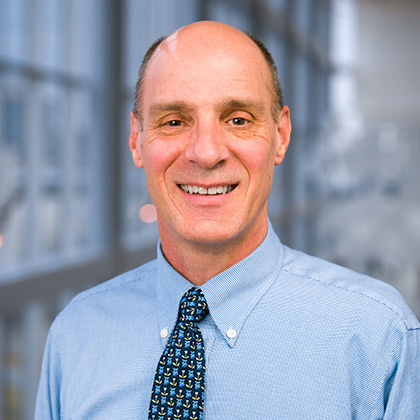 Understanding, compassion, encouragement, and drive are key to effective mentoring, according to Craig Crandall, Ph.D., Professor of Internal Medicine. The best mentors also recognize their responsibility to train postdoctoral fellows to succeed as independent investigators, "rather than viewing a postdoc as hired personnel to complete the objectives of one's grants," he said.
The Postdoctoral Association (PDA) at UT Southwestern recently selected Dr. Crandall for its 2021 Excellence in Postdoctoral Mentoring Award.
"Dr. Crandall was nominated by his current postdoctoral fellows who attested to his unique style of mentorship," said Stephan Daetwyler, Ph.D., President of the PDA and a postdoctoral researcher in the lab of Reto Fiolka, Ph.D., Assistant Professor of Cell Biology and in the Lyda Hill Department of Bioinformatics. "They all emphasized his superb scientific acumen, very supportive personality, highly effective and timely communication, and his unique ability to cultivate strong personal, yet professional relationships with each of his trainees. After reviewing these nominations, we sincerely believe Dr. Crandall embodies the qualities of a fantastic mentor."
During his 25 years at UT Southwestern, Dr. Crandall has mentored 24 postdoctoral fellows (including his current three), five doctoral students, three visiting professors, and several undergraduate and master's-level students.
"I have always placed a high priority on mentoring students and postdocs," he said. "I am honored that my efforts in this arena have been recognized by UT Southwestern."
Still actively involved in research, his 21 past postdoctoral fellows all have a faculty or related position in academia or the military, including one associate dean, three department chairs, one associate chair for graduate studies, and four full professors. In total, postdoctoral fellows received 59 awards or recognition for work conducted under his mentorship – including nine who were awarded the prestigious Ruth L. Kirschstein National Research Service Award from the National Institutes of Health.
In Dr. Crandall's lab, each fellow is expected to drive at least one project while supporting the other ongoing projects, with more experienced fellows providing guidance.
"I view those interactions as valuable training opportunities for the more experienced postdocs. I expect each fellow to assist in each other's projects – there are no silos in my lab," he said. "I focus my efforts in assisting the fellows to obtain the requisite experience, skills, publications, etc., necessary for them to get a tenure-track job and succeed as an independent investigator."
As part of National Postdoc Appreciation Week, which celebrates the contributions postdocs make to research and discovery, Dr. Crandall spoke at a PDA-hosted award ceremony/seminar Sept. 22.
Previous PDA Mentoring Award winners include Sean Morrison, Ph.D., Director of the Children's Medical Center Research Institute at UT Southwestern (CRI) and Professor of Pediatrics, in 2020; and Ralph DeBerardinis, M.D., Ph.D., Professor at CRI, of Pediatrics, and in the Eugene McDermott Center for Human Growth and Development, and Chief of the Division of Pediatric Genetics and Metabolism at UTSW, in 2019.