Consulting Club's case competition draws record number of participants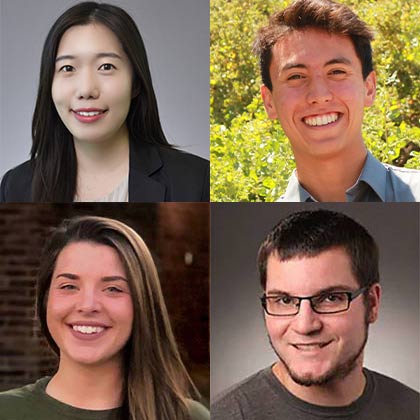 Several UTSW students were members of the top placing teams at the Consulting Club of UT Southwestern's 5th Annual Healthcare Case Competition. Held virtually, the case competition on Feb. 12 was the club's largest to date with 100-plus participants representing 38 institutions from across the country and more than 30 judges from top consulting firms and biotechnology companies.
"The Healthcare Case Competition was a huge success," said competition organizer Jiwon Song, a fifth-year graduate student in Biomedical Engineering and co-President of the Consulting Club at UT Southwestern. "Three UTSW students took the podium this year, which is amazing given the tough competition."
Sebastian Fonseca, a third-year Ph.D. candidate in biomedical engineering, was a member of the second-place team, while Kelsey Zuk, a fifth-year Ph.D. candidate in neuroscience, and Garrett Overcast, a recent Ph.D. graduate in immunology, were both members of the team that placed third.
The Consulting Club helps equip UTSW students for the transition from academia to successful ventures in management consulting, life science consulting, and other business-related careers. The annual case competition, which awarded $4,000 in cash prizes, enables teams to work on a health care/life science business problem, learn from established professionals, and network with consultants and business executives. Funding support for the case competition includes funds from UT Southwestern's Blackstone LaunchPad, the front door to all entrepreneurial tools, programs, and resources on UT Southwestern's campus that provides students, faculty, and postdoctoral researchers access to entrepreneurial learning and opportunities.
The 2022 case prompt was provided by competition sponsor Perspectum, a global medical technology company that has existing partnerships with UT Southwestern for its imaging products, Ms. Song said. The prompt challenged teams with a problem related to Perspectum's most recent innovation, CoverScan, an imaging solution that provides a comprehensive assessment of multiorgan health in a single MRI scan, eliminating the need for multiple individual tests.
"I think a case competition is a unique event that brings out our best qualities as researchers while also integrating new skills that we do not develop as deeply in academia," Mr. Fonseca said. "If there is one skill I would highlight for the whole competition, it's teamwork. A well-running and -tuned team can accomplish anything, and usually the case competition winners are the teams that have the best dynamic among the members."
"By diving deeply into a real-world business case, our team gained relevant experience in all aspects of consulting," Ms. Zuk said. "As a first-time team leader and first-time competitor, I could not have been more thrilled with our team's performance and how much we learned throughout the competition. I appreciated the opportunity to form strong connections with my teammates, as well as have dedicated time to talk with the consultants and business professionals."
"This event was a great opportunity to gain experience working on a cross-functional team to tackle a real-world business problem," Mr. Overcast added. "I was able to solidify my desire to pursue a career in consulting and establish relationships to build my professional network with both judges and other participants. Importantly, this event gave me confidence in my ability to perform tasks that are meant to simulate a real consulting experience."
Business case competitions are a mainstay in the field of consulting. Although initially limited to business schools, such events for nonbusiness students have been gaining traction in recent years as more and more consulting firms see the value of applying the problem-solving capabilities of advanced degree candidates to business, said Natalie Lundsteen, Ph.D., Assistant Dean for Career and Professional Development in the UT Southwestern Graduate School of Biomedical Sciences. Dr. Lundsteen advises the Consulting Club along with Barbara Strom, a Graduate School Program Coordinator.