Two UTSW faculty inducted into elite research society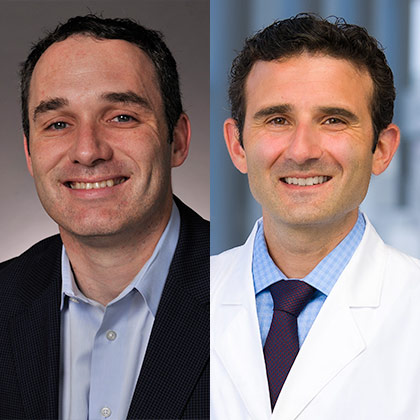 Dr. Benjamin Levi, Associate Professor of Surgery, and Dr. Michael Shiloh, Associate Professor of Internal Medicine and Microbiology, have been inducted into the American Society for Clinical Investigation (ASCI), one of the most distinguished organizations in academic medicine. Its membership is limited to elite physician-scientists.
Dr. Levi is Chief of the Division of Burn, Trauma, Acute and Critical Care Surgery and a co-leader of the Center for Organogenesis Research and Trauma, which conducts basic/translational research focused on injury and diseases of the skin, organs, and musculoskeletal system. He is known nationally for his work in heterotopic ossification, a pathology in which bone forms in soft tissue and occurs in more than 20 percent of patients with extremity trauma. His findings have been published in Nature Communications, Science Translational Medicine, and Proceedings of the National Academy of Sciences. Dr. Levi has been noted for his independent federal funding, clinical excellence, and the positive workplace culture in his laboratories.
"I am honored to be elected to this society, which helps build collaborations with clinician-scientists across the country and promotes the idea that surgeon-scientists can perform impactful work that advances the field and changes clinical paradigms," said Dr. Levi. "I believe surgeons are best poised for this role, given their broad exposure to complex clinical challenges and their natural rigor and focus on solving current gaps in care."
Dr. Levi has additional appointments in the Charles and Jane Pak Center for Mineral Metabolism and Clinical Research, the Children's Medical Center Research Institute at UT Southwestern, and in Plastic Surgery.
Dr. Shiloh has been recognized for his research into how the bacteria Mycobacterium tuberculosis cause disease in humans. Tuberculosis killed 1.4 million people around the world in 2019 and is thought to infect about one-fourth of the world's population, according to the World Health Organization. Dr. Shiloh's work is focused on understanding the pathogenesis of tuberculosis, starting from disease acquisition, to factors that affect survival of the bacteria in the body, and finally, toward mechanisms of disease transmission from infected to uninfected individuals.
This work is important as our rapidly changing environment facilitates the rise and spread of new global infectious diseases, including COVID-19. His current work aims to connect the identification of molecules that trigger coughs and their receptors to transmissibility of both bacterial and viral pathogens. His research has been published in Cell, Cell Host & Microbe, and The Journal of Immunology, among others. He is also involved in a five-year, multisite study with up to $37 million in National Institutes of Health funding investigating the potential for harnessing a natural cellular function called autophagy, in which cells destroy their damaged parts to attack invading bacteria and viruses.
"I am truly humbled to be inducted into the American Society for Clinical Investigation," said Dr. Shiloh. "Many ASCI members have been critical in helping to shape the scientist and person that I am today, and I am excited to collaborate with others in the ASCI to not only make important advances for patients but also to support the next generation of physician-scientists."
The ASCI was founded in 1908 and is one of the most prestigious honor societies in medical research. It has about 3,000 members and adds no more than 80 members to its ranks each year. Members are selected on the basis of excellence in research, clinical care, medical education, and outstanding scholarly achievement. The society publishes two high-impact journals, the Journal of Clinical Investigation and JCI Insight.