American Academy of PAs names UTSW an Employer of Excellence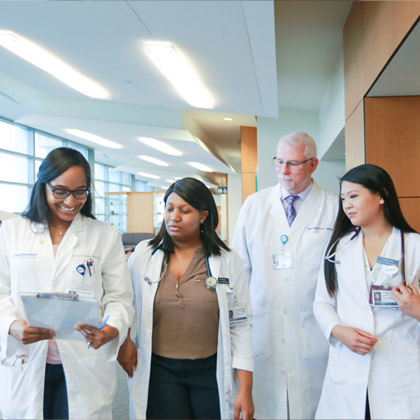 UT Southwestern is proud and honored to receive the 2020-21 Employer of Excellence Award from the American Academy of PAs (AAPA) Center for Healthcare Leadership and Management. The award recognizes top employers of physician assistants (PAs) for their success in creating workplaces with high PA engagement and satisfaction.
"As an organization, we've spent the past several years working hard to ensure the UT Southwestern Advanced Practice Provider community is well represented, supported, and positioned for success in contributing to our shared mission and vision, and recognized as valued clinicians and key members of the care team," said Christopher McLarty, D.N.P., APRN, NP-BC, Associate Vice President and Chief Nursing Officer for Ambulatory Services.
Recognition criteria focused five key drivers, including:
Establishing a positive and supportive PA work environment
Providing opportunities for PAs to provide meaningful input that leads to positive organizational change
Keeping PAs informed about organizational activity and decisions
Involving PAs in leadership efforts to improve the quality of patient care
Creating processes for effective conflict management
UT Southwestern employs 181 PAs, including several alumni turned faculty in the School of Health Professions PA Program, which is ranked No. 7 by U.S. News & World Report's annual Best Physician Assistant Programs ranking. More information on UT Southwestern's PA Program is available online.
"I believe this award represents our success in creating an environment where PAs are able to learn, grow, and successfully serve in health system and academic leadership roles," Dr. McLarty added.
Watch: Dr. John Warner thanks UTSW physician assistants