Jordan Driskill, M.D., Ph.D.: Vernie A. Stembridge Scholarship Award in Pathology
Even though Dr. Jordan Driskill made it all the way to the National Spelling Bee and then bungled his first word, that experience clearly was an anomaly. He has excelled in all other areas, achieving a Ph.D. in UT Southwestern's Perot Family Scholars Medical Scientist Training Program while also going to medical school. His goal is to specialize in cancer biology as a physician-scientist.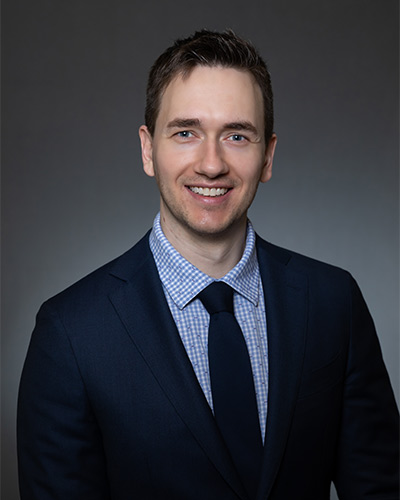 What this award means: It is a great honor to win this award. I discovered my love of pathology here at UTSW, and everyone in the Department has been extremely encouraging and thoughtful in helping me plan out my career as a pathology physician-scientist.
Mentor comment: Jordan has distinguished himself academically in both medical school and graduate school. His research and publications demonstrate academic achievement. I look forward to following Jordan in his career. – Kathleen Wilson, M.D., Professor of Pathology and in the Eugene McDermott Center for Human Growth and Development
Background and family: I'm from the Shenandoah Valley of Virginia, and my parents are both public school teachers who instilled in me a love of learning and teaching. My father is a coach and had hopes I would be an athlete, but I naturally gravitated toward science. I'm the first member of my family to go into medicine.
What led to your career path: In college, I was guided by my advisers to pursue basic scientific research and had spectacular physician-scientist mentors and others in the medical school who inspired me. Everyone told me I had to come to UT Southwestern to continue learning from the best. As a graduate student here in the lab of Duojia Pan, Ph.D., Chair and Professor of Physiology, I studied a rare vascular cancer and spent a lot of time generating genetically engineered mice and poring over mouse tissue slides looking for cancer at the microscopic level. By the time I graduated with my Ph.D., I knew pathology would be the best specialty to pursue my interest in cancer research.
College: I graduated from the University of Pennsylvania with a Bachelor of Arts in biochemistry and biophysics and a Master of Science in chemistry. I was a member of the Roy and Diana Vagelos Scholars Program in the Molecular Life Sciences, Phi Beta Kappa, and moderator of the Philomathean Society.
UTSW activities: I completed the Perot Family Scholars Medical Scientist Training Program (MSTP) and served as an MSTP delegate for the Vertically Integrated Programs-Cancer. I also served as a Colleges' peer mentor and Microanatomy teaching assistant.
Future plans: I matched to a residency in anatomical pathology at NewYork-Presbyterian/Weill Cornell Medical Center in New York City as part of its Physician Scientist Training Program, where I will learn how to diagnose cancer and continue my research in cancer biology. My goal is to run my own laboratory at an academic medical center one day, combining my unique clinical and scientific expertise in a subset of cancers that will hopefully lead to the development of new therapeutics.
About the award: The award was established by friends and colleagues of Dr. Stembridge, a former Chair of Pathology, who died in 2000. The $1,500 award is given to a fourth-year medical student entering the field of pathology who has exhibited exemplary academic performance.