Alexa Ciarolla, M.D.: American Academy of Neurology Medical Student Prize for Excellence in Neurology and the Rolland C. Reynolds Pathology Award
Dr. Alexa Ciarolla's background touches on areas considered unique for a medical school graduate: military service following graduation from the U.S. Naval Academy aboard a submarine and competition as a member of Team USA in the 2013 Student Yachting World Cup. But her experience all led her to UT Southwestern and graduation as a new physician specializing in neurology.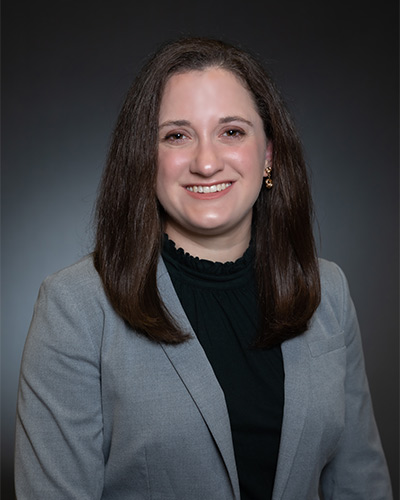 What the Excellence in Neurology Prize means: I have found many wonderful mentors and friends via the Neurology Department faculty and residents who have guided me throughout medical school, and I owe them for where I am now. I am truly grateful for their dedication and support and am honored to be chosen for this award.
Mentor comment: Alexa particularly shone on the Neurocritical Care service, where she sought out the sickest, most complex patients and completely owned their care. She spent extra time getting to know patients and families and was always available to counsel them as needed. She will undoubtedly be a top performer and leader during residency and in her career. – Stephen Figueroa, M.D., Associate Professor of Neurology and Neurological Surgery and Fellowship Director, Neurocritical Care
What the Reynolds Award means: The Pathology Department's dedication to teaching and students was ever-present throughout our time in medical school and had a great impact on helping myself and classmates understand the role pathology plays in understanding and treating disease. I am honored to be selected for this award and humbled to be recognized for service amongst many colleagues who have done amazing things as medical students.
Mentor comment: Alexa has demonstrated a career of service from the time she was a student in the U.S. Naval Academy. During medical school, her extensive community service has included the Equest therapeutic riding program, The Monday Clinic, and Meals on Wheels. With her humanitarian attributes, she will be an outstanding physician and a credit to our institution. – Kathleen Wilson, M.D., Professor of Pathology and in the Eugene McDermott Center for Human Growth and Development
Background and family: I was born and raised in Palos Verdes, California. My father is a medical oncologist, and my mother worked as a nurse in a critical care unit and cardiac catheterization lab before leaving her job to take care of my older brother, who has special needs.
What led to your career path: Both of my parents are in health care (my father is a physician and my mother is a nurse) so growing up I assumed I would follow in their footsteps. I ultimately decided to go to the Naval Academy for the opportunity to serve and challenge myself. Along the way, I had envisioned that my post-Navy career plans would involve law or something that seemed like a more natural segue from military service. However, I came back to the idea of medicine. I found that I needed a career that was more people-centric where I could work directly with patients and their families to improve their quality of life.
College: I graduated from the Naval Academy in 2014 with a Bachelor of Science in history and a Russian minor. There, I was a four-year member of the Varsity Offshore Sailing Team and worked as a member of Honor Staff for two years. Upon graduation, I completed nuclear power training in Charleston, South Carolina, and Ballston Spa, New York, before serving as a junior officer onboard a submarine stationed out of Pearl Harbor, Hawaii.
UTSW activities: As a pre-clerkship student, I was involved in several student interest groups and was selected as a Medical Student Representative of the Women in Science and Medicine Advisory Committee. I tutored in immunology, microbiology, pulmonology, and microanatomy. By third year, I contributed to research in neuroimaging in subjects with psychosis and planned and implemented a curriculum for a leadership elective for pre-clerkship students. I served as AOA co-president and one of the co-chairs of the GHHS Humans of Parkland committee. Outside of UTSW, I volunteered with Equest Hooves for Heroes, a therapeutic riding program for veterans.
Surprising fact: While on the USNA offshore sailing team, I had the opportunity to sail as a member of Team USA, competing in the 2013 Student Yachting World Cup in Pornic, France. We finished in third place against some very competitive international teams!
Future plans: After my neurology residency at UCLA Medical Center, I hope to specialize in neurocritical care. My ultimate goal is to pursue academic medicine so that I can continue to stay involved in research and medical education.
About the awards: The American Academy of Neurology Prize is presented to a graduating medical student who has promising career potential in neurology as determined by faculty and residents. The Reynolds Award honors the late Dr. Reynolds, a UTSW alumnus and faculty member remembered as a gifted pathologist and generous person. The recipient is selected based on humanitarian qualities.