Two UTSW scientists awarded Haberecht Grants for potential breakthrough research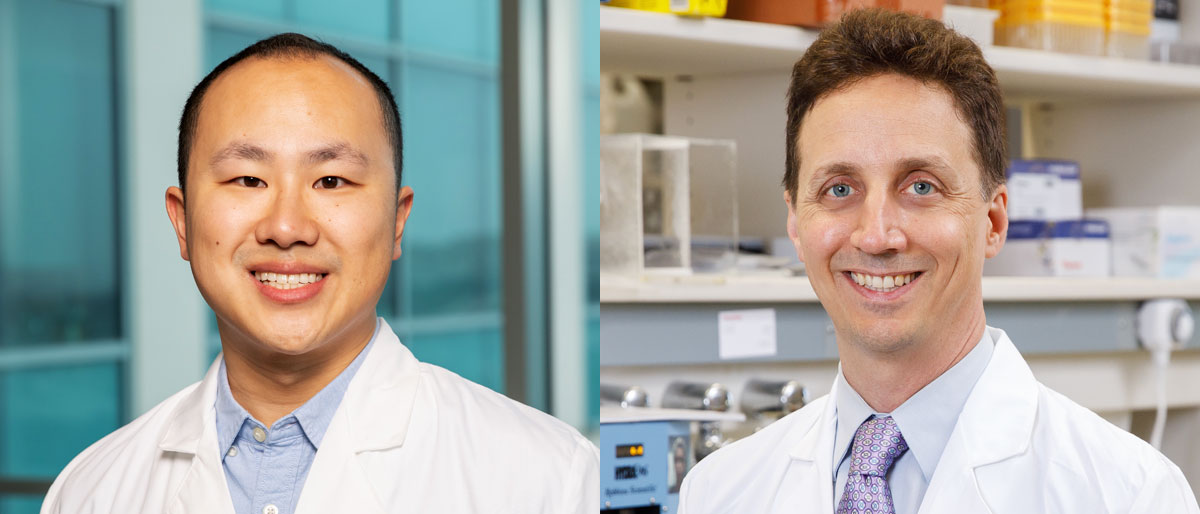 Two UT Southwestern researchers – one investigating how cancer cells acquire complex genomes and another exploring how photosynthetic animal cells could pave the way for laboratory-based meat products – have been awarded 2022 Haberecht Wildhare-Idea Research Grants.
Peter Ly, Ph.D., Assistant Professor of Pathology and Cell Biology, will use his grant to investigate the consequences of genomic instability in cancer development. Joshua Gruber M.D., Ph.D., Assistant Professor of Internal Medicine, said his grant will allow him to continue his research on developing animal products that are grown using energy derived from sunlight.
UT Southwestern's Haberecht Grants support speculative ideas in biomedical research that, if correct, could qualify as breakthroughs. Up to two proposals are selected each year for funding of $25,000 apiece. The projects from Drs. Gruber and Ly were selected from among 14 submitted.
Dr. Ly said he hopes his research will increase knowledge about how cancer develops, ultimately leading to new treatments. "It helps our understanding of how cancer evolves," he said of his research. "If we understand that, we can start to decipher how all of these genomic changes happen."
Dr. Gruber said his grant funding supports a lifelong goal of contributing to science and humanity. "I have known since elementary school that I wanted to be a scientist," he said. "Medical school came later in life when a mentor pushed me to do science that is beneficial to humanity."
Unraveling cancer development puzzles
Dr. Ly aims to increase understanding of cancer development. Although errors that occur during cell division are mostly rare in normal cells, it remains unknown why cancer cells frequently partition their genetic material incorrectly.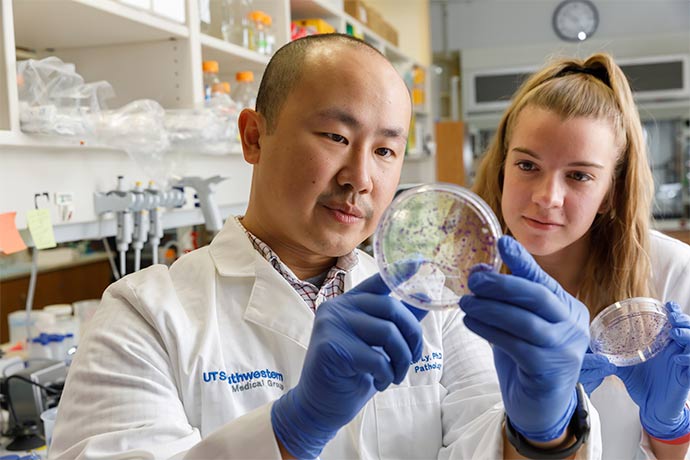 "Cells duplicate and segregate their chromosomes to produce genetically identical daughter cells. However, cancer cells frequently do this erroneously, and they can sometimes have twice the number of chromosomes of normal cells," he said. "In other instances, chromosomes are lost or joined to other chromosomes. Pieces of chromosomes can even be found in the cytoplasm. It is puzzling."
Cancer cells commonly harbor complex genomes characterized by structural variation and DNA copy number alterations. This can disrupt tumor suppressor genes, amplify oncogenes, or drive the formation of gene fusions.
Dr. Ly's team studies factors that shape the chaotic mutational landscape of cancer genomes, including the contributions from cell cycle regulation defects, chromosome segregation errors during cell division, and inaccurate DNA double-strand break repair pathways. With the grant support, Dr. Ly and his team will investigate how chromosome segregation errors from one cell can affect an adjacent, neighboring cell.
"Dr. Ly's unique research is worthy of recognition," said Diego H. Castrillon, M.D., Ph.D., Professor of Pathology and Obstetrics and Gynecology. "His proposal to study the cell-extrinsic consequences of cell division errors are in some ways an extension of his prior work – but also an off-the-wall and yet provocative idea – very much in the spirit of the Wildhare-Idea Grant."
Dr. Ly earned a bachelor's degree in biology from Baylor University and a Ph.D. in cancer biology from UT Southwestern. He pursued postdoctoral training at the Ludwig Institute for Cancer Research at University of California San Diego. In 2019, Dr. Ly joined UTSW as a Cancer Prevention and Research Institute of Texas Scholar in Cancer Research. He holds a secondary appointment in Cell Biology and also is a member of the Harold C. Simmons Comprehensive Cancer Center.
Using sunlight to reduce emissions
Dr. Gruber's research explores ways to reduce the Earth's carbon footprint by improving the efficiency of animal-based products. Rearing livestock animals is estimated to contribute up to 15% of global warming emissions, greater than that generated by all transportation emissions altogether, he said.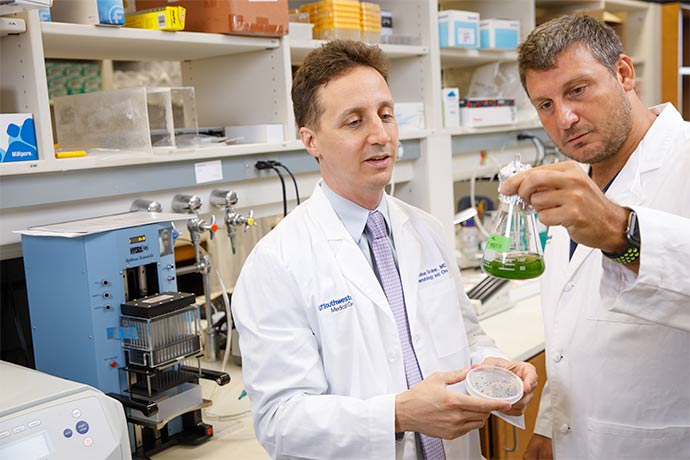 Although photosynthesis is classically constrained to plants, algae, and microscopic organisms that contain chloroplasts, examples can be found of animals living symbiotically with algae or ingesting chloroplasts to benefit from photosynthesis. However, no methodologies reliably reconstitute photosynthesis in animal cells. The generation of photosynthetic animal cells could lead to laboratory-based meat products that use the energy from sunlight to support their growth.
"In the big picture, we are looking at how we can diminish our carbon footprint," he said. "We're trying to generate new life forms in a way that is beneficial to the planet."
Dr. Gruber has a true passion for science and his research has significant impact potential, said Matteo Ligorio, M.D., Ph.D., Assistant Professor of Surgery and in the Simmons Cancer Center.
"This project is just an example of his imagination and creativity, two essential attributes of a great scientist," Dr. Ligorio said.
Dr. Gruber earned both his medical degree and doctoral degree in cancer biology and biochemistry at the University of Pennsylvania. At Stanford University, he completed a residency in internal medicine, fellowship in medical oncology, and a research fellowship in systems biology of cancer epigenetics. The breast cancer specialist who joined UTSW in 2021 holds a secondary appointment in the Cecil H. and Ida Green Center for Reproductive Biology Sciences and is a member of the Simmons Cancer Center.
His clinical focus is on treating patients with metastatic and triple-negative breast cancer. Dr. Gruber's research interests include the molecular biology of breast cancer initiation and the intersection of tumor immunology with cancer growth pathways.