Meet the second-quarter Strauss Award winners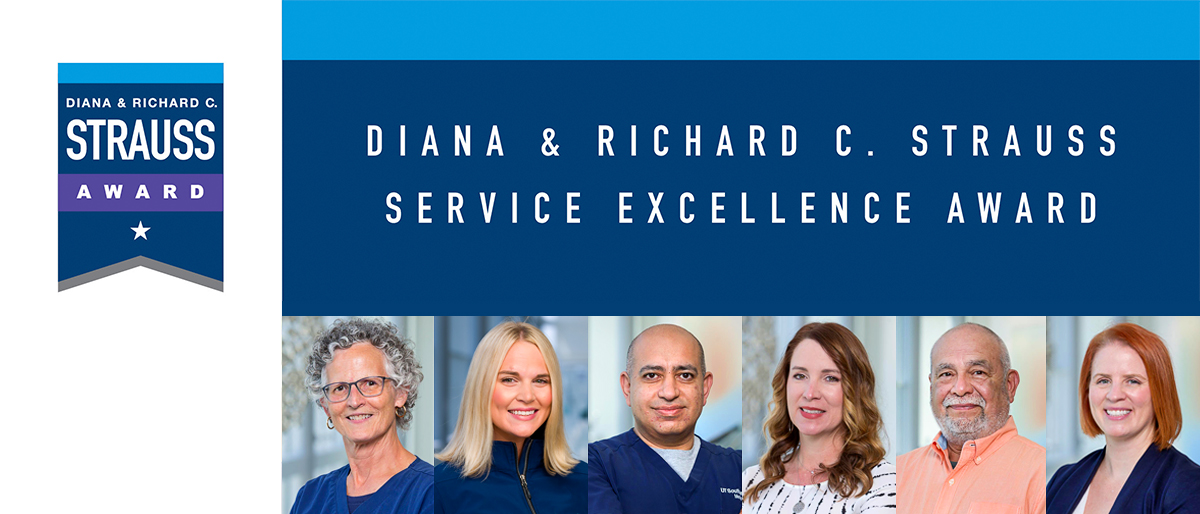 A round of applause for a recovery nurse, a speech-language pathologist, a rapid response nurse, a clinical nurse educator, a computer software architect, and a senior quality improvement analyst. They're the latest winners of UT Southwestern's Diana and Richard C. Strauss Service Excellence Awards.
The second-quarter 2022 Strauss Awards were celebrated during a virtual event on Aug. 12 hosted by John Warner, M.D., Executive Vice President for Health System Affairs and Health System CEO.
Once each quarter, six employees within the Health System are recognized for exemplifying excellence and professionalism in all they do.
Three things define and unite Strauss Award winners:
They excel at their jobs.
They serve as role models for the next generation of employees.
They share a spirit of volunteerism that strengthens our community.
Watch: Dr. Warner honors winners during the virtual event.
Amalia "Mali" Baker, B.S.N., RN, CPAN
Recovery Nurse
Zale Lipshy Surgical Services
"Mali is described by her team as 'the PACU cheerleader,' 'the PACU energizer bunny,' 'the most helpful person on the team!' She is truly a one-person welcoming committee for UTSW, always warmly engaging newcomers as if they have been friends forever. Every perioperative personnel will attest to Mali's relentlessly contagious positivity as it radiates to every corner of the Zale Lipshy second floor and beyond."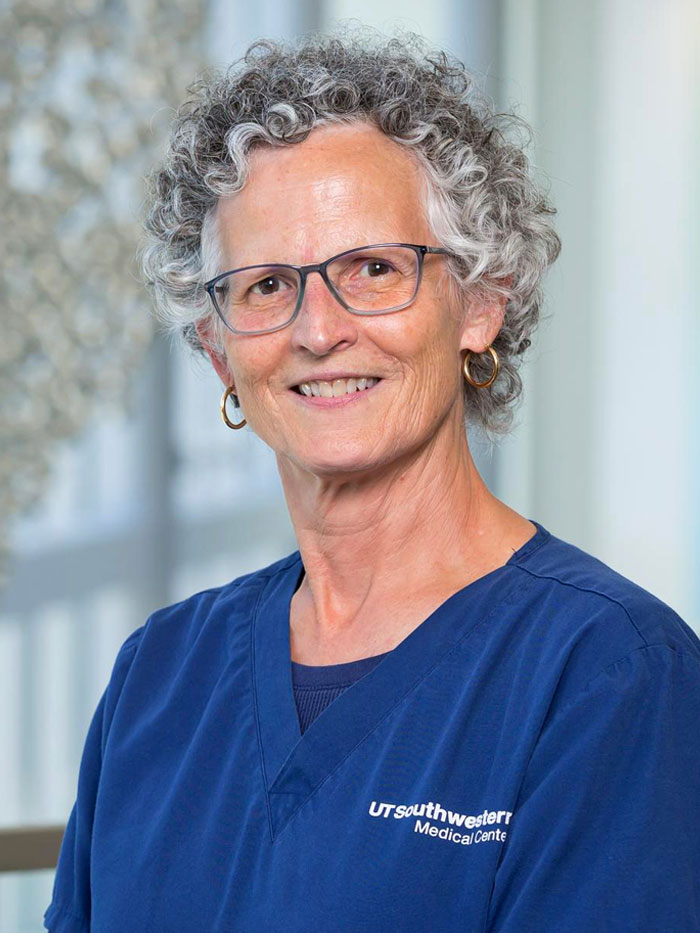 UTSW career: Mrs. Baker calls herself a "nontraditional nurse" because she didn't realize her dream of joining the profession until she was in her 40s. She was hired in 2003 in the Medical/Surgery Department at what is now Zale Lipshy Pavilion and moved to Surgery in 2005. Although she didn't take the shortest path to her chosen profession, Mrs. Baker knows she's where she was meant to be.
In her role: Mrs. Baker was part of a team that developed nurse-administered sedation in blocks, an important trial in the development of the chain-of-custody protocol for controlled substances. She stepped up to take responsibility for getting regional blocks and making sure consents are in order, among many other things that help the Surgery Department run efficiently. Her colleagues say she makes the jobs of everyone else on the Surgery team easier, and her teammates always know they can count on her.
The perfect fit: "It's hard to say what my favorite part of the job is. It's a tie between the connections I get to make with patients and the incredible bond the members of my team have with each other. Either way, it's an honor to be a nurse and I feel so fortunate every day to work here. Everything happening here is so exciting. There is so much growth going on. When I walk down the hallway, I think that I am working with the crème de la crème."
She's a day-brightener: Although she's quick to dispense compliments to her teammates, her nominator remarked that Mali's kudos always carry a little something extra. "She enhances her compliments by sharing specific accomplishments and goals that have been exceeded. Mali is that one employee who genuinely thinks more about others than herself and works to make the day brighter and happier for everyone."
Off the clock: Mrs. Baker enjoys cooking Tex-Mex food. She and her husband, Tom Baker, make a formidable barbecue team, joining forces to make mouth-watering baby back ribs.
---
Molly Gough, M.S., CCC-SLP, CBIS
Speech-Language Pathologist
Acute Therapy Services
"Molly Gough continues to be one of the most well-respected speech-language pathologists on the entire therapy team at UTSW. She is a pivotal member of the Stroke team and is regularly looked to as a leader by her peers, supervisors, and physicians. She has a kind heart and is always looking for ways to improve processes, patient care, and collaboration with other disciplines on the team."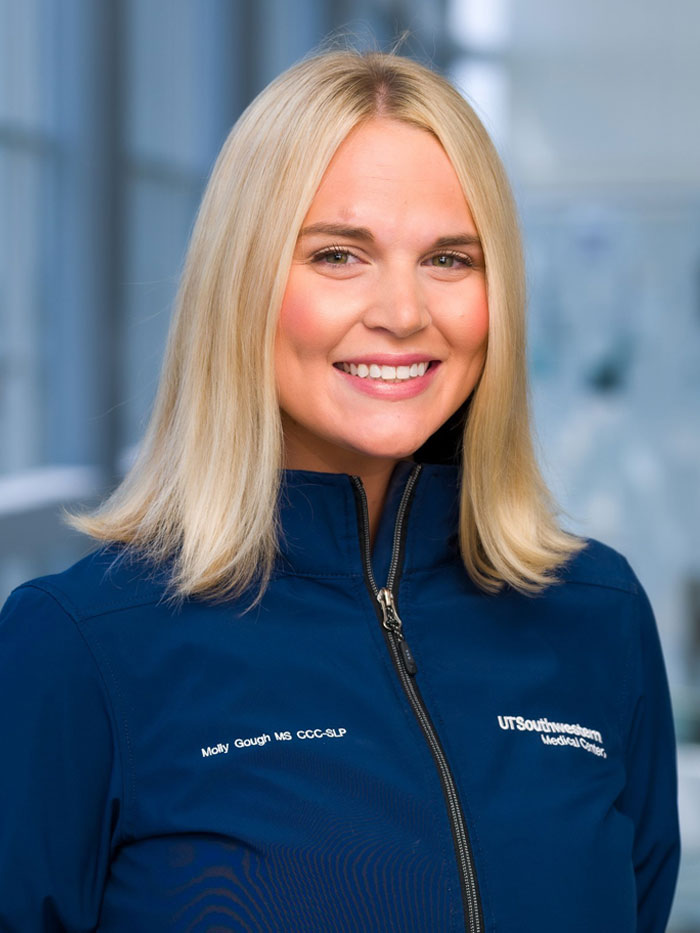 UTSW career: Mrs. Gough has worked at UT Southwestern for five years and said she feels fortunate to be hired for her dream job right after her graduation from the University of Mississippi. She couldn't imagine wanting to work elsewhere.
In her role: She often works with stroke patients, sometimes seriously impaired in their ability to speak and swallow. Helping them to be able to communicate and eat on their own fills her with a feeling of accomplishment. She said it is humbling and reassuring to see people whose lives have been devastated by a stroke reclaim their ability to speak and to take care of themselves.
Music to her ears: "On one of my absolute favorite days, I had a patient come in with aphasia, which is a communication disorder that can happen after a stroke. I was able to help him work on his communication and cognition until he could sing [a] favorite song for his spouse. They were both so happy!"
What she loves about her job: "Getting to see someone progress from where they can't even swallow to where they can eat a full meal or have cake on their birthday, or maybe they can't talk at all, but then they can tell their spouse they love them. Those are the things that are so rewarding about my job. I see a lot of happy tears."
Off the clock: Mrs. Gough and her husband, Jake Dunaway, are involved in several community service projects, including volunteering time to local food pantries and the OurCalling Homeless Ministry and through their church. She also donates time to the UT Southwestern Stroke Support Group.
---
Ihab Hanna, B.S.N., RN, CCRN, TCRN
Rapid Response Nurse
Resuscitation Team
"Ihab time and time again provides critical care expertise that saves patients' lives daily. He is one of the top-performing Rapid Response Team members. In addition to responding when called in an emergency, Ihab serves as a resource for bedside nurses in surveillance of at-risk patients."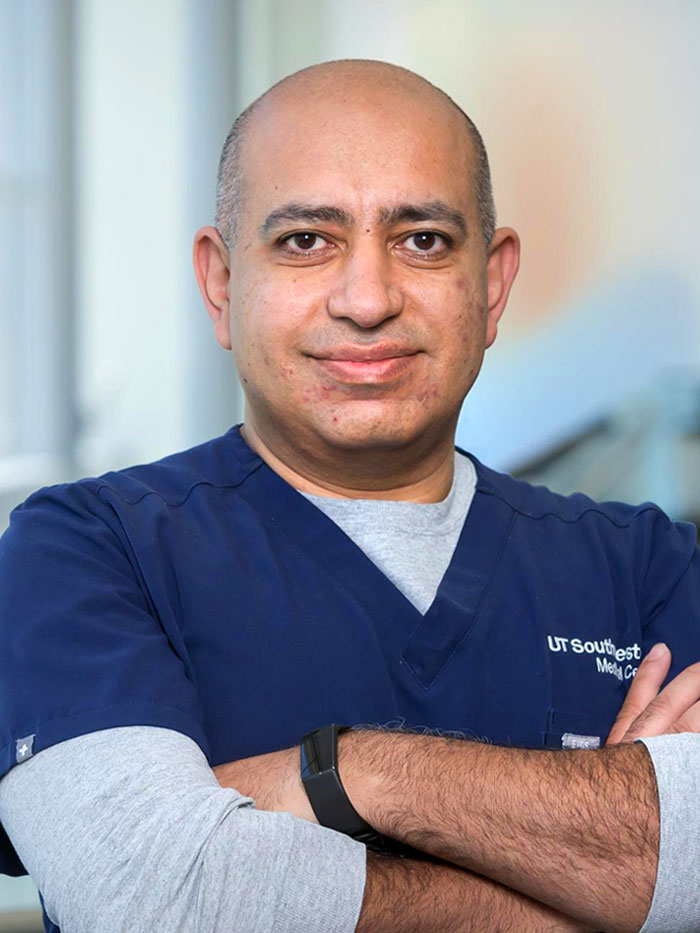 UTSW career: Nursing is the third act of Mr. Hanna's career. He worked in IT and banking before deciding his true calling was in health care, specifically nursing. While he had success in his previous lines of work, Mr. Hanna said he wanted to have a more direct positive impact on people's lives. He came to UT Southwestern five years ago from another Dallas hospital when he learned there was a full-time opening on the Rapid Response Team – a position he called his dream job.
In his role: When an emergency arises, Mr. Hanna is known for maintaining his calm and confident demeanor, no matter how critical the situation. His teammates find this helps the group remain focused on finding solutions quickly. After a Rapid Response Team emergency is addressed, Mr. Hanna is known by his colleagues as the person who often initiates crucial conversations about what went right and what needs to be improved next time. Those constructive talks, they say, must happen to help UT Southwestern remain an exceptional institution.
Driven to perfection: "I am extremely passionate about nursing in general," Mr. Hanna said. "But my goal is to continuously help my team get better one step at a time. We want to be an example, maybe a national example. We want people to look at us and say: 'That's how things should be done.'"
What he loves about his job: "I think this job is amazing. You get to use your capacity to think critically. It's a fast-paced environment, each case is a puzzle that you solve, and you have to find the right answer as quickly as possible. By doing that, often we can come up with much better outcomes. It's so rewarding when we come together as a team to do that."
Off the clock: "I like to read and go for walks. But what I really love to do is be anywhere by the water. If you put some H2O next to me, all my stress just disappears. White Rock Lake is a place I love to go. The feeling and the sound of the water make all my stress dissipate. I would take that over a massage any time."
---
Cara Hough, B.S.N., RN-BC
Clinical Nurse Educator
Ambulatory Nursing Operations
"Throughout Cara's long career at UT Southwestern, she has continued to live up to the mission, vision, and values of the University by continuously striving to meet the ever-changing needs of the clinics and the patients they serve."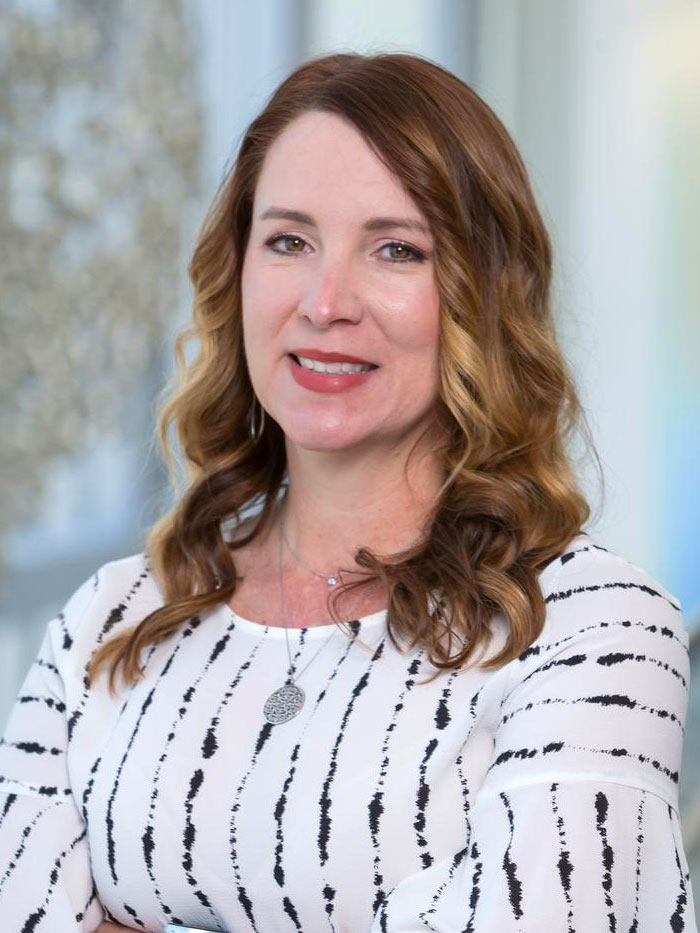 UTSW career: Mrs. Hough has worked at UT Southwestern her entire career, beginning full time in 2007. Originally, she worked as a student nurse extern in the Emergency Department, simultaneously earning her associate degree in nursing. Eventually, she became a clinical staff nurse, a float pool nurse, interim nurse leader, and finally a clinical nurse educator. She received her Bachelor of Science in nursing and her board certification in Ambulatory Care Nursing in 2014.
In her role: Mrs. Hough holds herself accountable to the clinic staff and the patients they serve by ensuring employees have the resources, education, and certifications they need to provide safe patient care. One of her responsibilities is keeping the outpatient Rapid Response Teams (RRTs) staffed, which is a bit different, since the RRTs are composed of clinical staff members who volunteer their time responding to patient, employee, and visitor medical emergencies in clinics and clinical centers. She has found creative ways to recruit and retain members of our outpatient Rapid Response Teams.
Do unto others: "I feel like I have made a difference in people's lives over the years. As an ER nurse when I first started out, I directly affected people. In clinics, I worked to develop long-term relationships. Now I try to take people under my wing whenever I can because it's a challenging profession, mentally and physically. It's my way of showing the people who came before me that I appreciate everything they did for me. I wouldn't be here if it wasn't for that."
What she loves about her job: "I think my greatest days here are when the Rapid Response Teams and I manage to save a life. They've done everything from perform CPR to deliver babies, and we all share in their success."
Off the clock: Even when Mrs. Hough isn't working at UT Southwestern, she is still striving to help develop new nurses. She was asked several years ago by the National Council of State Boards of Nursing to travel to Chicago to assist in developing questions for the NCLEX, the exam that nurses take to obtain their licenses. Since then, she has been asked to return to assist either in person or virtually almost every year.
---
Noe "Danny" Martinez
Lead Programmer/Architect
Health System Information Resources (HSIR)
"Danny is the go-to person for the Medical Surgical Billing Department and is respected among his peers. Across all HSIR teams, people have benefitted from his knowledge base."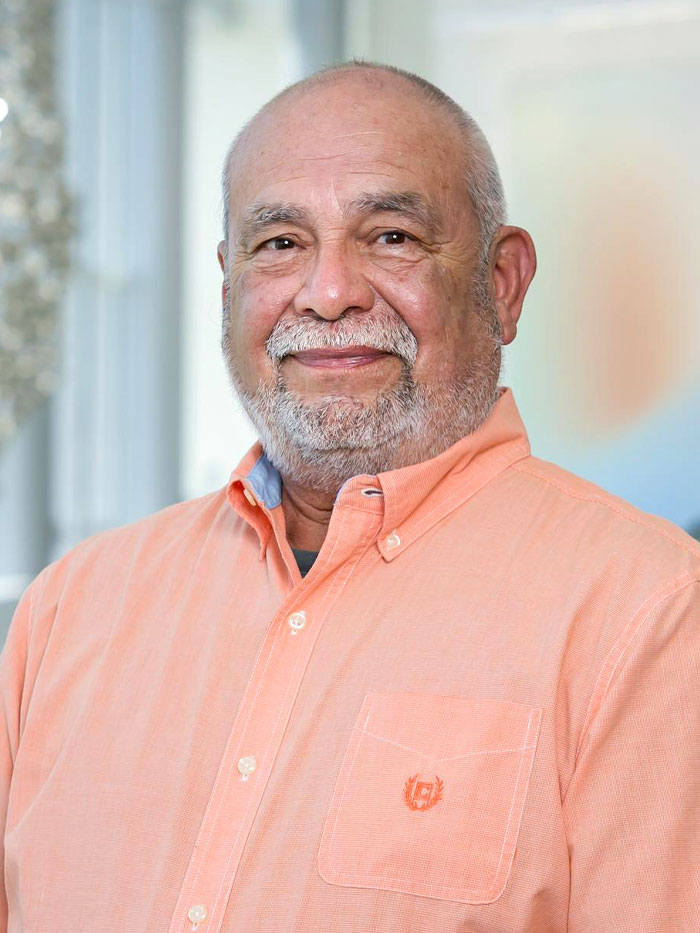 UTSW career: Mr. Martinez has worked at UT Southwestern for 17 years. When he arrived, he had no previous experience in the medical field, but he has been thrilled that for nearly two decades he has been able to put his programming skills to use for what he considers to be a noble cause: supporting health care workers who save lives every day.
In his role: Clinical staff relies on the software used in the Medical and Surgical Billing Department, and it's Mr. Martinez's job to make it run smoothly. This includes the Epic record management system, which is a crucial tool for doctors, nurses, and other care team members. Mr. Martinez recently worked with the Parkland interface team to implement a new system that allows customization of the data being sent to UTSW. While the nature of his work is technical, to Mr. Martinez it comes down to a very simple motivation: He knows the billing and management software under his watch is a vital part of our care mission.
I've got your back: "I want to be thought of as the guy who is always willing to help whenever people have a question or a problem. I'm always willing to drop whatever I am doing to help a teammate in need whenever any issue pops up."
What he loves about his job: "I don't deal directly with patients. But when the health care providers here have a breakthrough or whenever there is a case in the news that makes headlines, I know my contributions helped in some small way."
Off the clock: When he's not performing digital magic at work, Mr. Martinez prefers a much more analog way of clearing his mind at home. Planting flowers, mowing grass, and playing with his dog are favorite activities in the oasis that is his yard.
---
Emma Minnis, M.B.A., B.S.N., RN, CCRN-K
Senior Quality Improvement Analyst
Health System Quality and Operations Excellence
"Emma's customers rely on her expertise and guidance to collect accurate data, analyze it, and make meaningful recommendations. UTSW would not be the same without Emma because she has such a big impact on so many projects and leaders, resulting in better patient experiences and outcomes. She does all this with humility, enthusiasm, and compassion."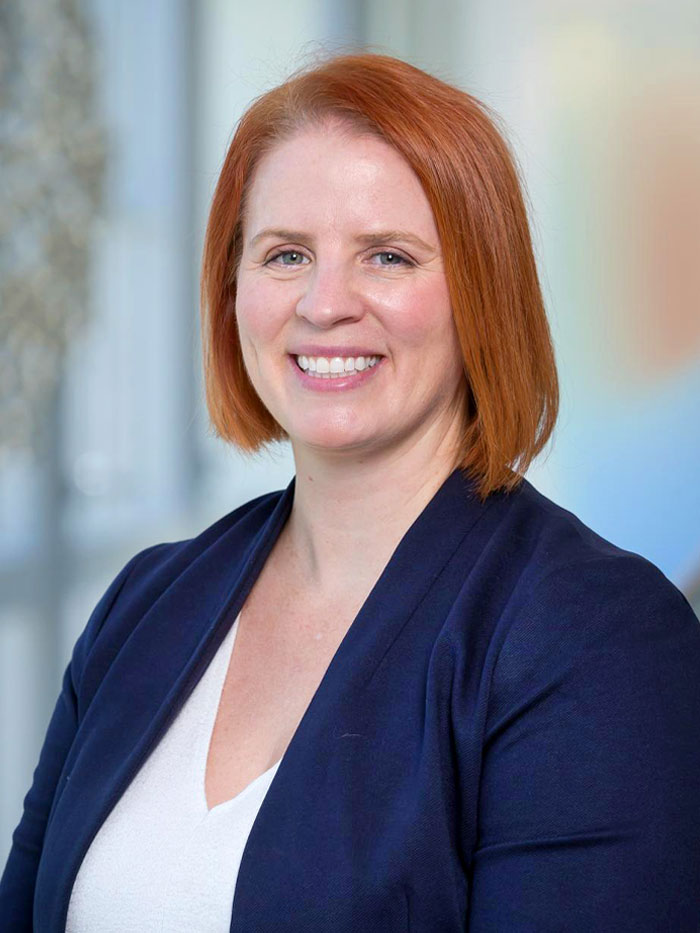 UTSW career: Mrs. Minnis has worked at UT Southwestern for seven years, serving the past three and a half years in her current job. An RN by trade, she previously worked with heart and lung transplant patients and in the Cardiac ICU.
In her role: As Senior Quality Improvement Analyst, Mrs. Minnis collects, organizes, and analyzes data to help maximize the efficiency and effectiveness of hospital operations. One of her nominators wrote: "Emma has been instrumental in ensuring that the information we have for nursing leaders is accurate and actionable."
Passing the torch: "One of my main roles is mentoring and training new hires and nurses. When you see that lightbulb light up in the other person … that they're really starting to get it … it's incredibly satisfying. Any time I feel like I made things a little bit better for someone, I'm happy. It can be a struggle to get your start in a new role, and I know that support can mean everything. So, I take it seriously."
What she loves about her job: There is nothing like watching a transplant patient react to hearing their new heart beating for the first time, according to Mrs. Minnis. It's something she's witnessed too many times to count, but the veteran nurse said it never gets old.
Off the clock: Away from work, Emma volunteers at the Stewpot in Dallas, serving meals to the homeless and other at-risk populations. She also donates her time to Bonton Farms, a community outreach program in southern Dallas. When it comes to playtime, Mrs. Minnis unwinds by hiking and biking. She's been to about 30 state parks and 10 national parks, exploring what nature has to offer.