Chief Nurse Executive highlights successes, challenges of past year
UT Southwestern's State of Nursing address also honors winners of Nurse Excellence Awards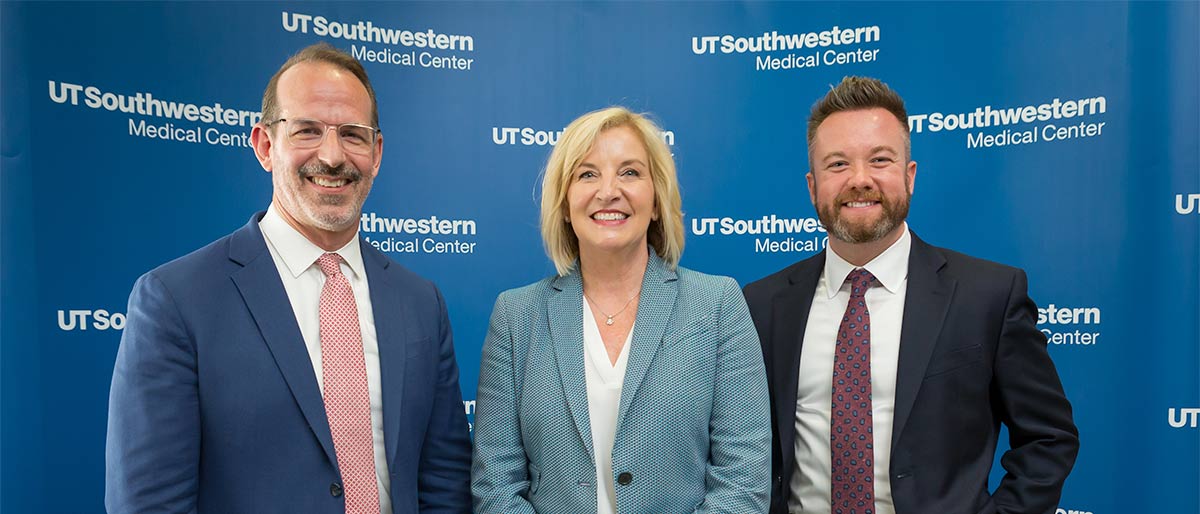 Associate Vice President and Chief Nurse Executive Susan Hernandez, D.N.P., M.B.A., RN, drew inspiration from the historical Angel Oak Tree in South Carolina as she praised nurses for weathering the storms of the past year and staying rooted despite the many challenges they faced.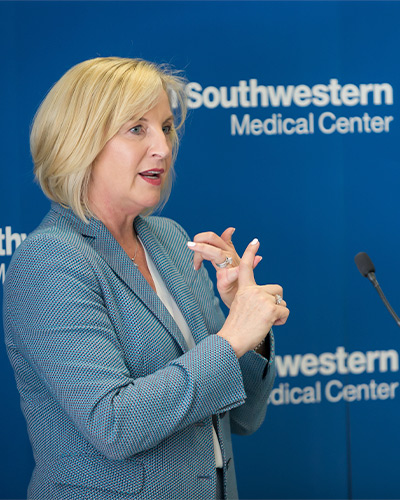 "We're deeply rooted and believe in our mission," she said during her seventh annual State of Nursing address on May 11.
Dr. Hernandez delivered her message via livestream, making it possible for hundreds of UT Southwestern nurses and medical professionals to attend from different units and clinics. More than 50 people attended in person.
The event took place during National Nurses Week, the American Nurses Association's weeklong celebration that honors nurses' contributions to society each year from May 6-12. The UTSW event also featured a virtual presentation of the Nurse Excellence Awards.
In her address, Dr. Hernandez said UT Southwestern faced many storms during 2021, from the pandemic and COVID-19 surges to snow and ice. Yet despite the challenges of COVID-19, 400-plus more lives were saved than expected, 390,062 vaccinations were provided, and 525,596 tests were administered.
"We've done a really great job of quickly figuring out how to take care of that patient population to keep them safe and to heal them," she said.
Teamwork makes an impact
The dedication of the team did not go unnoticed. UT Southwestern hospitals ranked higher than the 98th percentile nationally by Press Ganey in overall ratings. Press Ganey is a national consulting firm that specializes in health care performance.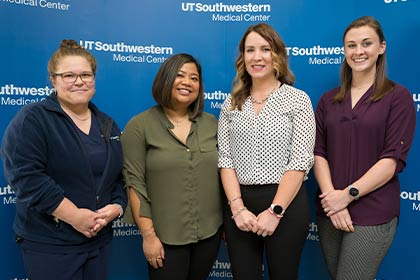 "We are prioritizing service and it shows," Dr. Hernandez said. "We are putting people first."
That commitment can be seen in COVID-19 statistics, a reduction in falls, and improved practices.
Nurses worked hard on interventions to reduce falls, she said. For example, by changing the language used with patients who declined bed alarms, nurses were able to reduce the number of falls. The inpatient fall rate dropped to 1.83, measured over a period of 1,000 patient days.
"For the first time in eight years we have a fall rate below 2.0," Dr. Hernandez said. According to the Department of Health and Human Services, fall rates and fall prevention practices are counted and tracked as one component of a quality improvement program. UT Southwestern tracks both injury rates and fall rates in inpatient data.
When an increase in central line-associated bloodstream infections (CLABSI) was identified, the Medical Intensive Care Unit team focused on ways to address the issue. The team implemented an intervention that led to zero CLABSIs for 100 days.
Nurses also made a difference to employees and faculty by delivering 10,413 flu shots simultaneously with COVID-19 booster shots.
"It was a great way to keep people safe," Dr. Hernandez said.
Dedicated to research, training
Despite the challenges, nurses remained dedicated to innovation and research. In 2021, UTSW nurses published 16 research studies and completed 21. A total of 56 studies are still in process.
And in spite of challenges in the profession nationwide, the nursing residency pipeline has stayed strong and continues to attract participants, she said.
"It is so great to see how many nurses came through the nurse residency pipeline," Dr. Hernandez said. "We had 846 applicants and we took 118."
Providing a supportive environment where employees can flourish continues to be a priority, she added. The Rory Meyers Advanced Education Program, for example, awards up to $10,000 a year for nurses who need financial assistance to pursue a degree. This year, 23 scholarships were awarded.
To keep employees safe, Crisis Prevention Institute training was introduced and led to 55 fully trained staff members, with more to come. This training gives nurses the tools to de-escalate any situation and keep patients, families, and themselves safe from harm.
Patients and staff also benefit from new support programs. In October 2020, UT Southwestern launched the Child Life Program. Since then, 1,072 children have been seen across 1,576 visits. The program serves as a resource for patients with children under age 18. Child Life Specialists provide a range of services such as early grief support, education on common stress responses in children, and guided instruction on talking to kids about the changes to come with their parent's diagnosis. And since a full-time Music Therapy program was introduced in 2021, 15 to 20 patients have benefited each week.
Dr. Hernandez said one of the advantages of working at UT Southwestern is that nurses have many opportunities to work in different areas to flourish. She highlighted the expansion of clinical expertise with primary care clinics now or soon to open in Fort Worth, Frisco, southern Dallas (RedBird), and Coppell. Other major projects in the pipeline include a new pediatric campus in partnership with Children's Health in 2029 and a state psychiatric hospital in 2025.
Dr. Hernandez concluded that she is not worried about the future in firm belief that UT Southwestern will continue to thrive. And even after a challenging time since the start of the pandemic, she is optimistic.
"I celebrate our profession and the joy of getting to do it here," she said.
State of Nursing Photo Gallery