Anthony Han, M.D.: Texas College of Emergency Physicians Award
At her first job working on a horse farm in Iowa, Dr. Carolyn Shanks developed a strong work ethic. This drive carried her forward in school as well, as she excelled in math and science, leading her to college and eventually medical school. The importance of the work and the fast pace drew her to the specialty of emergency medicine.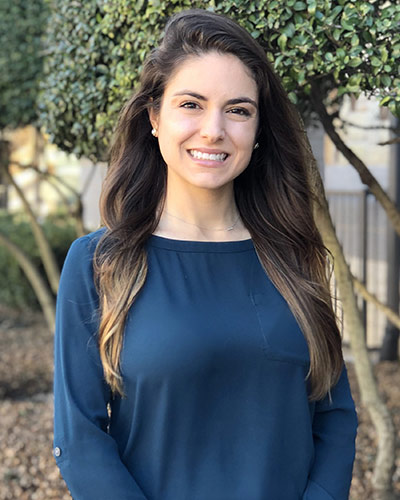 What this award means: "This award is meaningful to me because when I work a shift in the Emergency Department, I am genuinely excited to be there and to engage with and learn from each patient. It's an honor that the attendings and residents with whom I have worked also notice and appreciate my effort."
Mentor comment: "Carolyn excelled on her emergency medicine rotations, impressing all by her diagnostic acumen, procedural skills, and warm bedside manner." – Dr. Christine Kulstad, Associate Professor of Emergency Medicine 
Background and family: "I was born and raised in Bettendorf, Iowa. Both of my parents grew up on farms in Iowa, and I got my first job on a horse farm. I do think this first job instilled a work ethic that continues on through my work in medical school and will continue into residency. Math and science were my favorite subjects, and I even skipped a grade in those two subjects, as well as competed on my school's math bee team. I attended Vanderbilt University for undergrad, where I became involved in medical research that propelled my interest in medicine."
What led to your career path: "I explored many different fields, but realized that when I was in the Emergency Department, time flew by and I would leave feeling more invigorated by the importance of the work. I loved the challenge of the undifferentiated patient, but also loved the connection of emergency medicine to the community. At Vanderbilt, one of my majors was medicine, health, and society. I spent four years studying topics such as social determinants of health, racial and ethnic health disparities, health care policy, and how health is portrayed in the media. When I worked in the Emergency Department, I saw all of those topics come to life. It confirmed the importance of providing care to patients who do not otherwise have access to medical care and continues to inspire me to improve health care both in the hospital and out in the community."
UTSW activities: "I served as a Reflections Workshop Leader, seniors community Pen Pal Program volunteer, Meals on Wheels volunteer, and kept active with research in multiple publications."
Surprising fact: "Before starting medical school, I moved to France and worked as an English tutor. It was an experience that has helped me to connect with people from different cultures and certainly taught me how to explain complex subjects despite language and cultural barriers – which is certainly useful in an emergency department."
Future plans: "After my emergency medicine residency, I hope to complete a fellowship. I am interested in medical education, ultrasound, and health policy. After fellowship, I plan to work in the community for at least a couple of years. Eventually, I do hope to return to an academic institution to work; I enjoy working with people at different training levels and look forward to teaching others. I also appreciate that academic hospitals are constantly striving to improve the practice of medicine through research."
About the award: The award is presented to a medical student who demonstrates excellence in emergency medicine, with special dedication to Texans who need emergency care.