UTSW burn surgeon receives prestigious Piper Professor Award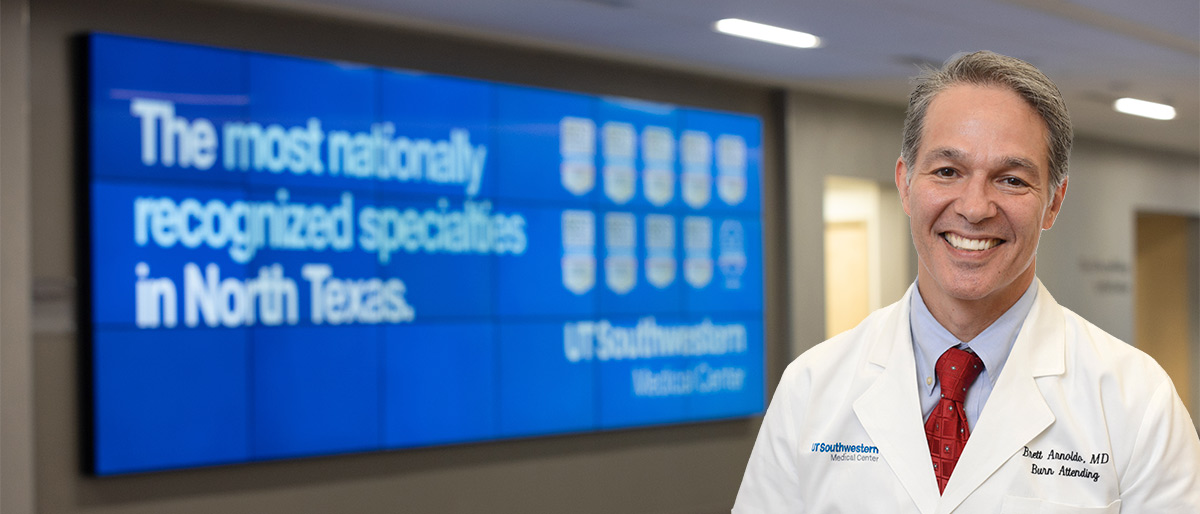 The greatest lessons for Brett Arnoldo, M.D., as a burn surgeon and educator are not delivered from behind a podium in a classroom. Instead, they happen during surgery, on rounds, or at a patient's bedside.
"Most of what I teach happens as I'm going through the day," said Dr. Arnoldo, Professor of Surgery. "It happens in those moments that come up and you can't predict when."
Dr. Arnoldo's unique teaching style and passion for medicine were recently recognized by the Minnie Stevens Piper Foundation with a Piper Professor Award. This elite honor recognizes outstanding college professors in Texas. Dr. Arnoldo is the 17th current or former UTSW faculty member to receive the award since its creation in 1958.
Dr. Arnoldo's drive and dedication to medicine make him very deserving of the award, said Benjamin Levi, M.D., Associate Professor of Surgery and Chief of the Division of Burn, Trauma, Acute, and Critical Care Surgery. He said Dr. Arnoldo helped establish the Parkland Health and UT Southwestern burn teams as providers of one of the top burn programs in the country.
"Dr. Arnoldo is one of the most remarkable physicians, teachers, and humans I have worked with," Dr. Levi said. "His dedication to patients and their families as well as the faculty, staff, and trainees around him is remarkable. He is the surgeon you would want at your bedside and the teacher and mentor you would want to guide you or your loved ones."
Dr. Arnoldo's journey to medicine was unconventional. He initially planned to become an artist and had earned a master's degree in fine arts before the challenges of making a living led him in a different direction – medicine.
"More than a job and career, it's like a calling to do something that helps other people," he said.
He received his medical degree from State University of New York at Buffalo School of Medicine in 1995, followed by a general surgery residency there from 1995-2000. In 2003, Dr. Arnoldo was recruited to UT Southwestern by the late Gary Purdue, M.D., a surgical faculty member at the time.
Working in the burn unit proved to be both immensely rewarding and tough, Dr. Arnoldo said.
"Burn patients are in the hospital a long time and you develop a relationship with them, which I find very rewarding," he said.
Audra Clark, M.D., UTSW Assistant Professor of Surgery, said Dr. Arnoldo generously gives of himself to teach, support, and promote medical students and residents.
"Dr. Arnoldo is one of the most effective and impactful mentors I have been lucky enough to learn under," Dr. Clark said. "I have trained under Dr. Arnoldo as a medical student, resident, and fellow, and I can honestly say that I chose a career in burn surgery in large part because of him."
By inspiring his students, Dr. Arnoldo hopes to play a part in addressing a national shortage of burn surgeons.
After being appointed to the Laurel and Gary F. Purdue, M.D. Chair in Burn Care in 2019, he planned to use the endowment to support research led by early-career investigators. UT Southwestern has built a pipeline of burn surgeons, which speaks to the commitment and support from leadership, he said.
"There's something very human about it," Dr. Arnoldo said of burn surgery. "What I have learned as a surgeon has given life meaning."