UTSW graduate students, postdoc honored with NSF fellowships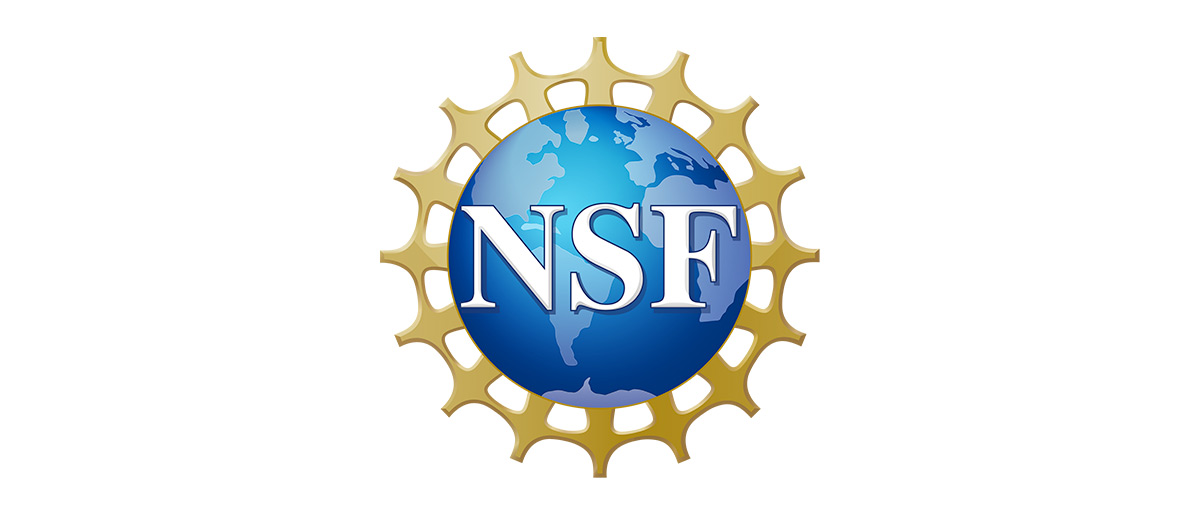 Four UT Southwestern graduate students – including two incoming first-year students – have been awarded National Science Foundation (NSF) Graduate Research Fellowships, and three received honorable mentions. In addition, a postdoctoral researcher was awarded an NSF Postdoctoral Research Fellowship in Biology.
The NSF Graduate Research Fellowship Program (GRFP) supports outstanding graduate students pursuing research-based master's and doctoral degrees in STEM fields. The oldest graduate fellowship of its kind, the Program has funded over 60,000 Graduate Research Fellowships out of more than 500,000 applicants since 1952. Past GRFP awardees include 42 Nobel Laureates and over 450 members of the National Academy of Sciences.
Fellowships provide each student recipient with a three-year annual stipend of $37,000 along with a $12,000 cost of education allowance.
The NSF Postdoctoral Research Fellowship in Biology (PRFB) supports outstanding postdoctoral fellows who are conducting research in selected areas of the life sciences. Funded projects fall under three areas: broadening participation of underrepresented groups in biology; rules governing interactions between genomes, environments, and phenotypes; and plant genomes. The PRFB supports fellows in pursuing their research and training goals in collaboration with sponsoring scientists and encourages independence at an early stage in the fellow's research career.
Only about 120 PRFBs are given nationally each year. The two-year award received by UTSW's recipient totals $138,000.
Following are snapshots of the 2022 honorees and their research:
---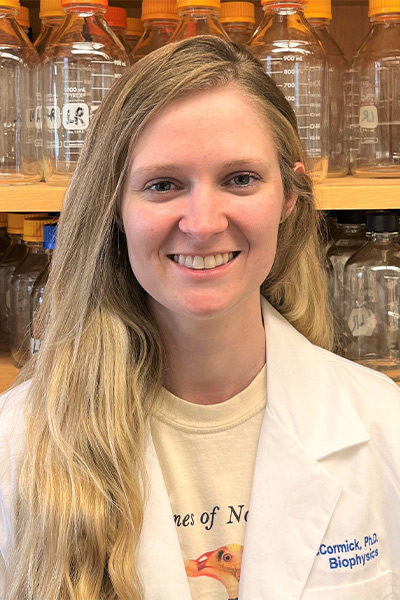 NSF-PRFB recipient
Lauren A. McCormick, Ph.D.
Department of Biophysics
Lab of Luke Rice, Ph.D.
Research focus: I study microtubules, which form essential parts of the eukaryotic cellular skeleton. I will combine experiments with computer simulations to study how new microtubules form and how existing ones depolymerize, or "shrink." I will also study how microtubule dynamics are conserved or altered across evolution.
What this award means: Support to do the science I'm passionate about and to invest in scientific outreach. Through this award, I will develop a scientific outreach program with a local school in Dallas that serves a diverse student population.
Giving back: I like giving back because it's fun. And as an NSF fellow, I am supported and funded by the American public, so I feel a strong sense of responsibility and gratitude to people who have invested in me and this science.
---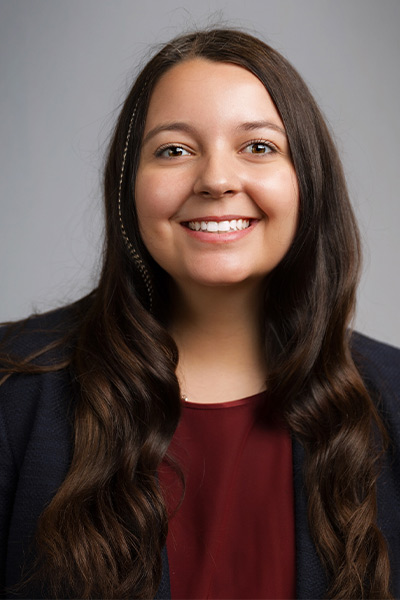 NSF GRFP recipient
Isabella Brown
Cancer Biology Graduate Program
Lab of Maralice Conacci-Sorrell, Ph.D.
Research focus: I am studying the coordination of protein synthesis processes shared between different cellular compartments (cytosol and mitochondria) in colon cancer. Understanding this connection could lead to future avenues for cancer therapeutics.
What this award means: Finding confidence can sometimes be a challenge as a graduate student in a STEM field, but this recognition has really enhanced my determination. This award opens so many opportunities and resources that are invaluable to my success.
Outreach efforts: I am very interested in reaching students who have a background similar to mine. I have several learning disabilities, including dyslexia, which have provided challenges throughout my education. There is a lack of representation of students from this background in STEM, and I hope to reach out to these students and help bridge the gap.
---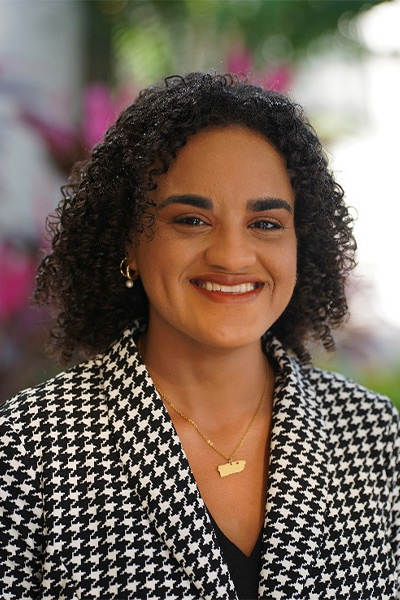 NSF GRFP recipient
Adriana P. Claudio Vázquez
Organic Chemistry Graduate Program
(starting fall 2022)
Lab to be determined
Research focus: My goal at the bench is to use conventional and modern synthetic methods to access complex molecules with possible biological activity. I would like to study the drug action of these molecules and their analogs to understand their biological activity. This way I can achieve my goals as a synthetic chemist, help with drug discovery, and also ease problems in the biomedical field.
What this award means: Winning this helps me obtain resources to achieve my goals, which are not only to work at the bench, but also to work on outreach, expand my knowledge, and share that knowledge with underrepresented communities that do not have the resources to access science as I do now.
Outreach efforts: Through the American Chemical Society Chapter, I taught on-the-spot experiments to people of all ages who did not have easy access to science. These were simple experiments they could do with ingredients from home, and I talked about the chemistry behind them and how they worked. I also worked on Chemistry Magic Shows. All this helped students obtain a better perspective of what they could do with chemistry and sparked their interest in maybe studying it one day.
---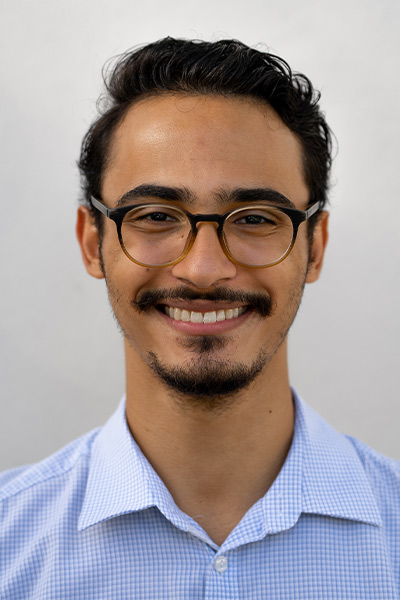 NSF GRFP recipient
René García Del Valle
Organic Chemistry Graduate Program
(starting fall 2022)
Lab to be determined
Research focus: I plan to focus on methodology development in organic synthesis, which can help us access complex structures. The goal is to create easier ways to access natural and synthetic compounds – ultimately facilitating the process of drug discovery and development.
What this award means: As a first-generation student, it means a lot! Through the process, I had to fight a lot of impostor syndrome. I couldn't be more grateful for the incredible mentors who helped me along the way.
Best part about research: Research is like a roller coaster! Sometimes experiments are going great, and then all of the sudden there's an obstacle we have to tackle. Research is about being creative and about perseverance. I like that ride!
---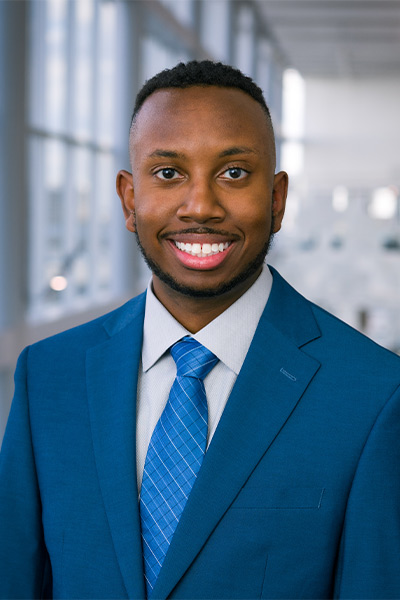 NSF GRFP recipient
Joshua Robinson
Biological Chemistry Graduate Program
Lab of Daniel Siegwart, Ph.D.
Research focus: I am working on the development of three-component lipid nanoparticles (LNPs) as gene carriers. As seen with the COVID-19 vaccines, delivery of genetic material (in this case mRNA) has been very helpful and successful. I aim to potentially develop more efficient LNPs for mRNA delivery. The resulting knowledge will provide fundamental information to eventually develop better vaccines.
What this award means: : I am very thankful to have been recognized for the NSF GRFP. To me, it means that others see the potential that I see in my project and the impact that it can have. Additionally, I am aware that African American males in STEM fields are scarce, so with me receiving this award, I hope that there are younger scientists who view this as validation that they too can succeed in STEM.
Inspiring future generations: Students may need to know, "How do I set up this reaction?" However, they also need to know how to get into grad school, how to be successful in science and outside of it, and how to reach out and network. I want to answer these types of questions. Ultimately, I want to inspire others by being present and using my experiences to make theirs that much better!
---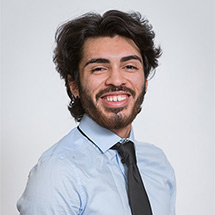 NSF GRFP honorable mention
Roy Garcia
Cancer Biology Graduate Program and Mechanisms of Diseaseand Translational Science
(MODTS) Graduate Track
Lab of Maralice Conacci-Sorrell, Ph.D.
Research focus: The focus of my research is investigating tryptophan-metabolizing enzymes as potential therapeutic targets for colorectal cancer (CRC). Despite advances in treatment options for advanced-stage CRC, the five-year survival rate of stage 4 CRC patients remains below 15%. Furthermore, early onset CRC incidence is increasing globally with a higher probability of being diagnosed as compared to later onset CRC. Therefore, there is a need for more effective therapies.
Love of science: As a child, I would often get into trouble due to my own curiosity. From my eyes, there was so much intrigue and so many questions filling the world around me. And each of those questions came with its own miniadventure in trying to solve it. What I love about science is that it is one big adventure – an adventure into the unknown.
Giving back: As a child of immigrants raised in a financially poor area of East Los Angeles, community was everything. As a community, what we lacked in wealth we made up for in support. Across my life, I am fortunate to have been a part of many different communities. I have learned from each. I simply hope I can support the communities that have supported me.
---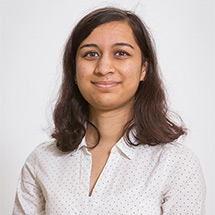 NSF GRFP honorable mention
Chetana Jadhav
Cell and Molecular Biology Graduate Program
Labs of Mike Henne, Ph.D., and
Sarah Huen, M.D., Ph.D.
Research focus: I am studying the role of lipid droplets in renal tissue. My research will allow us to understand changes in lipid metabolism in the kidney during kidney diseases.
What this honor means: I am very grateful to be awarded an honorable mention for the NSF GRFP. I am happy that my hard work and research are recognized by the rest of the scientific community.
Outreach efforts: After graduating from college, I worked as the unpaid Vice President for Folded Crane Foundation, a nonprofit that helps young women from underrepresented minority backgrounds prepare for careers in STEM fields. Last year, we reached out to 52 young women from schools in five different states. We organized a series of weekly STEM workshops and activities for high school girls. I put together a STEM panel session with women who can act as role models to the students. In addition, I connected the high schoolers with women in specific STEM fields to serve as long-term mentors. With each event I organize, I strive to give young women the same resources I had to pursue STEM-related careers where there remains a lack of diversity.
---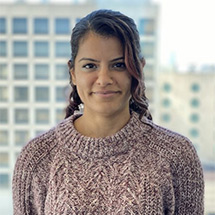 NSF GRFP honorable mention
Mahak Virlley
Neuroscience Graduate Program with the
Computational and Systems Biology Track
Lab of Peter Tsai, M.D., Ph.D.
Research focus: I am investigating brain circuits involved in social behavior to assist in understanding how the brain encodes social behavior and how this goes awry in autism.
What this honor means: This honorable mention means that my scientific peers acknowledge my ideas and hard work, and their encouragement is a strong driving force.
Giving back: I feel that I have been given an advantage through my education and experience with uplifting mentors. I hope to give this gift back to underrepresented communities in science, specifically young women in computationally intensive fields, by breaking stigmas and holding educational seminars for young women.