Health System Celebration of Excellence recognizes accomplishments amid challenges of past year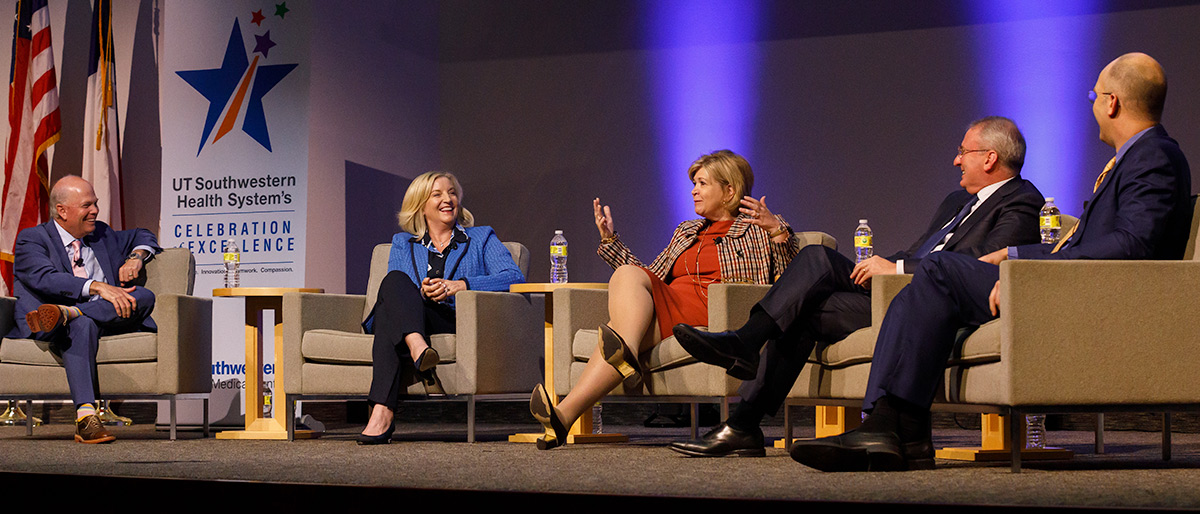 Since the start of the pandemic, UT Southwestern health care professionals have vaccinated at least 168,000 patients against COVID-19, administered 526,000 COVID-19 tests, and treated 8,000 COVID patients. While meeting those urgent needs, staff simultaneously worked to complete new outpatient cancer care and brain research towers and a regional outpatient medical center at RedBird to serve Southwestern Dallas County – all set to open later this year.
Watch the event in full:
On May 6, the fourth annual Health System Celebration of Excellence was held in-person and livestreamed for the benefit of the entire UT Southwestern community. The half-day event highlighted clinical innovations and quality improvements taking place at UTSW, despite the hardships of a pandemic.
Those who came to the Tom and Lula Gooch Auditorium or watched the livestreamed event were welcomed by Daniel K. Podolsky, M.D., President of UT Southwestern, and heard an overview of UTSW's recent accomplishments from John Warner, M.D., Executive Vice President for Health System Affairs and CEO of the UT Southwestern Health System. The keynote speaker, Marti Taylor, M.S.N., RN, President and CEO of OneFifteen, an addiction treatment facility in Dayton, Ohio, talked of ways to improve trust and teamwork in order to build a safer, more reliable health care environment.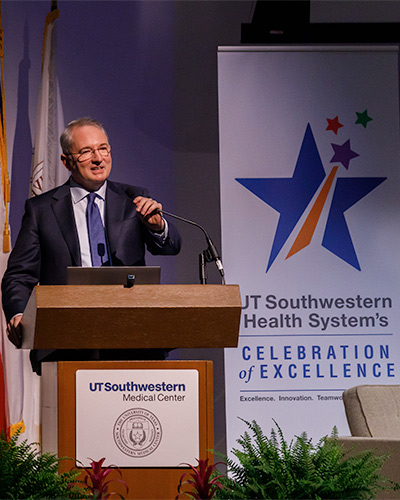 Also featured were 131 posters submitted by UTSW faculty and staff describing projects to improve care. A committee selected five top posters in each of four categories: People, Quality, Service, and Financial Stewardship. A winner and finalist in each category were recognized during the event – with projects ranging from a plan to help new nurses transition successfully to the job to a program designed to prevent patient identification errors during transport.
Excellence drives growth
The number of outpatient visits has bounced back since fiscal year 2020, when the pandemic spread to North Texas, according to Dr. Warner. Outpatient visits dipped to 1.5 million in 2020 from 1.6 million the year before. That number is projected to rise to almost 2.2 million in fiscal year 2022. Meanwhile, Dr. Warner said, patient telehealth visits have soared. "We went from doing about 10 virtual visits a day to 1,600 virtual visits a day in 10 days," he said.
But such numbers tell only part of the story. "You've heard me say each year that UT Southwestern leads with quality and service," Dr. Warner said.
And as Dr. Podolsky shared in his opening remarks, "You've heard me say many times before that growth for growth's sake is not our objective when it comes to our clinical transformation strategies. The significant investments we continue to make in the people, programs, facilities, technologies, and services we offer at UT Southwestern enable us to perform our best work and provide the exemplary care our patients and their families have come to expect from us and deserve."
UTSW ranks among the 10 best academic medical centers in the U.S. in terms of low patient mortality, according to Vizient Inc., a health care support company. Vizient ranks UT Southwestern No. 2 on patient-centeredness, he added.
Eight UT Southwestern specialties – including cardiology and heart surgery, rehabilitation, and cancer – are ranked in the top 25 nationally by U.S. News & World Report, Dr. Warner added.
While UT Southwestern has long had the goal of being North Texas' preferred specialty care provider, another aim is expanding its reach in primary care, Dr. Warner said. "So many people came to us for a [COVID] test or a vaccine and got to know us in that way and now want to see us for other things, and so we're seeing a huge demand for primary care," he explained. The Medical Center plans to add 15 to 17 new clinics around the metroplex in the next couple of years, he said.
A speaker's humble advice
Keynote speaker Marti Taylor said she was impressed by UT Southwestern's continued focus on its mission during a pandemic. She talked of the need to build a culture of both physical safety for patients and psychological safety for employees so that teams know they can rely on each other and speak up if there is a problem.
Ms. Taylor told a story from her early days as a young cardiac intensive care nurse working the night shift when she accidentally gave a patient 10 times the prescribed amount of a medicine. A cardiology fellow, a pharmacist, and a respiratory therapist came to the rescue, she said.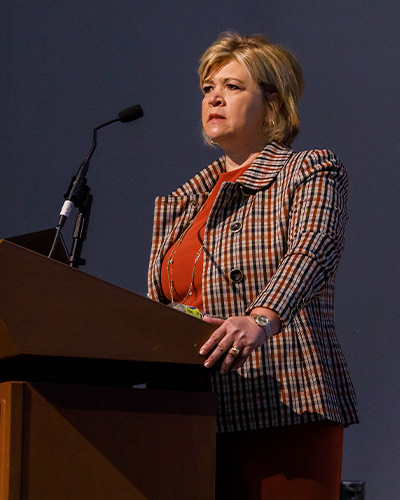 The next day, as she prepared to tell her supervisor what she had done, she feared she would be fired and lose her nursing license. Instead, the supervisor who had taken on the risk of an inexperienced nurse assigned her to work with the pharmacy to come up with a system to prevent such mistakes in the future. She said the ordeal taught her the importance of multidisciplinary teamwork and the ability to trust and rely upon those teams.
She also cited a 2021 survey from The Washington Post and Kaiser Family Foundation that found 55% of front-line health care workers reported burnout. "Burnout is at an all-time high," she said. "We need to be kind to one another."
Expressing gratitude is one way to release toxic emotions, anxiety, and depression, Ms. Taylor said.
Excellence in action
Despite everything that has happened during the pandemic, there are reasons to be grateful, as the video of a COVID-19 survivor illustrated.
Mark Schlesinger came to UT Southwestern in November 2020 and spent almost a year in intensive care, including recovering after a lung transplant. "My nurse showed me a picture every morning of my daughter and said, 'This is what you're fighting for. This is what you're going to live for.' UT Southwestern absolutely saved my life – without a doubt," said the former patient, who now plans to play golf again this summer.
"If you're working here at UT Southwestern, you have made a difference," said Kim Pong, a supervisor and vascular ultrasound technologist, in the same video.
"I see excellence every day as my team walks through that door," added Jennifer Zentz, Director of Ambulatory Operations, another employee interviewed for the video.
"We've saved a lot of lives with these efforts," Dr. Warner told the crowd.
Celebration of Excellence Gallery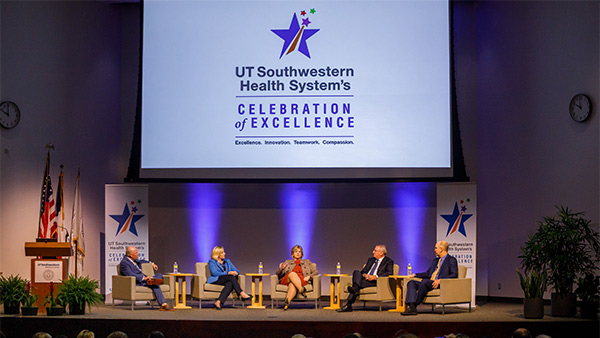 Panelists who discussed issues in health care during a fireside chat included (from left) William Daniel, M.D., VP and Chief Quality Officer; Susan Hernandez, D.N.P., M.B.A., RN, Associate Vice President and Chief Nurse Executive; Ms. Taylor; Dr. Warner; and Seth Toomay, M.D., Associate Vice President and Health System Chief Medical Officer.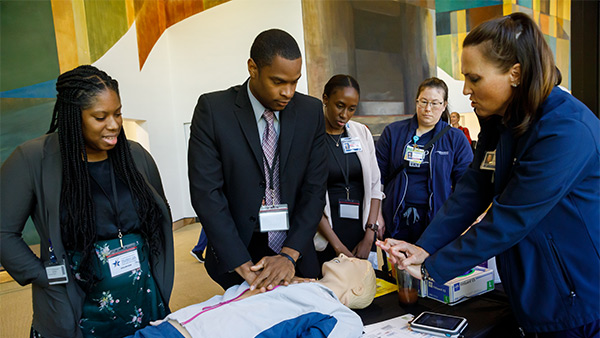 The day's activities included medical demonstrations such as CPR.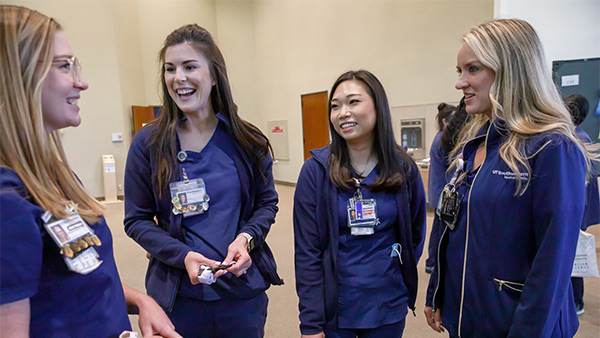 The event gave staff from across the institution an opportunity to connect.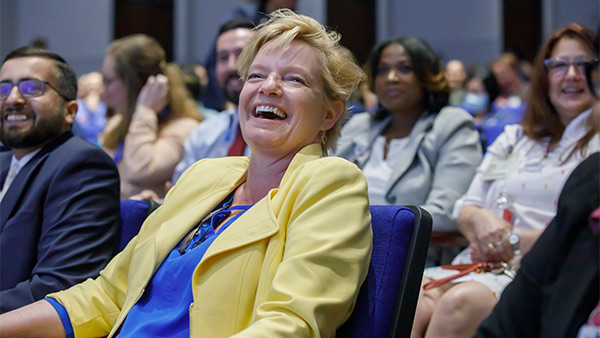 Jennifer "J" Alexander, Manager of University Hospital Imaging Services and Systems, reacts to a moment of levity.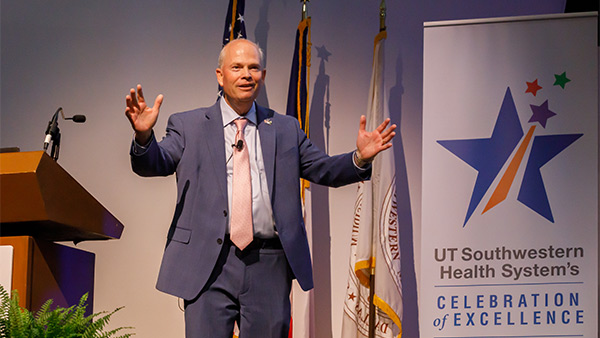 William Daniel, M.D., Vice President and Chief Quality Officer, introduced the keynote speaker.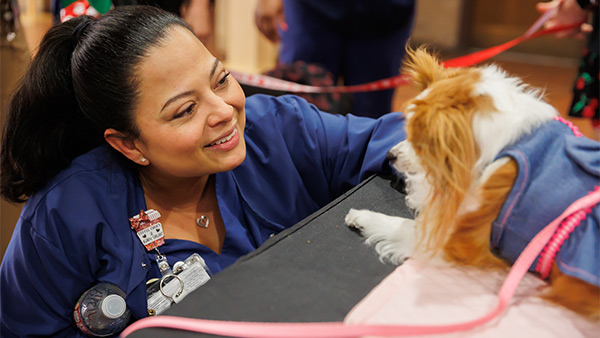 A visit from therapy dogs, through Volunteer Services, offered a little stress relief.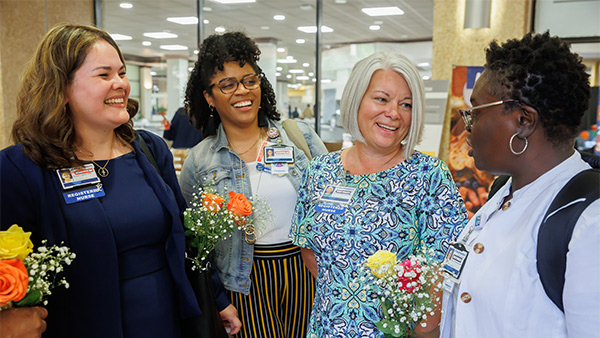 A group of Health System staff gather during a break in the event to share a few laughs.