Finding a higher purpose through military medical service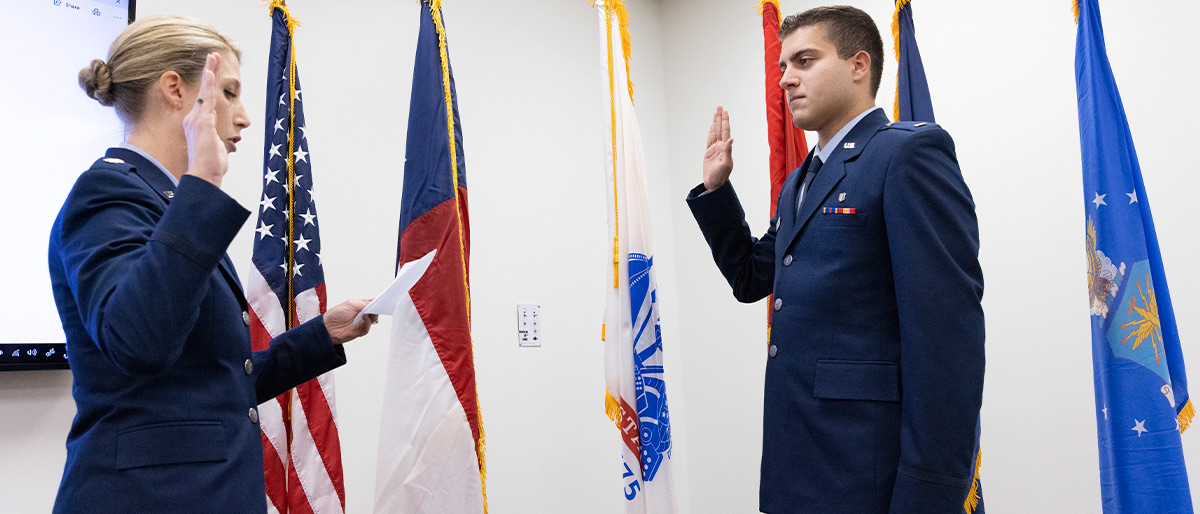 The journey that led Capt. Andrew Aboujaoude, M.D., to combining military service and medicine began before he was even born.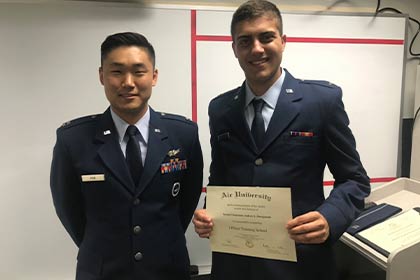 Dr. Aboujaoude, 26, graduated from UT Southwestern Medical School in May and was then named a captain in the U.S. Air Force. He was commissioned during a special ceremony at UTSW before leaving for residency training in anesthesiology at Columbia University Medical Center in New York, during which he will be on Air Force Reserve status. Dr. Aboujaoude joined the Air Force as a second lieutenant when he began medical school in 2018 as part of the Armed Forces Health Professions Scholarship Program, which qualifies scholars for the rank of captain upon graduation.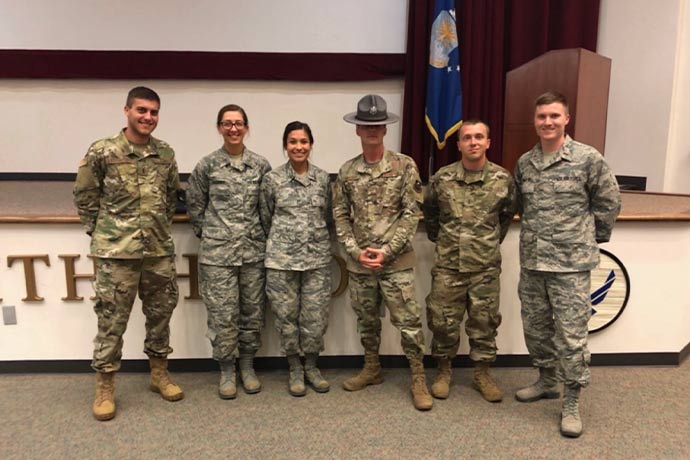 Only about 1% of the nation's population serves in the military, retired Air Force Col. Richard Vatt, D.O., noted as he addressed family, friends, and others gathered for the May 13 commissioning ceremony. Col. Vatt, a mentor of Dr. Aboujaoude's as he grew up in Allen, Texas, recalled the young Andrew's deep concern for others and predicted he would touch lives throughout his career.
To understand Dr. Aboujaoude's story and his career path requires going back one generation. His parents separately fled war-torn Lebanon for the United States in the 1980s after graduating from high school. "We finally ran away from all the civil war and the mess," said Dr. Aboujaoude's father, Roger.
The couple met in Brooklyn, New York, and married, then moved to New Jersey, where their son and daughter were born. When Dr. Aboujaoude was in high school, they moved to Texas for work.
As a child, Dr. Aboujaoude heard his parents talk of their struggles in Lebanon and why they sought refuge in the U.S. He also learned how American troops helped as part of a multinational peacekeeping force working to quell the violence. "I think our armed forces stand for serving humanity around the world and for taking care of people who are vulnerable, as we've seen in many countries in the past few years," Dr. Aboujaoude said.
Fear turned to fortitude
At age 12, another crucial event shaped Dr. Aboujaoude's future. He had always been afraid of doctors and their needles. In the days leading up to Easter, he became ill with severe intestinal problems.
His parents took him to one local New Jersey doctor, then to another. "They said, 'He's got diarrhea, vomiting – he's got salmonella. Here are some antibiotics,'" Dr. Aboujaoude recalled of how doctors treated him for what they thought was bacterial food poisoning.
But he failed to improve with treatment. By Good Friday, as clinics were starting to close, his parents considered waiting until after Easter, but instead tried a third doctor. "By then, I was in poor shape. I couldn't even stand up straight. I was vomiting every hour. I've never felt so close to death," Dr. Aboujaoude said.
The new doctor also prescribed a treatment for salmonella. But then, as his family was heading back to their car and the clinic doors were being locked, the doctor ran into the parking lot. "She had every reason just to let the doors close and go home," Dr. Aboujaoude recalled. "Instead, she said, 'We're going to open the clinic for 10 more minutes and figure this out.'"
After performing an abdominal check, she discovered an inflamed appendix was the problem – not salmonella. "She said, 'Get to the hospital immediately,'" Dr. Aboujaoude recalled. Out of fear that his appendix might have burst, he was quickly scheduled for an appendectomy the next morning. The appendix had not burst, but if his family had simply gone home until after Easter, "I would have probably died," he said.
Understanding how close he had come to death, seeing a doctor willing to question an existing diagnosis and take a second look on a holiday afternoon, and receiving such compassionate care from the hospital's surgical team, he thought to himself, "This is a beautiful profession … I want to be the kind of doctor that those doctors were for me."
Touched by tragedy
"The first thing he said when he opened his eyes after surgery was, 'I want to be a doctor,'" said his mother, Hala Aboujaoude, a high school teacher.
Intent on pursuing that dream, in 2014, Dr. Aboujaoude headed to Orlando, Florida, to begin working toward a Bachelor of Science in biomedical sciences at the University of Central Florida, ultimately graduating summa cum laude.
That fall, former UCF student Steven Sotloff, by then a 31-year-old American journalist working in the Middle East, was beheaded in Syria. A video of the killing was posted online by the terrorist group ISIS. Dr. Aboujaoude never met Mr. Sotloff, but still remembers the memorial vigil held at the school.
Then, in 2016, he was volunteering at a hospital about a mile from Orlando's Pulse nightclub when victims of what was then the largest mass shooting in American history began showing up in a trauma surgery unit. The attack by a man claiming allegiance to various Middle Eastern terrorist groups left 49 dead and more than 50 injured.
As a college student volunteer, it was Dr. Aboujaoude's job to talk to the anxious family members who streamed into the hospital to find out whether a loved one was there and to help however else he could.
These experiences left a deep imprint. "I just grew very passionate about protecting our people – those who protect others," he said. "You see Pulse and you see such evil, and you want to protect the people who are part of those missions that protect us from that evil."
His senior year of college, Dr. Aboujaoude applied to the Health Professions Scholarship Program, which pays for medical school for students who join the military and pledge to work as a military physician for at least four years after completing medical school and residency training.
Mixing medicine and the military
"I'm passionate about medicine. I am passionate about the military. It was an opportunity that matched and mixed both of them," he said of the program.
He was accepted to more than 10 medical schools – including The Johns Hopkins University School of Medicine – but chose UT Southwestern because of how welcomed and supported he felt here – and, of course, Dallas was home.
"Going through medical school is tough. Going through it while juggling military demands and commitments (including officer training school and active duty during one summer) is even tougher," Dr. Aboujaoude told those gathered for his commissioning.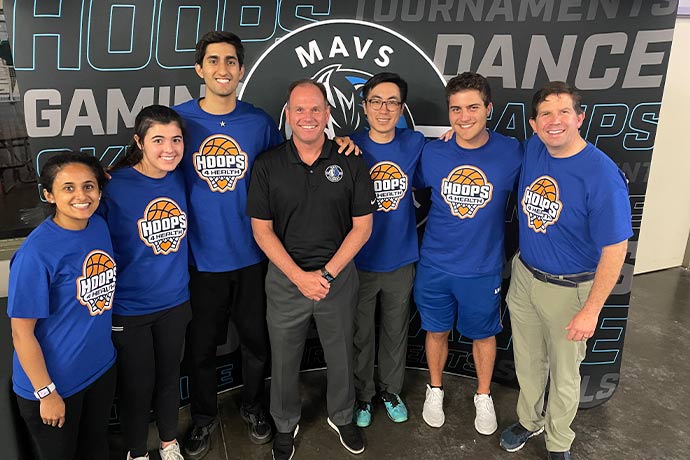 Despite those challenges, he managed an impressive list of other accomplishments. Dr. Aboujaoude was President of UT Southwestern's Armed Forces Landing Zone, a social and mentoring organization for veterans, first responders, and students participating in the Health Professions Scholarship Program that hosted the commissioning event along with the campus's Veterans BRG (Business Resource Group). He was also a member of Alpha Omega Alpha Honor Medical Society. As its community outreach officer, he helped AOA forge a working partnership with the Dallas Mavericks, UT Southwestern, and Scottish Rite for Children to provide care for kids with sports injuries at a youth basketball tournament.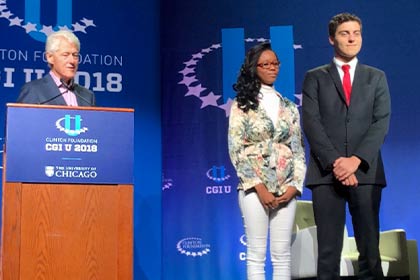 In addition, he co-founded and is President of Hearts for the Homeless International, which provides free blood pressure and mental health screenings to homeless people, as well as mobile electrocardiograms – EKG heart rhythm tests performed using a smartphone app. Dr. Aboujaoude was recognized for this work in 2018 by former President Bill Clinton and the Clinton Global Initiative, part of the Clinton Foundation.
"He puts a lot of work into what he wants to be," Dr. Aboujaoude's mother said of her son. "He sets goals and sets a time for them."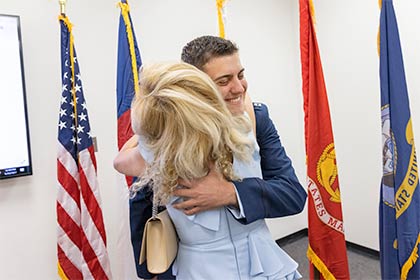 Dr. Aboujaoude welcomes the challenges that will come with working as an Air Force anesthesiologist. "We don't do anesthesiology on multihour flights in the civilian world," he said.
Turning a plane into a flying ICU requires innovation and creativity, he said. And with talk of the Space Force and future space exploration come exciting questions about anesthesia and surgical capabilities in the space realm, he added. The goal, he said, is "to save the lives of young men and women who sacrifice their lives for our country."