UTSW scientist catalyzes new collaborations in voice disorders research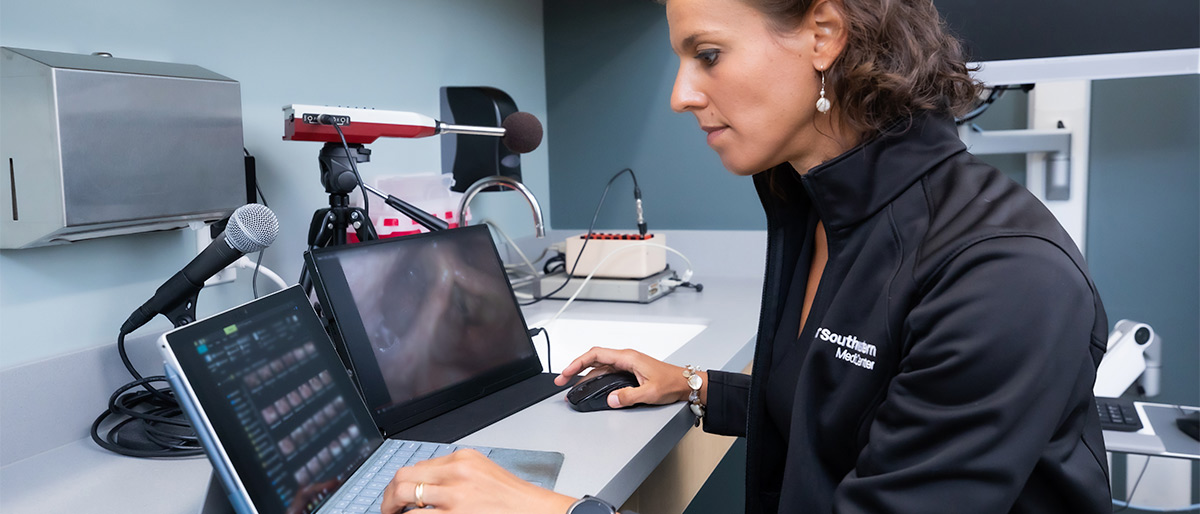 With the hiring of Assistant Professor Adrianna Shembel, Ph.D., CCC-SLP, UT Southwestern became one of only nine institutions in the country to have a dedicated SLP/Ph.D. researcher focused on voice disorders. A joint appointment allows her to bridge the clinical expertise in the Department of Otolaryngology – Head and Neck Surgery at UT Southwestern with the basic science research in the Department of Speech, Language, and Hearing at UT Dallas to improve comprehensive care for patients with voice disorders. This unique partnership provides opportunities to apply novel computational, biological, and behavioral sciences to long-standing clinical issues.
"We want to think innovatively about patient problems and come up with better approaches to diagnose and treat patients with voice disorders," she said.
Dr. Shembel, who joined UTSW in 2020, is a licensed Speech-Language Pathologist (SLP) and has a background in vocal performance. Her work focuses on the effects of increased neuromuscular demands on the vocal subsystems. She is especially interested in how high vocal demands can lead to voice disorders in occupational voice users.
"Many people use their voices professionally – singers and teachers, for example. Understanding how vocal muscles adapt and become dysfunctional with high vocal demands is critical for effective prevention and rehabilitation in occupational voice users," she said.
Dr. Shembel received her Master of Arts in communication sciences and disorders and Ph.D. in rehabilitation sciences at the University of Pittsburgh. Her Ph.D. was on the effects of increased respiratory demands on the larynx. Her postdoctoral work at New York University School of Medicine focused on the effects of increased vocal demands on laryngeal aging in a rat model. She is currently applying the model to study vocal muscle use and overuse in her Integrative Laryngeal Biophysiology lab. The goal of this work is to understand how the laryngeal muscles adapt and maladapt to increased vocal demands.
Dr. Shembel also works with human subjects to understand vocal muscle function and dysfunction. She is collaborating with the UT Southwestern Voice Center and Collaborative for Advanced Clinical Techniques in UltraSound (CACTUS) lab on an Early Career R21 Award funded through the National Institute of Deafness and Other Communication Disorders (NIDCD). The goal of the study is to understand how vocal demands impact vocal muscle tension in the head and neck using novel shear wave-ultrasound approaches. Dr. Shembel also has an internally funded grant in collaboration with computer scientists at UT Dallas using motion capture technology to study how the vocal subsystems coordinate in patients with and without muscle tension dysphonia.
"The addition of Adrianna to our team creates a synergy between our Speech-Language Pathology program and our Laryngology program that will be very fruitful for patients with voice disorders," said Ted Mau, M.D., Ph.D., Professor of Laryngology at UT Southwestern. "She will also provide our medical students with the opportunity to do a research rotation, which may help to inspire a new cohort of translational researchers in the field."