UT Southwestern COVID-19 vaccination effort passes one-year mark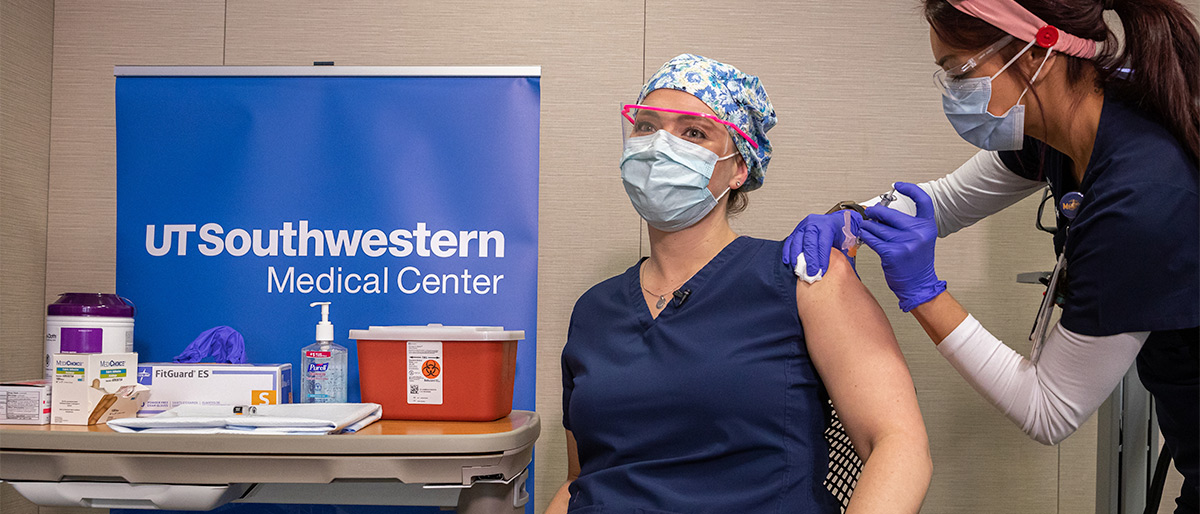 On Dec. 15, 2020, UT Southwestern administered its first COVID-19 vaccination to a front-line health care worker, becoming one of the earliest medical institutions in the country offering such protection. On Jan. 4, 2021, shots administered by UTSW for patients and the public followed.
By Dec. 28, 2021, more than 370,000 Pfizer, Moderna, and Johnson & Johnson/Janssen vaccinations had been given to over 167,000 UT Southwestern employees, patients, and members of the public, said Will Daniel, M.D., Vice President and Chief Quality Officer at UT Southwestern.
"The vaccine came at 10:30 a.m. on Dec. 15, 2020, and we were vaccinating later that day," recalled Dr. Daniel, who heads UTSW's Emergency Operations Center (EOC), established to address COVID-19 challenges and craft guidelines for dealing with them. "There were tremendous efforts to get things done. The operational horsepower was really remarkable."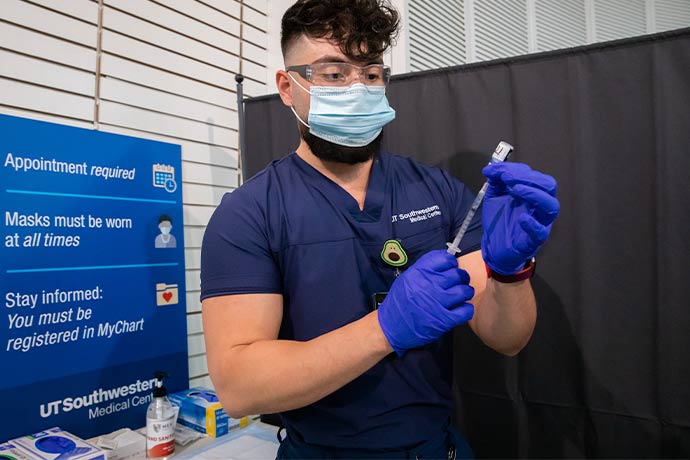 Pitching in were more than 1,000 UT Southwestern employees – about half of them nurses, but also medical office assistants, administrative staff, and UT Southwestern Medical School and School of Health Professions students, said Christopher McLarty, D.N.P., APRN, ACNP-BC, Associate Vice President and Chief Nursing Officer for Ambulatory Services. Dr. McLarty worked on planning and implementation with a group of Health System executives led by Susan Hernandez, D.N.P., M.B.A., BSN, RN, Associate Vice President and Chief Nursing Executive, and Seth Toomay, M.D., Associate Vice President and Health System Chief Medical Officer.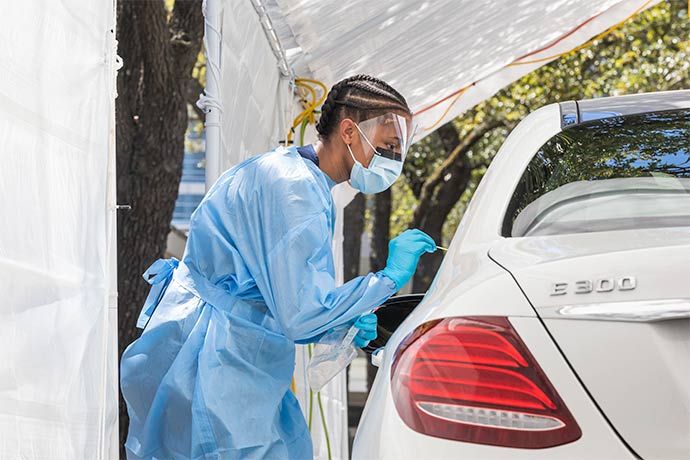 Sites at UT Southwestern facilities opened to vaccinate medical staff, UTSW employees, and patients. With support from community partners, the Medical Center expanded community and patient vaccinations to locations that included Dallas Market Hall, RedBird Mall, and the University of Texas at Dallas.
"I'd certainly never done anything like this before," Dr. McLarty said. "We'd just never tackled anything like this in our generation," he added, remembering the rapid vaccine rollout after the Food and Drug Administration gave emergency use authorization for the Pfizer vaccine on Dec. 11, 2020. The first facilities received shipments Dec. 14, said Dr. Daniel, with UT Southwestern next in line.
In those early days, "You didn't know how much you were going to receive or when you would receive your next doses," Dr. McLarty said.
UT Southwestern also provided COVID-19 testing beginning in March 2020, with drive-thru testing added March 20 outside the Paul M. Bass Administrative and Clinical Center and later at regional sites in Fort Worth and Frisco. "More than 314,000 tests have now been done," said Dr. Daniel.
For many, there was a sense of relief that a vaccine for the deadly virus was finally on the way, Dr. McLarty said, although others were wary because of its newness.
Jana Smith, a vascular sonographer who was the first UT Southwestern employee to receive the Pfizer shot, said she was "a little nervous … but I knew that taking the leap of faith was going to be what needed to happen for our community and country to begin to be safe again." Ms. Smith said she had no side effects after her first dose, or after her booster – although she did feel lethargic and headachy after her second vaccination. "Thankfully," she said recently, "I have not gotten COVID!"
UT Southwestern's efforts ended up making national news, cited by Anthony Fauci, M.D., Director of the National Institute of Allergy and Infectious Diseases, as UTSW tracked a lower rate of infection among its vaccinated employees. The results were published in The New England Journal of Medicine, with Dr. Daniel and Daniel K. Podolsky, M.D., UT Southwestern President, among the authors.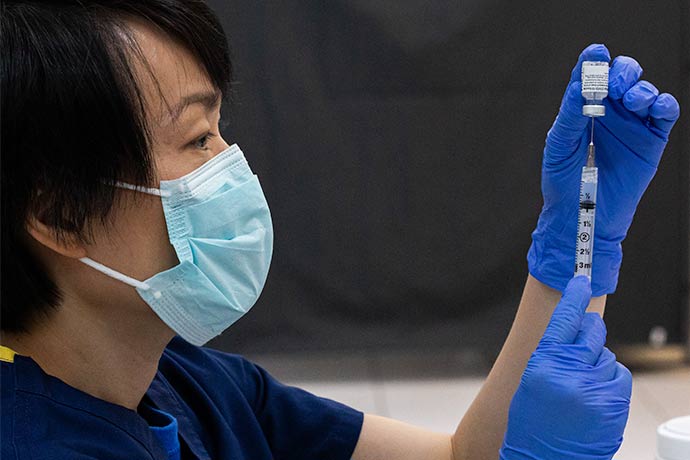 UTSW also won accolades in the community for the efficient and orderly manner in which it vaccinated the thousands who came in, Dr. Daniel said. "There is a huge sense of pride," he said. "We measured up extremely well."
But, as yet another COVID variant – Omicron – leads to another surge, "We need a new word for exhaustion," Dr. Daniel said. "We're very well-prepared, but there's not much time to recharge your battery."