Tu wins Edith and Peter O'Donnell Award in Science from TAMEST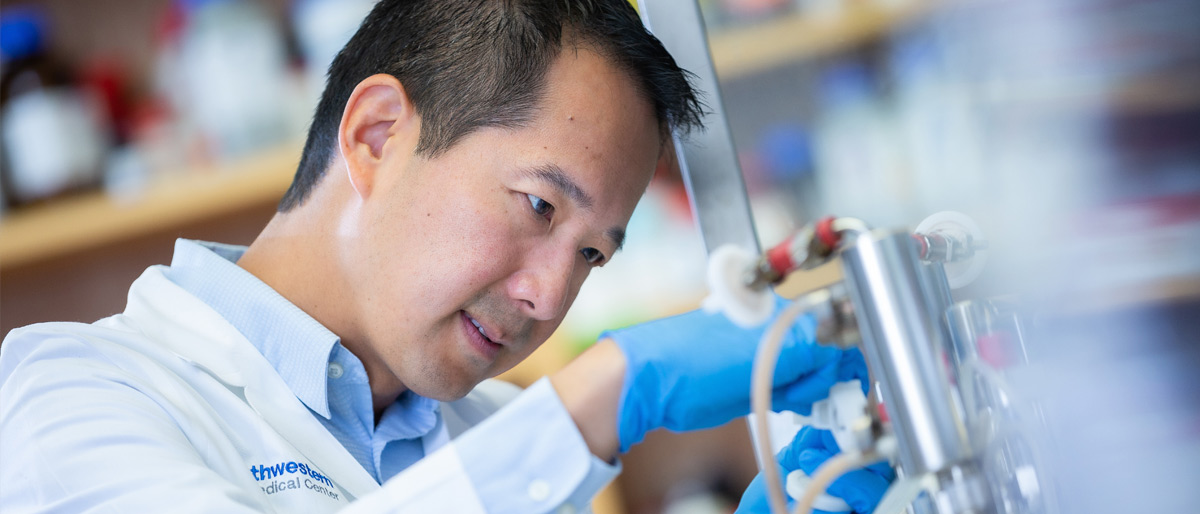 Dr. Benjamin Tu, Professor of Biochemistry, has been selected to receive the 2021 Edith and Peter O'Donnell Award in Science, presented by The Academy of Medicine, Engineering and Science of Texas (TAMEST), for his research on how metabolites control cell growth and other important cell functions.
TAMEST is announcing the annual awards that recognize the achievements of early career Texas investigators in the fields of science, medicine, engineering, and technology innovation at a Jan. 11-13 virtual conference. Each award comes with a $25,000 honorarium and an invitation to make a presentation later before TAMEST members. Dr. Tu will make his virtual presentation Feb. 24.
"It's an honor to be selected," Dr. Tu said of the prize. "It was certainly welcome news during very challenging times."
Watch: How Dr. Tu's research could potentially impact cancer treatment
Dr. Tu is the 15th award recipient from UT Southwestern since TAMEST's O'Donnell Awards were first given in 2006. His research focuses on how metabolism regulates cellular functions. While he conducts basic science research, two of his recent areas of investigation have obvious potential for future advances in clinical treatment, specifically in cancer research.
The Edith and Peter O'Donnell Awards are given to scientists for their contributions "addressing the essential role that science and technology play in society, and whose work meets the highest standards of exemplary professional performance, creativity and resourcefulness," according to TAMEST.
"We believe Dr. Tu's research will lead to future therapeutic advancements for diseases," said Dr. David E. Daniel, TAMEST Board President. "As a pioneer in his field, we are honored to recognize him as the recipient of our 2021 O'Donnell Award in Science and are grateful for the discoveries he is making here in Texas that will impact the rest of the world."
Dr. Margaret Phillips, Professor and Chair of Biochemistry, nominated Dr. Tu for the award. "Ben is an incredibly talented scientist," Dr. Phillips said. "You could almost see him as a detective. He digs into the nuts and bolts of how cells are functioning and regulating themselves."
A recent line of research by Dr. Tu holds promise for greater understanding of the cause of the neurodegenerative diseases ALS, or Lou Gehrig's disease, and Spinocerebellar ataxia, a degenerative genetic disease.
In two 2019 studies, both published in Cell, Dr. Tu reported that a protein with a known link to ALS called ataxin-2 is necessary for cells to do the work of clearing out damaged or unneeded parts in a process known as autophagy. Without the protein, cells are more likely to die, he said.
In an earlier study, published in Molecular Cell in 2011, Dr. Tu described how the metabolite acetyl-CoA plays a key role in turning on the genes necessary for cell growth. "At the time, few scientists accepted the idea that a metabolite could have such an important role in regulating gene expression," said Dr. Tu. "Historically, the field had thought that transcription factors (proteins involved in transcribing the genetic information contained in DNA) dictate what genes are turned on."
This new understanding of the importance of acetyl-CoA led to further research by Dr. Tu and to findings reported in a 2014 Cell paper that showed the metabolite might be important for the survival and growth of liver cancer cells. His current research in mice will investigate if chemicals that inhibit acetyl-CoA might slow the growth of pancreatic cancer cells.
Dr. Tu came to UT Southwestern in 2004 after receiving master's and bachelor's degrees in chemistry from Harvard University and a Ph.D. in biochemistry and biophysics at the University of California, San Francisco. He worked as a postdoctoral fellow under Dr. Steven McKnight, Professor of Biochemistry, before joining the UTSW faculty as an Assistant Professor of Biochemistry in 2007.
His previous honors include the Norman Hackerman Award in Chemical Research from The Welch Foundation in 2014 and recognition as a three-time finalist for the prestigious Blavatnik Awards for Young Scientists – in 2017, 2018, and 2019. He is also a UT Southwestern Presidential Scholar.
TAMEST, founded in 2004 by then-U.S. Sen. Kay Bailey Hutchison and two Texas Nobel Laureates, Dr. Michael Brown of UT Southwestern and Dr. Richard E. Smalley of Rice University, strives to bring together the state's brightest minds. Members include the Texas-based members of the National Academies of Medicine, Engineering, and Sciences and of the Royal Society; and Texas' 11 Nobel Laureates.