Excelling in Rapid Response, Environmental Services, and beyond: Meet the newest Strauss Award winners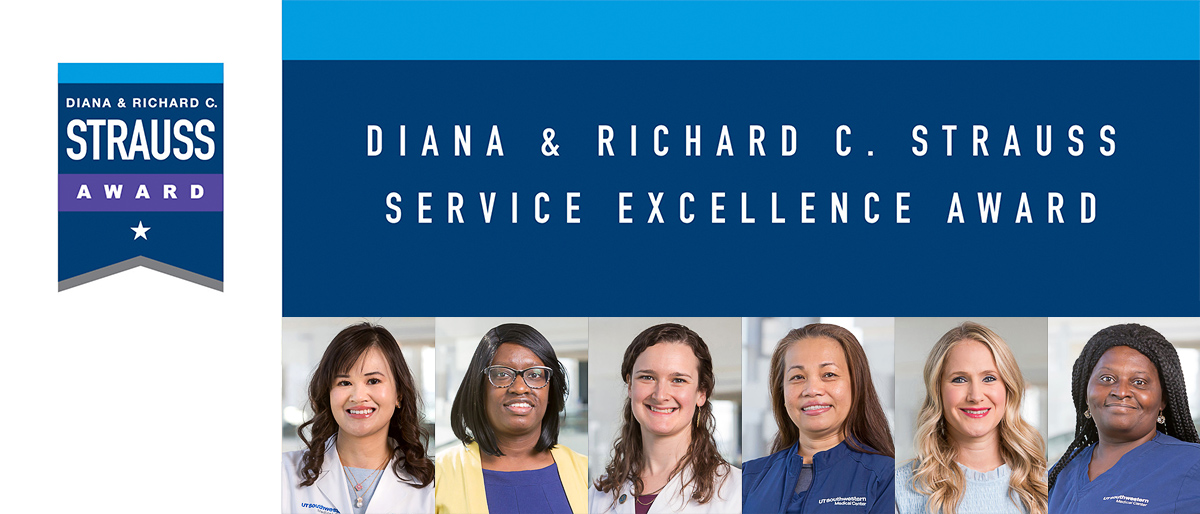 The most recent winners of UT Southwestern's Diana and Richard C. Strauss Service Excellence Awards cover a lot of ground across the institution: Rapid Response, Neurology, Nephrology, Heart and Lung Transplant, Environmental Services, and Applied Clinical Research.
The 2021 third-quarter Strauss Award honorees were celebrated Oct. 29 at a virtual event hosted by John Warner, M.D., Executive Vice President for Health System Affairs.
Once every three months, six employees within the Health System are recognized for exemplifying excellence and professionalism in all they do.
Three things define and unite Strauss Award winners:
They excel at their jobs.
They serve as role models for the next generation of employees.
They share a spirit of volunteerism that strengthens our community.
Below is a snapshot of the winners.
Watch: Dr. Warner honors winners during a virtual event.
Sandy Diep, M.S.N., APRN, FNP-BC
Advanced Practice Registered Nurse
Applied Clinical Research
"Sandy is simply excellent. Her patients love her, and her medical management is excellent and evidence-based. She has great communication skills and is always available and promptly responsive. Sandy consistently displays a positive attitude. I never saw her without a smile on her face and lots of positive energy – even on the busiest days. She never complains about anything and is always ready to do whatever it takes to get the job done and provide her patients with the best care."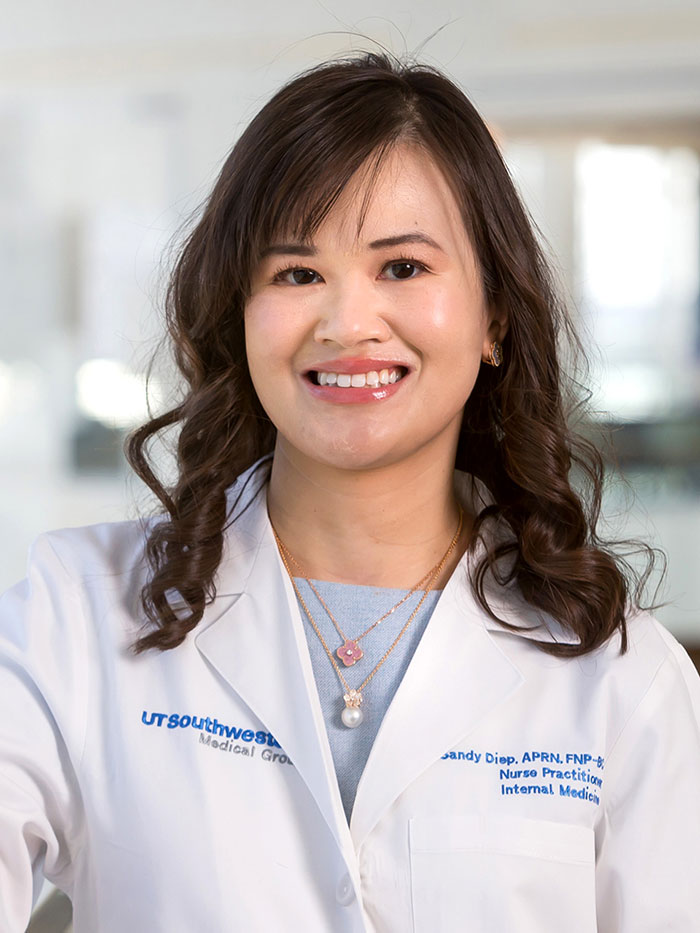 UTSW career: Ms. Diep has been with UT Southwestern since 2019, but her passion for working in academic medicine dates back much further. Her first experience with UT Southwestern was as a patient, and she says she was moved by the quality care she received. That's when she made the decision to become a part of our "special community."
In her role: She quickly rose to become an independent provider at the Chronic Kidney Disease clinic and is highly entrusted by her physician partner to oversee the care of patients. She successfully developed a strategy that helps navigate the challenge of admitting dialysis patients to the hospital by having them placed more directly in outpatient dialysis units. Ms. Diep is a past winner of D Magazine's Excellence in Nursing Award and has earned multiple Gold PACT awards.
What she likes about UTSW: Ms. Diep appreciates being able to provide personalized care to her patients and is known for building strong patient relationships – including with those in the dialysis units.
Artful to a tea: Sandy is an avid tea drinker who prefers loose leaf teas and matcha, a type of green tea. She says that preparation and consumption of tea is an art form and a way to learn about various cultures.
---
Anissa Jackson
Education Coordinator
Applied Clinical Research
"Ms. Jackson routinely shows kindness and assistance to my mental health patients. Often, these patients are confused, irritable, or simply fatigued in their attempts to navigate the health care system. Ms. Jackson frequently demonstrates kind patience … and anticipates their needs. She is similarly patient and kind toward our faculty members, who often approach her for help with problems they are experiencing in their work. I firmly believe that her excellent customer service attitude is an important factor in our patients' positive experiences and in faculty morale."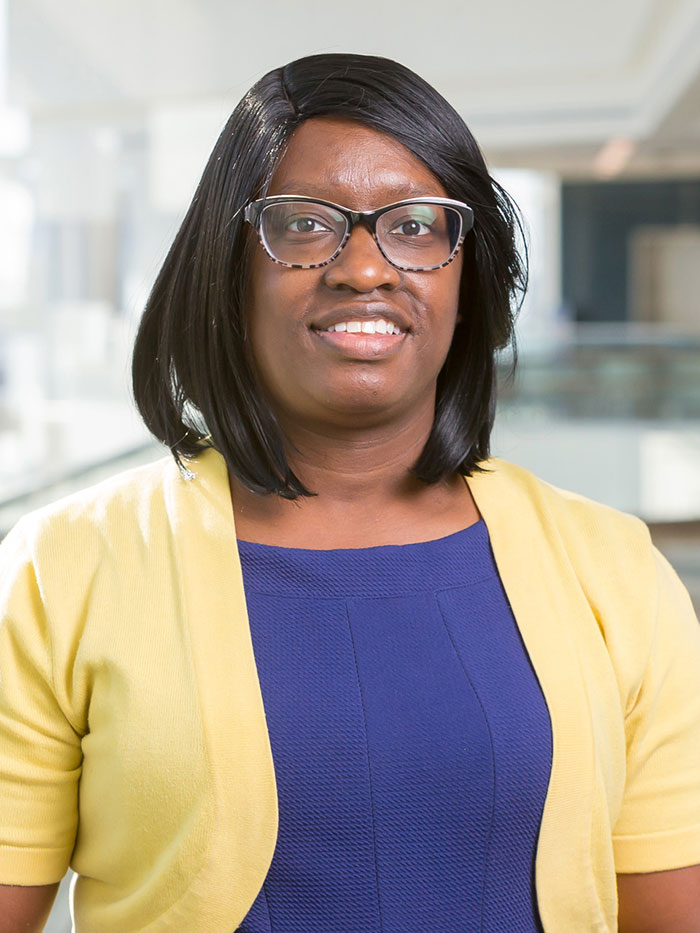 UTSW career: Ms. Jackson has been with UT Southwestern for over two decades – in fact, Oct. 30 marked her 21st anniversary. She began as an Administrative Assistant for the Departments of Emergency Medicine Education and Rehabilitation Counseling, and now serves as the Education Coordinator and Program Coordinator of the Ph.D. program for the Department of Applied Clinical Research.
In her role: She is known for the many contributions to program and staff development in the School of Health Professions, while regularly interacting and connecting with patients and taking on any additional responsibilities that may come her way.
Dedication across the board: Ms. Jackson is known to be highly independent and reliable, often going beyond her stated duties. Colleagues say she demonstrates exceptional teamwork and is consistently offering to help her peers. As dedicated as she is to her career, Ms. Jackson has been equally dedicated to her family. She alongside her husband, balance careers while raising four daughters and one son. Her oldest is 23 and her youngest is 14.
What she likes about UTSW: "There is a sense of belonging that I get from working here. I love the stability it offers and the family-like atmosphere. Opportunities of advancement are offered campuswide, but the School of Health Professions holds a special place in my heart. I did attend nursing school for some time. Therefore, I'm excited about having the opportunity for more direct patient care. It is indeed a joy to offer continued service to the patient, faculty and staff of my department, as well as to the university and the School of Health Professions community."
---
Kimberly Larkin, PA
Physician Assistant
Neurology-Epilepsy Monitoring Unit and Acute Stroke Unit
"Kim has one of the strongest work ethics I've ever seen. She maintains a positive attitude even when the service is busy or short-staffed. She's a team player and will often adjust her schedule to ensure that others on the team are able to take off the time they requested. When there is an issue with workflow, she doesn't create a workaround, but instead she works diligently to correct the problem."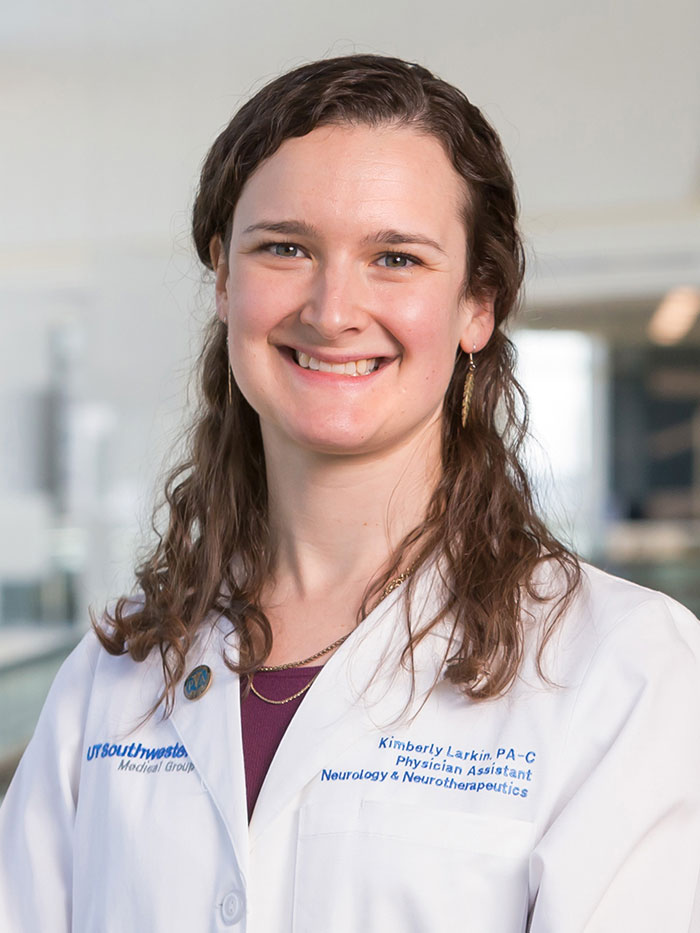 UTSW career: Mrs. Larkin began her career with UT Southwestern in December 2018. She started with the Epilepsy Monitoring Unit (EMU) and since expanded to the Acute Stroke Unit.
In her role: Mrs. Larkin was integral in building various EMU order sets into Epic. During the pandemic she volunteered to float to other services where additional help was needed. She serves as a guest lecturer on seizures and epilepsy for the UTSW Physician Assistant Studies Program and volunteers to participate in several of the faculty-led research initiatives in the EMU.
Her compassion runs deep: Mrs. Larkin was nominated for Physician Assistant of the Year this year and has received numerous PACT cards from staff, patients, and their families. Once a week, she also volunteers at a primary care clinic for underserved patients.
What she likes about UTSW: Mrs. Larkin initially experienced UTSW while she was working for a medical device company. "I love the collegiality here at UTSW and the opportunity to care for some of the most vulnerable patients and to be able to help them meet their health care goals."
---
Leah Parker, RN
Registered Nurse
Cardiovascular and Thoracic Surgery, 10 Blue
Clements University Hospital
"Leah embodies all the standards and performances that the DAISY and Strauss Awards represent. She is one of the hardest working people I know. Her practice is never anything but best practice. She is compassionate, intelligent, and reliable. She treats her patients and colleagues with respect and empathy. She is a gem, and UTSW is extremely lucky to have a loyal, hardworking, honest, and empathetic nurse like her."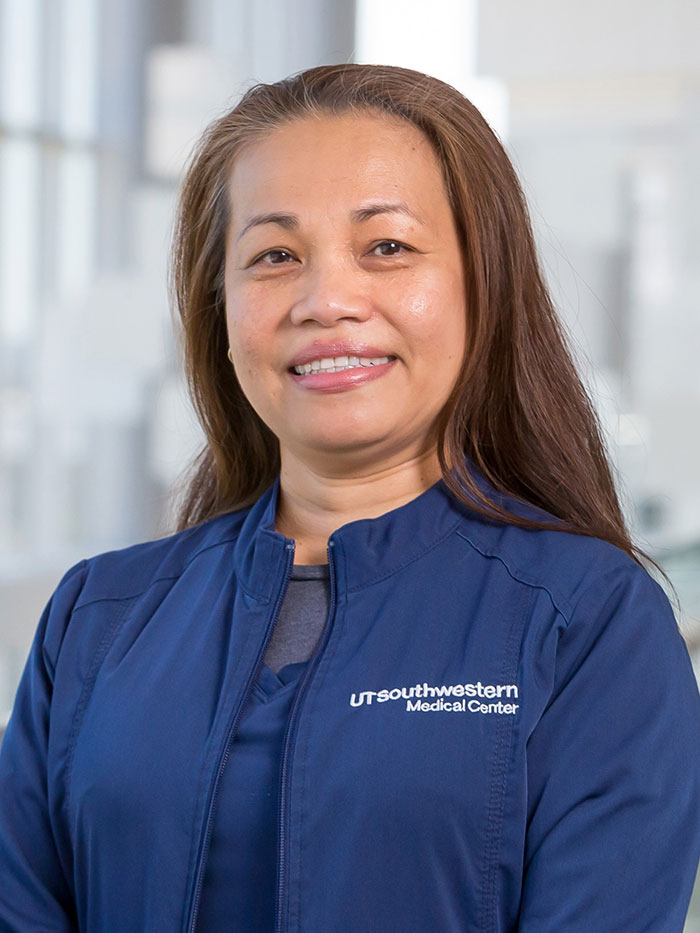 UTSW career: Ms. Parker began her career as a nurse at then–St. Paul Hospital in 2003, after relocating from Kansas, where she was a staff and home health nurse for 10 years. She started in the Cardiology Department – specifically, the Heart and Lung Transplant Program – where she has remained.
In her role: She serves as 10 Blue's Clinical Ladder champion, Left Ventricular Assist Device (LVAD) specialist, ThinkLift champion, and adviser to many. She mentors staff for Clinical Ladder, and routinely precepts nurses, coaching them on expectations while continuously modeling the PACT standards.
A healing perspective: Ms. Parker compares working in the Transplant Department to her love for gardening: She nurtures her plants as they come to life, much like those who are given a new chance at life after a transplant.
What she likes about UTSW: She really enjoys the nurses and physicians she works with daily and considers them like family.
---
Cara Pulliam, B.S.N., RN, CCRN
Rapid Response Nurse
Rapid Response Team
"Cara Pulliam is an all-around excellent RN. With 11 years nursing experience under her belt, Cara has vast clinical knowledge and skills in trauma ICU, pediatric ICU, ER, and Rapid Response. She is a true patient advocate. Cara is compassionate and constantly strives to go over and beyond in meeting and exceeding the needs of her patients."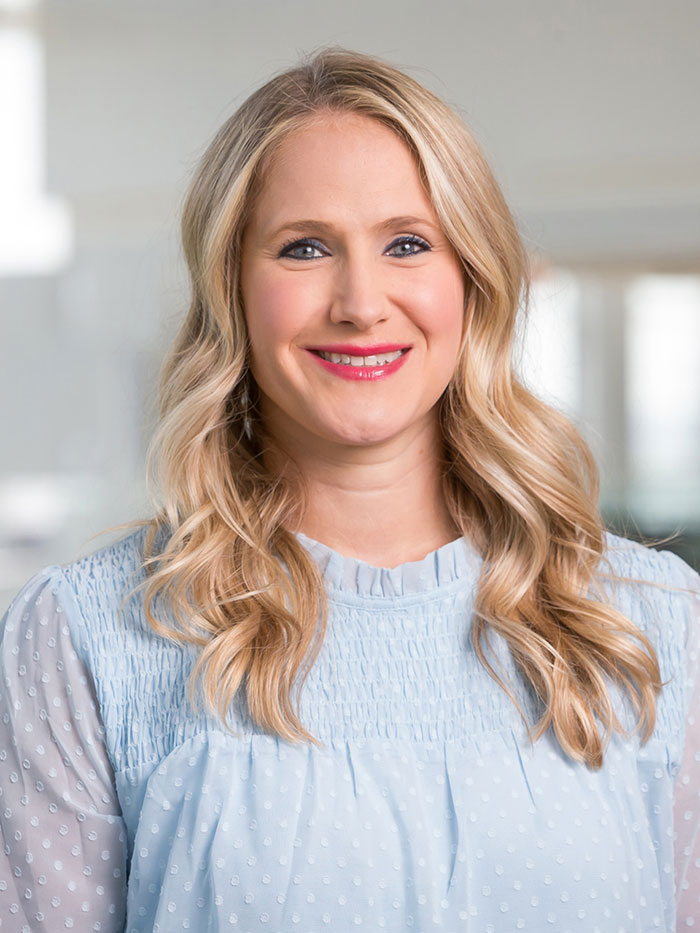 UTSW career: Ms. Pulliam arrived at UT Southwestern in 2017 as a Rapid Response Nurse, and she works on our Rapid Response Team. She serves as the UTSW Chair Adviser for the Code Blue Committee and is currently involved in a project called "Code Blue Leader Role Revitalization," which was established to improve the timely identification of the code blue leader to streamline communication and improve patient outcomes. She is a certified Advanced Life Support (ALS) instructor and teaches ALS at Parkland Memorial Hospital.
In her role:"I love the problem-solving and critical thinking aspect of my job most," she says. "I think through things and make quick decisions that can be lifesaving." Colleagues repeatedly describe her as resourceful and say that on the night shift, she is the team's "go-to" person for guidance, leadership, and mentorship.
Heavy lifter: In addition to the heavy lifting that comes with being a Rapid Response Nurse and a mother of five boys, Ms. Pulliam was also a competitive weightlifter, having done Olympic-style Weightlifting for 20 years. She volunteers each year as the nurse for the Royal Family Kids Camp, which provides a weeklong camp experience for foster children ages 6-12.
What she likes about UTSW: Ms. Pulliam says she appreciates the esteem and recognition that comes with being a nurse at UT Southwestern.
---
Lois Sullivan
Relief Lead
Environmental Services
"She is a dedicated team player who has shown flexibility in covering for her co-workers, [including] leadership when a manager is not present. She is known for maintaining a compassionate attitude while driving excellence within our Department. It has always been in her nature to check patient rooms as if her family were coming to stay."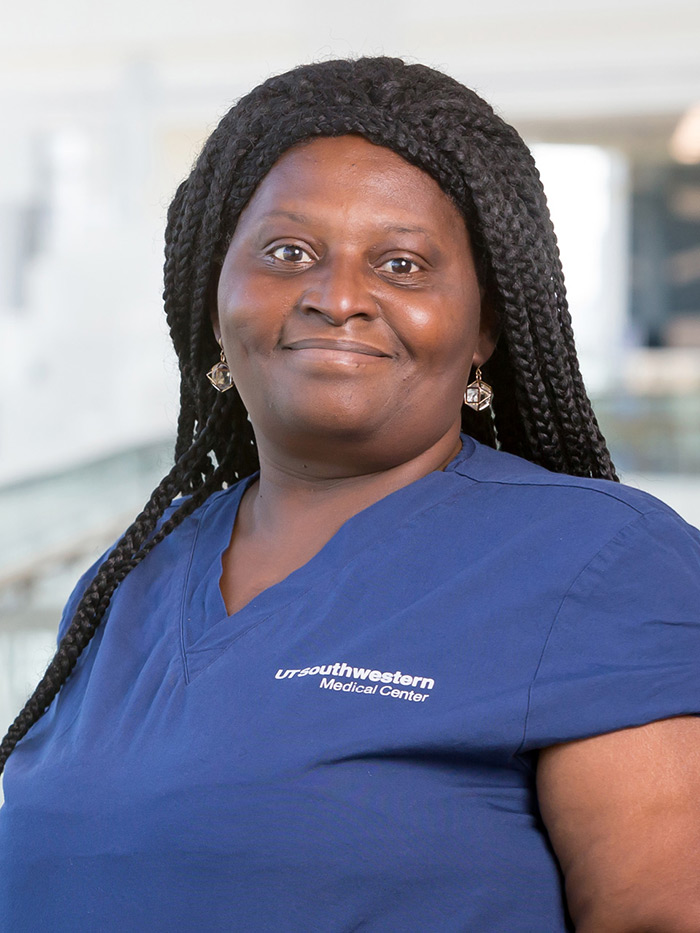 UTSW career: Ms. Sullivan began her career at UTSW in 2012 as a Housekeeping Attendant with Environmental Services and has recently moved into the role of Relief Lead.
In her role: Ms. Sullivan currently oversees the Zale Lipshy Pavilion Environmental Services Department, taking all nursing staff requests and ensuring that terminal cleaning and floor restoration projects are completed by deadline. She also currently handles Patient Experience service calls and Environment of Care rounding, which is a weekly walk-through inspection with key leadership.
Demonstration of commitment: Ms. Sullivan can be seen training peers on the unit floors to ensure that quality is not sacrificed for speed. Even through nearly two years of the pandemic, she has perfect attendance, which further illustrates her commitment to UT Southwestern.
What she likes about UTSW: After arriving in Dallas from Louisiana in 2012 with her husband, four boys, and her sister, at UT Southwestern she "had a found a home." One of the many things she appreciates about working at UT Southwestern is the variety of people she gets to meet and learn about.