Modeling service excellence and inspiring others: Meet the second-quarter Strauss Awards winners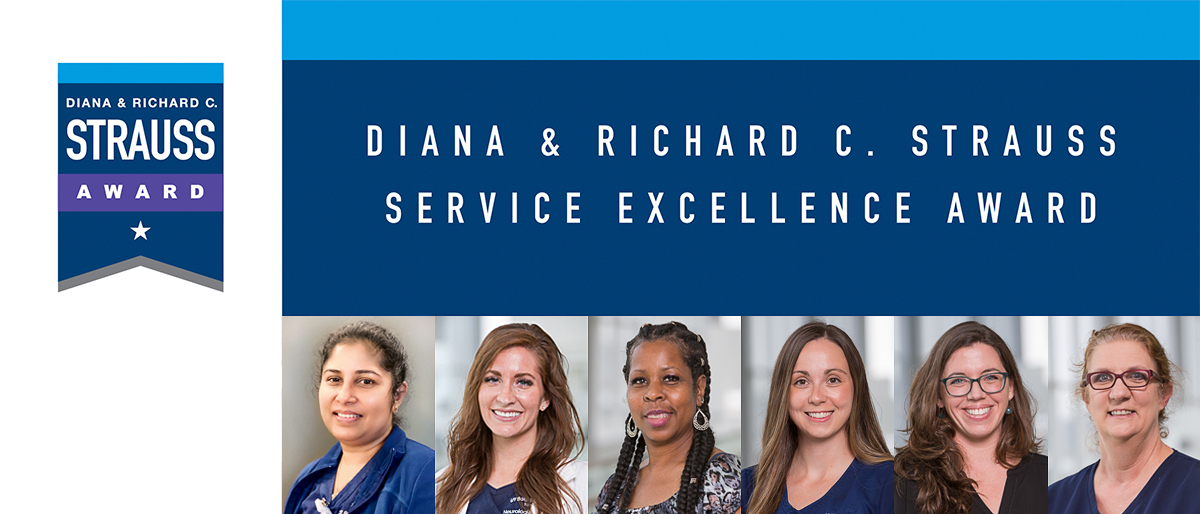 Three nurses, a housekeeping attendant, a physical therapist, and a social worker are the most recent winners of UT Southwestern's Diana and Richard C. Strauss Service Excellence Awards.
The 2021 second-quarter honorees were celebrated July 30 at a virtual event hosted by John Warner, M.D., Executive Vice President for Health System Affairs.
Once every three months, six employees within the Health System are recognized for exemplifying excellence and professionalism in all they do.
Three things define and unite Strauss Award winners:
They excel at their jobs.
They serve as role models for the next generation of employees.
They share a spirit of volunteerism that strengthens our community.
Watch: Dr. Warner honors winners during the virtual event.
Saramma "Sara" Abraham, B.S.N., RN, CMSRN
Registered Nurse II, 6 Green
William P. Clements Jr. University Hospital
"Sara is known for her big heart, positive attitude, and desire to make a difference. Some of the outstanding qualities she possesses include honesty, ability to delegate, commitment to the patient experience, and a true passion for the field of nursing."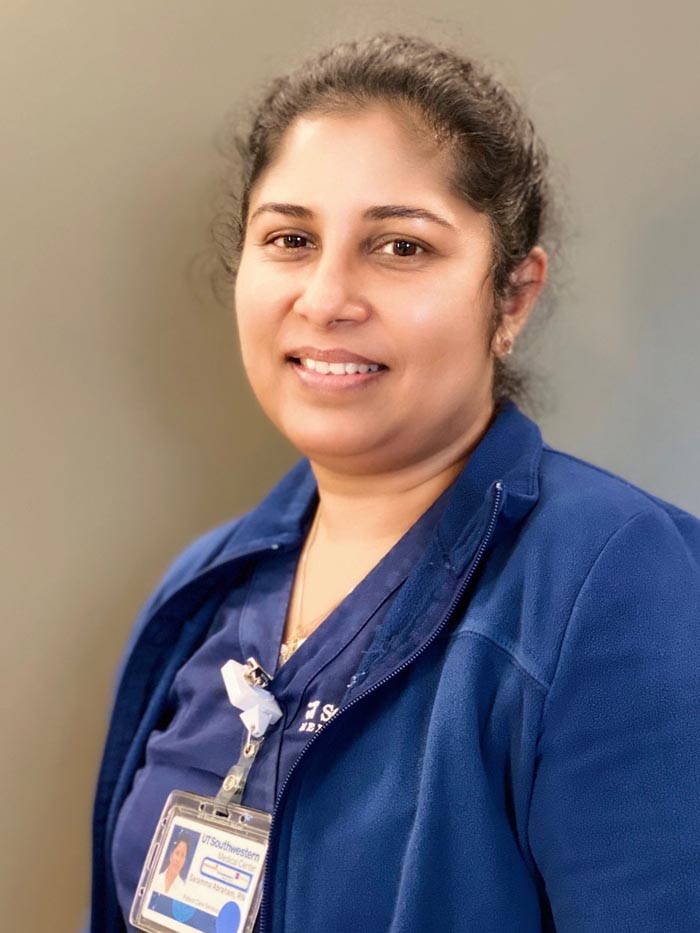 UTSW career: Ms. Abraham joined the team at St. Paul in 2010. She started out as a Registered Nurse in Telemetry before moving to 4 West, and then made her way to Clements University Hospital (CUH) when it opened in 2014.
In her role: She has vast knowledge and skills in general nursing and medical surgical nursing. She is actively involved in numerous committees and has achieved Clinical Ladder Level 4. Her commendable teaching and leadership skills have earned her a spot as a permanent preceptor on 6 Green.
A childhood calling: "I feel nursing is the most rewarding job. I was interested in being part of the medical field from my childhood. With my nursing work, I feel gratitude when I finish my shift. When my patient is happy at the end of a shift, that makes my life happy and wonderful. I feel that nursing is a beautiful gift. Sometimes it allows you to touch the heart and soul of the patient – not just help to heal them."
What she likes about UTSW: "We have good teamwork and a supportive management and leadership team. Our leaders always appreciate our work and this is a great place to grow."
---
Maddy Jansen, B.S.N., RN, SCRN
Clinical Nurse Supervisor
UT Southwestern Neurological Surgery
"Maddy is a phenomenal nurse, and I am forever grateful for the impact she has had on my career. She is extremely intelligent and hardworking – a true team player and an incredible co-worker."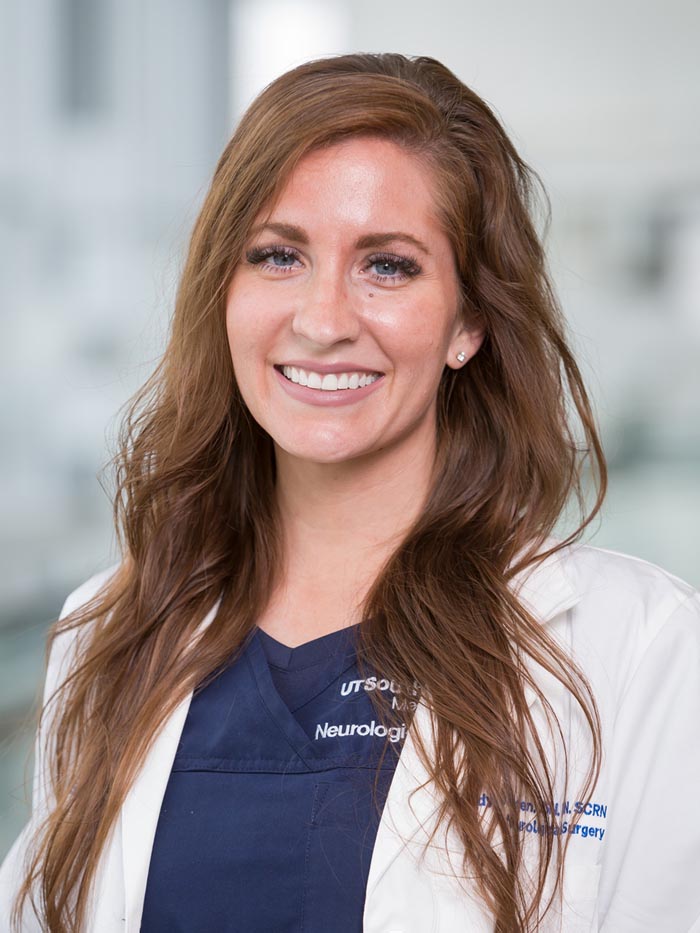 UTSW career: Ms. Jansen began her career at UTSW in 2013 as a nurse in the Acute Stroke Unit at Zale Lipshy Pavilion. She joined the Neurological Surgery Outpatient Clinic as RN Coordinator in 2016 before moving into her current role in 2021. She serves on her clinic's unit-based council and the James W. Aston Ambulatory Care Center clinic's rapid response team.
In her role: "My favorite thing about being a Clinical Nurse Supervisor is the opportunity to advocate for both patients and nurses by making sure nurses feel encouraged and have all of the resources they need to continue providing phenomenal care."
A special touch: As a nurse, Ms. Jansen could be found brushing or braiding a patient's hair – simple touches to make the hospital stay feel more like home. As she transitioned into the clinic environment in 2016, Ms. Jansen continued to strive to make sure patients feel welcome and comfortable.
What she likes about UTSW: Ms. Jansen's favorite thing about working at UTSW is being able to tell patients, family, and friends that she works with the very best. She's proud to say UTSW's Neurosurgery program is ranked No. 1 in Texas and No. 19 in the nation.
---
Jacqueline Mitchell
Housekeeping Attendant
Environmental Services, Clements University Hospital
"Jackie performs her job duties at an exceptional level. She always has a positive attitude and is willing to help others at any given moment."
UTSW career: Ms. Mitchell joined UTSW in June 2016. As a Housekeeping Attendant, she helps in a variety of areas, including the Post-Anesthesia Care Unit (PACU) and Labor and Delivery – which happens to be her favorite spot.
In her role: She makes sure that her designated areas are kept clean, safe, and professional-looking for both patients and staff. It makes her happy to know that her work improves the patient experience at UTSW.
A helping hand: When Ms. Mitchell has the opportunity to work on the first floor of CUH, she often encounters patients and family members who are navigating the hospital for the first time. She says one of the greatest joys of her job is greeting them and helping them find their way around.
What she likes about UTSW: "I love all of the opportunities I have to help others. I love coming to work and jumping right into the tasks I need to complete."
---
Audry Petro, PT, D.P.T.
Physical Therapist
Zale Lipshy Pavilion Inpatient Rehabilitation Unit
"Audry always puts her best foot forward as she helps leadership and our team to enhance the overall work experience on the Zale Inpatient Rehabilitation Unit. She is a great team player and a consistently positive presence."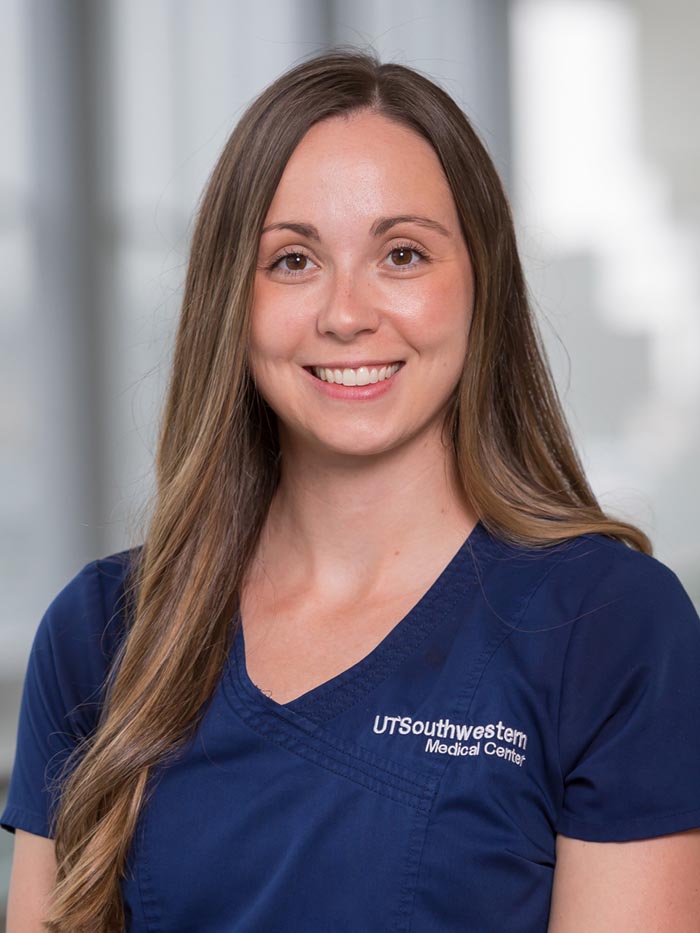 UTSW career: Dr. Petro started as a Physical Therapist in Zale Lipshy's Inpatient Rehabilitation Unit in 2016.
In her role: She helps patients gain functionality through strength, endurance, and balance, and she has developed a particular interest in patients with spinal cord injuries. Ms. Petro enjoys being part of a team that can provide patients with hope, community resources, and the ability to see their own potential.
A shining example: Ms. Petro has received a Blue PACT Pin Award every year. She is also the recipient of a Meritorious Service Award and Employee of the Quarter Award.
What she likes about UTSW: "In my unit specifically, I love the patient population because you see them almost right after their Acute Care hospital stay. We have a great team here with so many resources available to help patients reach their goals."
---
Katie Pool, LMSW, APHSW-C, OSW-C
Social Worker, Palliative Care
Harold C. Simmons Comprehensive Cancer Center Support Services
"Katie is a great colleague, communicator, optimist, and always demonstrates interest in the patients' well-being first and foremost."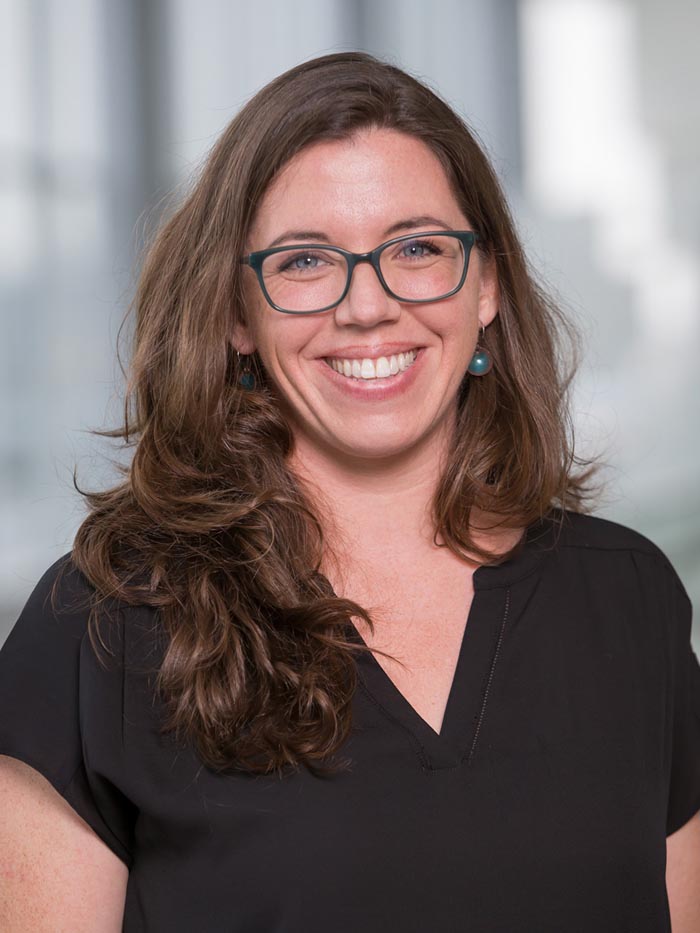 UTSW career: Ms. Pool arrived at UTSW as a Social Worker in 2018.
In her role: She provides information, education, and compassion to patients and families in need of end-of-life care. She uses institutional and community resources to help those patients and families and keeps track of referrals and follow-ups to ensure all needs are met.
Why she loves her job: "I love that no two days in social work or Palliative Care are the same. Every person's needs are unique, and I get to partner closely with patients and families as they navigate the challenges of living with a serious illness. This allows me to have really meaningful discussions with patients about what's important to them, what helps them live as well as possible, and how I can best support them in meeting their goals."
What she likes about UTSW: "There are so many fantastic opportunities to partner with patients and their families to make sure the care they receive really aligns with the goals and hopes they have for themselves. An added bonus is that I work with so many people who are just so dedicated to the work they do."
---
Sharon Williams, LVN
LVN Coordinator, Surgical Dermatology
Department of Dermatology
"Her commitment to patients is unwavering and she has a strong work ethic. I know I can always rely on her to be compassionate and communicate well with patients during a long and challenging day."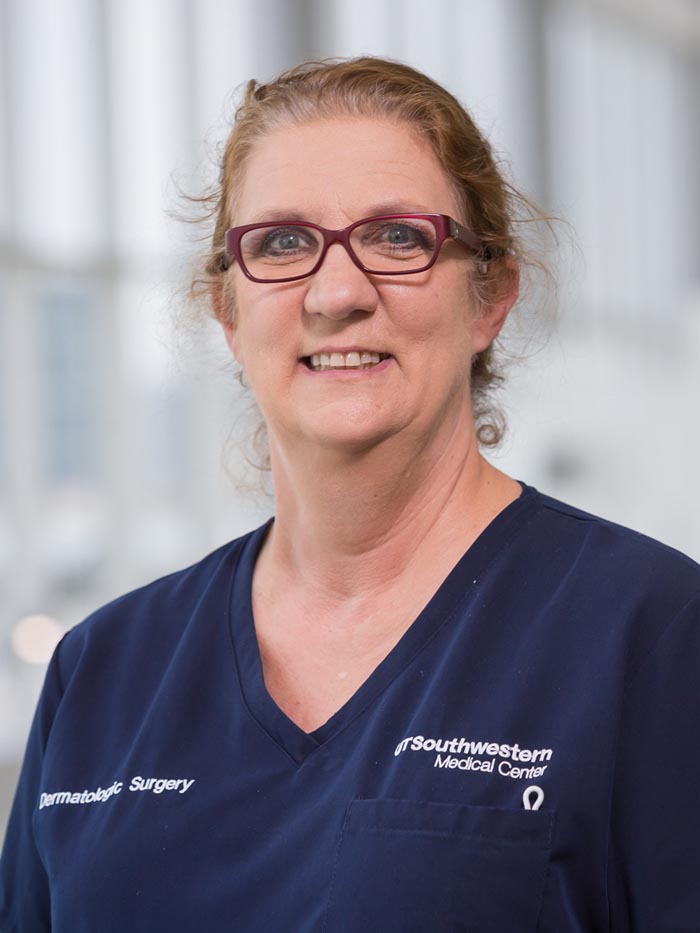 UTSW career: Ms. Williams came to UTSW in 2007 as a Clinic Nurse in Surgical Dermatology and accepted the role of LVN Coordinator in 2021.
In her role: As an LVN, she enjoys having the opportunity to continue working with patients at the bedside. When not assisting in surgeries, she helps manage the workflow of the clinic – making sure the clinic is fully stocked in a cost-effective manner and that any issues related to equipment, staffing, or patient concerns are addressed immediately.
A problem solver: Last year, Ms. Williams worked closely with fellows to create more detailed patient post-op instructions, which led to reduced portal messaging time and helped to free up staff and physician time. She also helped create a phone intake algorithm to ensure that anyone who answers patient calls can collect adequate information and clinicians can respond effectively.
What she likes about UTSW: Ms. Williams loves her team at UTSW because her leaders are so supportive – always encouraging staff to do whatever they can to continue learning and moving forward.