Roche honored with Regents' Outstanding Teaching Award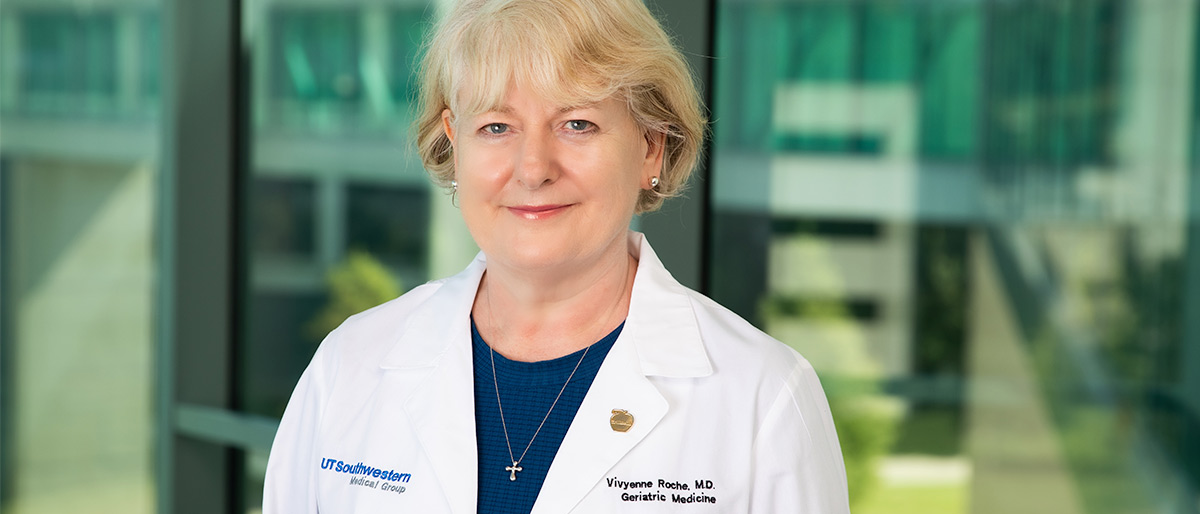 Vivyenne Roche, M.D., Professor of Internal Medicine and a specialist in geriatric medicine at UT Southwestern, has been recognized with the UT System's highest honor for an educator – the Regents' Outstanding Teaching Award.
Dr. Roche is the 54th UT Southwestern faculty member to receive the Regents' Award, which recognizes outstanding teaching, mentoring, and personal commitment to students and the learning process.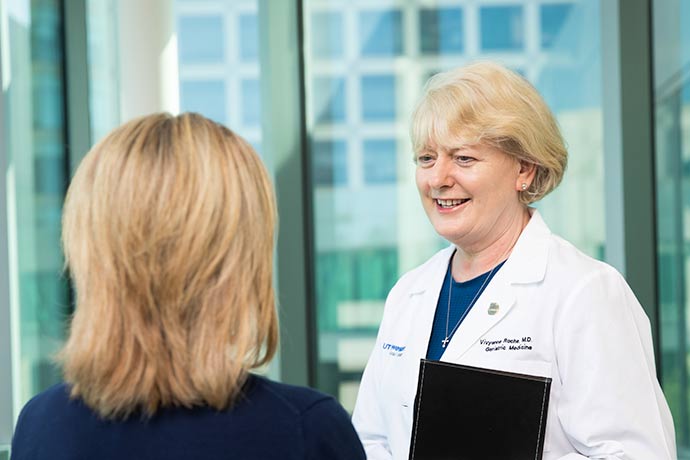 "Dr. Roche is an exemplary scholar and educator, and we are truly delighted that the Board of Regents has recognized her commitment to our students and other learners," said Daniel K. Podolsky, M.D., President of UT Southwestern. "Her dedication and talent as a teacher make it possible for UT Southwestern to prepare future physicians."
A UTSW Distinguished Teaching Professor, Dr. Roche is one of 14 educators from across the state system who was recognized Nov. 18 as Regents' Award winners. Honorees receive a certificate, medallion, and check for $25,000 in appreciation for extraordinary dedication to teaching and students.
"The best way to ensure students get the full promise of a UT degree is to provide them with outstanding faculty," said Kevin P. Eltife, Chair of the Board of Regents, in announcing this year's honorees. "On behalf of the Board of Regents, I extend our profound appreciation to these educators for their commitment to teaching excellence and passion for serving students."
Born in Ireland, Dr. Roche graduated with honors from the Royal College of Surgeons in Dublin, then completed residencies in Ireland and Australia before moving to the U.S. and completing a fellowship in geriatric medicine at the University of Colorado Health Sciences Center in Denver (now the University of Colorado Anschutz Medical Campus). She completed a year of internal medicine residency at UT Southwestern and began her teaching career at UTSW in 1999 as an Assistant Professor.
Dr. Roche has been recognized as a member of the Southwestern Academy of Teachers (SWAT), an elite group of UTSW educators, of which she is President-elect. In 2019, she was inducted into the UT System's Kenneth I. Shine, M.D., Academy of Health Science Education, an organization that promotes excellence in the field.
Dr. Roche is the course director for the Frontiers in Aging class at UT Southwestern, instructs and develops curriculum for the fourth-year Geriatric Medicine elective, is Director of the Geriatric Medicine Fellowship Program, Director of UT Southwestern's Geriatric Care Center Clinic, and the institution's faculty sponsor for the Medical Student Training in Aging Research (MSTAR) Program.
"It has been an immense honor to teach at UT Southwestern for more than 20 years," she said. "Our medical students, faculty, and team members are exceptionally gifted, talented, and generous, and I continue to appreciate and learn from them. It is wonderful when a student sees a patient, learns a geriatric teaching pearl, and has the opportunity to make it happen for that patient. You can see it has just clicked for them when they say, 'Oh, that's great. I had no idea.' That's something that I'm going to keep with me.
"As an Irish immigrant, I appreciate Yeats succinctly expressing my principal teaching tenet with his education pearl, 'lighting of a fire,'" Dr. Roche said, referring to a quote often attributed to the Irish poet.