Medical student awarded AOA Kuckein Research Fellowship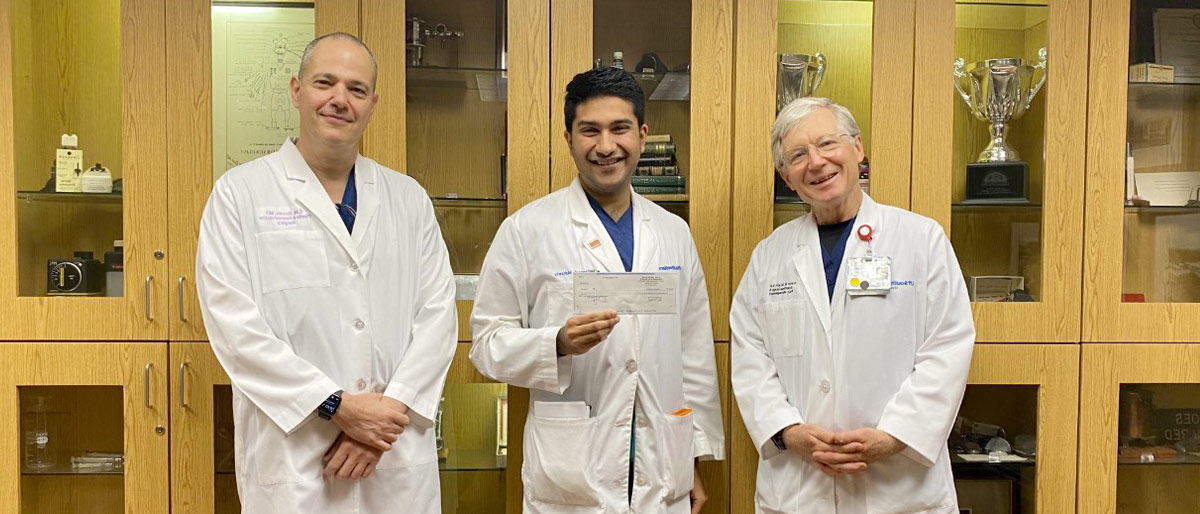 Ahneesh Mohanty's first experience with UT Southwestern came as a young patient hospitalized for Kawasaki disease at Children's Medical Center Dallas, where he received follow-up care for several years. "Because of this experience, I innately knew from a young age that I wanted to pursue medicine," he said.
His path crossed with UTSW again in high school when a close friend was diagnosed with cancer. Reading intensely to better understand the disease, he soon exhausted his resources and turned to peer-reviewed scientific publications.
"This eventually led me to work for five years in a lab here at UT Southwestern in Radiation Oncology, starting at the age of 15. This experience was the nidus for my growing love for research," said Mr. Mohanty, now a third-year UTSW medical student and the recipient of a 2020 Alpha Omega Alpha Carolyn L. Kuckein Student Research Fellowship.
The fellowship provides $5,000 in support while Mr. Mohanty works with Dr. Shai Rozen, Professor and Vice Chair of Research and Development in the Department of Plastic Surgery, on research exploring the potential role of peripheral nerve decompression for diabetic neuropathy in mitigating pain symptoms and improving sensory function.
"It is an honor to be recognized for this work by AOA and to be chosen for this award," Mr. Mohanty said. "I see this award as a springboard – affording me the resources to expand on this work and continue to foster my love for research. I see research as an opportunity to play a role in the advancement of patient care that could potentially benefit scores of patients beyond the scope of my own clinical practice in the future."
The researchers are investigating the role of surgical decompression of peripheral nerves in patients with diabetic neuropathy to help mitigate neuropathic pain symptoms and hopefully help restore functionality.
"Peripheral nerves often travel through areas of natural anatomic narrowing," Mr. Mohanty explained. "It is hypothesized that elevated glucose metabolites in diabetes may osmotically draw water into nerves, causing them to swell. This can be potentially damaging to the delicate nerve fibers, especially in these areas of anatomic narrowing, which may contribute to chronic pain and sensory dysfunction."
Though this hypothesis has been explored previously, the original study, the Diabetic Neuropathy Nerve Decompression (DNND I) study, was the first Level 1 prospective, randomized, double-blind study on the subject. The current work – the DNND II study – is a continuum of the original research and will provide further insights on the efficacy of surgical peripheral nerve decompression as a possible treatment avenue in a subset of patients worldwide who have painful diabetic neuropathy, Mr. Mohanty said. It involves the longest-term outcomes ever reported on the original group of patients, who will be assessed for pain, sensation, status of ulcerations secondary to their disease, and other variables.
"Mr. Mohanty's contributions in this study will be paramount, in terms of organizational aspects, data analysis, and contributions to the manuscript," Dr. Rozen said. "This study has already enabled him to communicate at a high level with other co-investigators from the Department of Neurology and the Department of Population and Data Sciences."
The Alpha Omega Alpha Honor Medical Society is a national organization recognizing high achievement in medical scholarship, leadership, service, and research. The Councilor of the UT Southwestern Chapter of AOA is Dr. Kevin Klein, Professor of Anesthesiology & Pain Management and Otolaryngology – Head & Neck Surgery.