Scientist at forefront of COVID-19 vaccine development shares insights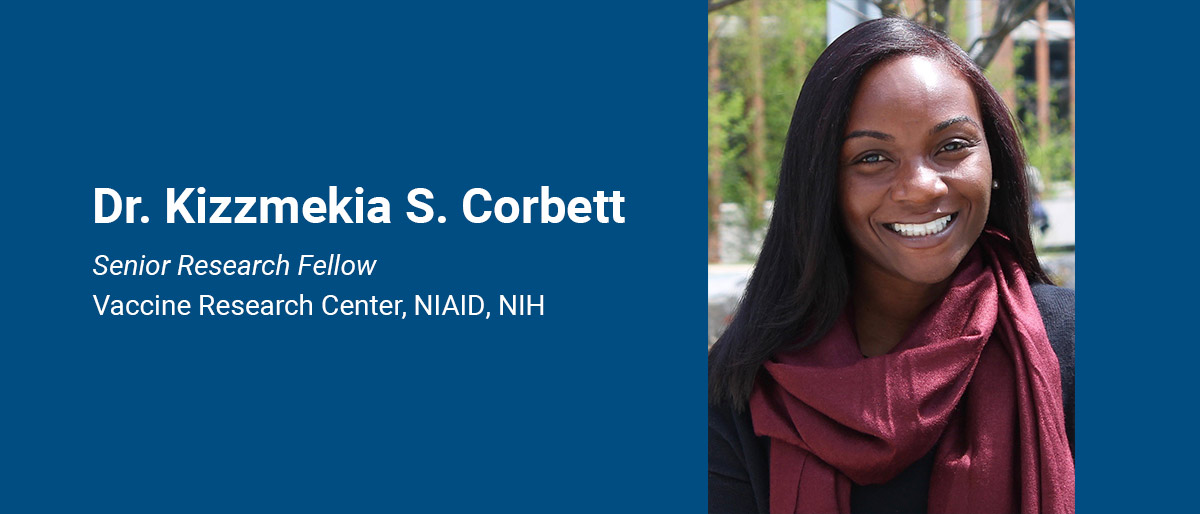 Celebrated viral immunologist Dr. Kizzmekia S. Corbett, who was at the forefront of developing what became the Moderna COVID-19 vaccine, provided insight into its creation and rapid deployment during a virtual presentation at the 2021 Ida M. Green Lecture Honoring Women in Science and Medicine. Currently one of the nation's most in-demand speakers, Dr. Corbett described how the candidate vaccine, in just a few months, went from scientific concept at the National Institutes of Health (NIH) to national distribution of a two-dose regimen that has shown to be more than 90 percent effective.
"We're in the third wave of coronavirus infections, and if we wait for herd immunity to bring us back to normalcy, 40 million people will have to succumb to the disease," said Dr. Corbett. "A vaccine can reduce transmission and make it safer to return to normal life. I call it vaccine community service. Immune people are essentially roadblocks to transmission of the virus."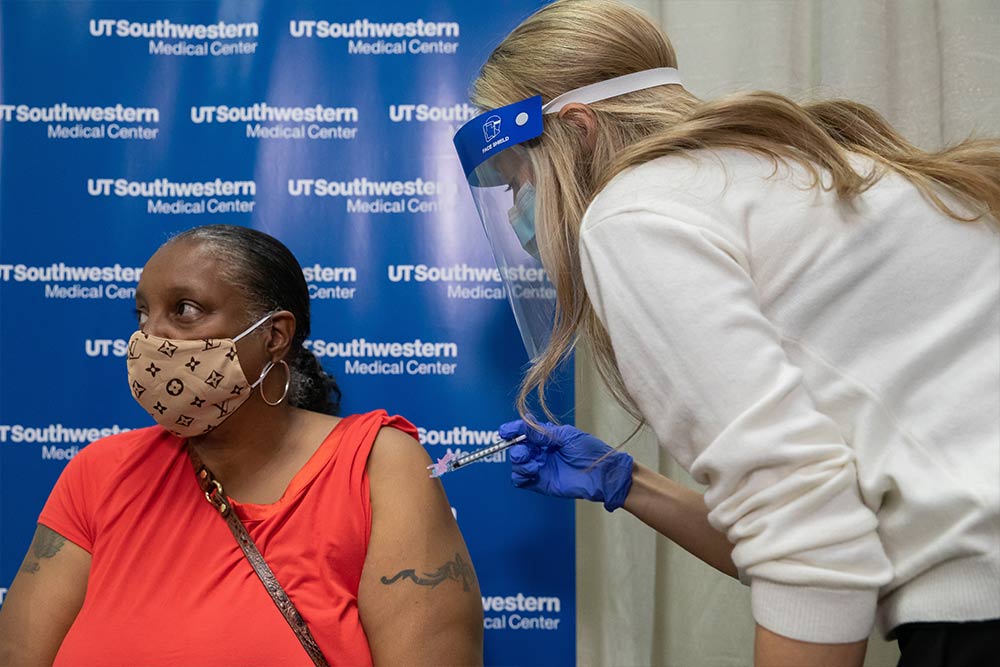 Dr. Corbett's Feb. 10 virtual presentation, "My Journey to COVID-19 Vaccine Development: From Basic Biology To Prevention," generated more than 1,800 advance registrations from students, postdoctoral trainees, residents, faculty, and staff, as well as numerous groups in the North Texas community including high school and college students. All wanted to hear from an NIH research fellow who initially made national headlines by personally briefing then-President Donald Trump on March 3, 2020, about the emerging global COVID-19 threat.
"She is presenting up to eight lectures a month, so we were so fortunate in being able to invite Dr. Corbett to give this lecture at such an opportune time," said Dr. Carole Mendelson, Co-Chair with Dr. Sharon Reimold of UT Southwestern's Women in Science and Medicine Advisory Committee (WISMAC), which organizes the annual event. "One of the committee's major goals is to encourage young women to pursue careers in STEM by example, and Dr. Corbett serves as a spectacular role model for young women in general, as well as for young women of color in particular."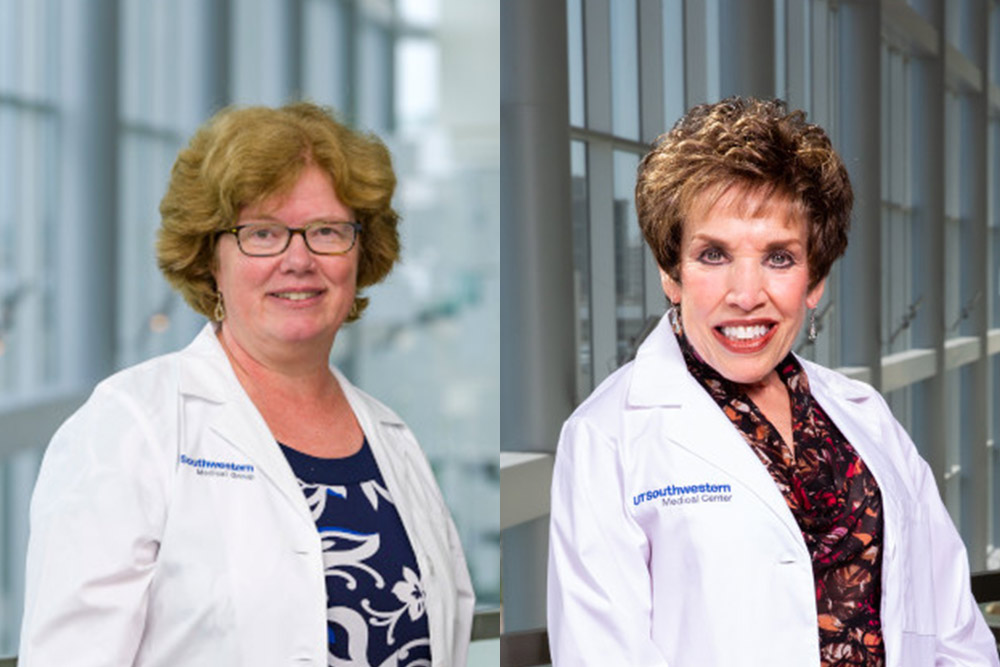 Growing up in rural North Carolina, Dr. Corbett nurtured her scientific inclinations by spending her high school summers in research laboratories across the country through a program for gifted minority students called Project SEED. During college at the University of Maryland Baltimore County, she was a Meyerhoff Scholar and an NIH undergraduate scholar. She then did career-establishing microbiology and immunology graduate work at the University of North Carolina-Chapel Hill, where she obtained her Ph.D. in 2014.
Dr. Corbett is a senior research fellow and the scientific lead for the coronavirus vaccines and immunopathogenesis team at the National Institute of Allergy and Infectious Diseases (NIAID), a component of the NIH. Since 2014, when she was appointed to the NIAID's Vaccine Research Center, Dr. Corbett's efforts have focused on developing novel coronavirus vaccines.
After studying pathogens such as respiratory syncytial, dengue, and influenza viruses, Dr. Corbett became a recognized expert with deep knowledge and understanding of human antibody responses and how genetics can impact the severity of a disease. She proved to be the right person in the right spot when she began getting emails in January 2020 from NIH colleagues including Drs. Anthony Fauci and Barney Graham concerning a respiratory outbreak in Wuhan, China, and the need for her team "to buckle up." And Dr. Corbett didn't flinch early in the pandemic when Dr. Fauci predicted the world might see an effective vaccine in about a year.
"We knew it could be done if everything went right," Dr. Corbett noted. "We were going to study a viral family by studying a pathogen package and gathering basic knowledge to come up with a vaccine. We didn't get there for MERS [Middle East respiratory syndrome] or SARS [severe acute respiratory syndrome], but that research got us ready for COVID-19. We were working to deliver a messenger RNA vaccine that was fast, reliable, and universal; that was preemptive and would provide future protection."
In response to the ongoing pandemic, the concept incorporated in candidate vaccine mRNA-1273 was designed by Dr. Corbett's team from viral sequence data. It was then rapidly deployed to industry partner Moderna for a Food and Drug Administration-approved phase 1 clinical trial, which began only 66 days from the viral sequence release, an unprecedented timeframe. What followed was a whirlwind series of ever-larger successful trials that ultimately resulted in Moderna's vaccine receiving emergency use authorization from the FDA on Dec. 18, 2020. Although in use, both the Moderna and Pfizer vaccines continue in large phase 3 trials involving tens of thousands of volunteers.
"All of the data to date show these vaccines to be effective," Dr. Corbett said. "We're seeing that the antibodies that are induced are hanging out and are remaining strong. Our phase 1 trials started in March 2020, so we're good.
"Moderna and Pfizer vaccines are both about 95 percent effective, AstraZeneca is showing 90 percent, and the Johnson & Johnson vaccine is up to 85 percent, depending on where in the world the trial is going on."
Dr. Corbett said that the success of the current variety of messenger RNA vaccine formulas bodes well for scientists to be best prepared for the next inevitable threat to global health.
"I think the utility of the mRNA platform is going to be extremely broad, not only for humans but also in the veterinary area," she said. "But it really will depend on what your goal is. For something like HIV, for instance, you're probably going to need more than just antibodies in play."
Dr. Corbett has received numerous awards and recognitions for her COVID-19 vaccine work, including Hall of Fame honors from the city of Los Angeles, the Key of Life Award from the National Association for the Advancement of Colored People, the African Americans in Health Care Award from Kaiser Permanente, the 2021 Measure of a Person Award from the Washington Inter-Alumni Council of the United Negro College Fund, and the "Keep Hope Alive" Award from the Rainbow PUSH Coalition.
"What is unique about Dr. Corbett is that her expertise regarding vaccine development is blended with a clear and passionate understanding that the vaccines must be delivered and administered to those who need them most and that this can only happen through community engagement," said Dr. Reimold, Professor of Internal Medicine and the Department's Vice Chair for Clinical Operations and Faculty Development.
The Ida Green Lecture, now in its 28th year, is sponsored and funded by the Southwestern Medical Foundation. The late Mrs. Green, the wife of Texas Instruments co-founder Cecil H. Green, always championed careers for women in science. WISMAC is a standing committee of UT Southwestern whose goals are to raise the international visibility and recognition of women in science and medicine at UTSW and to provide inspiration and career guidance for female trainees, faculty, and senior administrators.
"Every year, WISMAC hosts an accomplished female scientist or physician to present the Ida Green Lecture," said Dr. Mendelson, Professor of Biochemistry. "While almost all of our previous lecturers have been quite senior, having achieved international recognition after many years of research, Dr. Corbett – who is quite early in her scientific career – stands out for her remarkable and meteoric scientific achievements. In short, she is an amazing example for young women seeking careers in science and medicine and related fields."