Haberecht Grant supports 'Wildhare-Idea' in obesity, diabetes research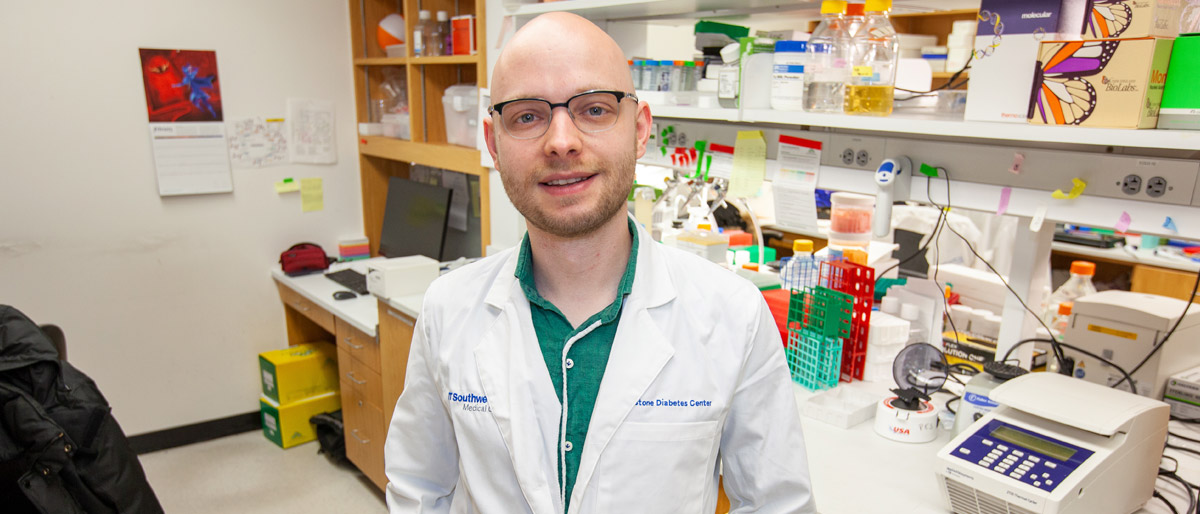 Dr. Jan-Bernd Funcke, a postdoctoral fellow in the lab of Dr. Philipp Scherer, has been awarded the 2019-2020 Haberecht Wildhare-Idea Research Grant for his work establishing a new mouse model to assess the role that cell-cell interactions play in the development of obesity and Type 2 diabetes.
UT Southwestern's Haberecht Grant supports a speculative idea that, if correct, would constitute a breakthrough in biomedical research. Dr. Funcke's project was chosen for the one-year, $25,000 award from among 31 proposals received from faculty, postdoctoral fellows, and graduate students.
"I feel honored winning this Haberecht Wildhare-Idea Research Grant. It gives me the unique opportunity to pursue a high risk-high reward idea for which it would be nearly impossible to obtain funding from traditional agencies," Dr. Funcke said.
"Jan is unique in that he combines a profound knowledge of whole body physiology in the area of metabolism with a repertoire of outstanding molecular biology skills," said Dr. Scherer, Director of the Touchstone Center for Diabetes Research and Professor of Internal Medicine and Cell Biology. "This gives him the opportunity to generate highly sophisticated preclinical models that very few researchers would dare to design, with a high chance of gaining unique mechanistic insights."
Dr. Funcke's bold idea is to use technology from the field of synthetic biology to take control of the behavior of specific types of cells that are in direct contact with each other.
"Obesity is accompanied by chronic inflammation of fat tissue with a local accumulation of a certain type of immune cells, macrophages," he explained. "I intend to use the new model to turn fat cells into 'senders' and macrophages into 'receivers.' The model will then allow me to either mark or remove the 'receivers." By this, I will be able to assess the role that macrophages in fat tissue play during the development of obesity and Type 2 diabetes."
If successful, the model would enable researchers for the first time to study macrophages in direct physical contact with fat cells, Dr. Scherer said.
"As such, this is a unique opportunity to gain a deeper understanding into the role of fat tissue/immune cell interactions," he explained. "No one else has managed to manipulate fat tissue immune cells selectively without altering these cells everywhere else in the organism."
The model would also allow researchers from diverse fields to explore how their favorite cell type interacts with other cell types, both in physiological and pathophysiological contexts, Dr Funcke said.
"Insights gained using the proposed model may help to define what cell types and cell-cell interactions are most promising to target for disease therapies," he said.
Born and raised in Oberhausen in North Rhine-Westphalia, Germany, Dr. Funcke earned his Ph.D. in molecular medicine from Ulm University, where he studied how mutations in the human leptin gene cause severe forms of childhood obesity. He was drawn to UTSW by Dr. Scherer's work.
"UT Southwestern offers a great environment for biomedical research," he said. "The Scherer lab works at the leading edge of metabolism research with a special interest in the biology of the adipocyte. For me, part of the attraction of becoming a member of the Scherer lab lay in Philipp's courage to push the boundaries of mouse transgenics to allow for increasingly refined studies using this model system."