In Memoriam: Dr. Roger H. Unger, visionary endocrinologist and preeminent authority on diabetes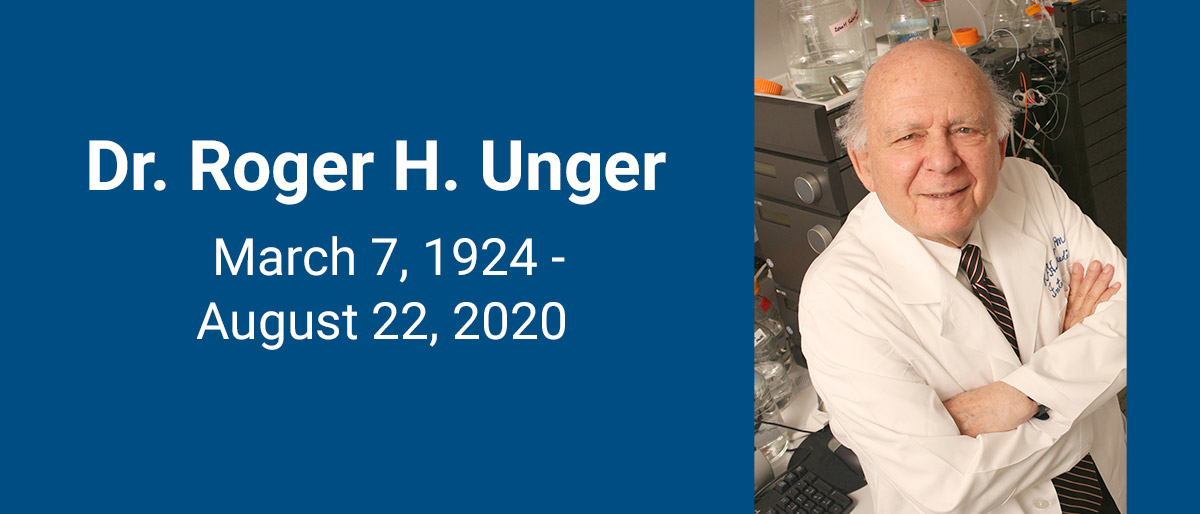 Dr. Roger H. Unger, a longtime Professor of Internal Medicine, a preeminent authority on glucagon and the development of diabetes, and the founding Director of the Touchstone Center for Diabetes Research at UT Southwestern, died Aug. 22. He was 96.
Over a 64-year career at UT Southwestern, Dr. Unger elucidated the role of glucagon and insulin in regulating blood glucose in both normal and diabetic individuals. His leadership helped to establish UT Southwestern as a leading clinical and research center for the accurate diagnosis and effective treatment of conditions related to the endocrine system.
"Dr. Unger was a visionary endocrinologist who helped shape research and clinical practice in the field for more than 60 years," said Dr. Daniel K. Podolsky, President of UT Southwestern. "His outstanding contributions in endocrinology and metabolism set the foundation for many of the important discoveries in these areas. He was at the forefront of identifying the essential role of glucagon in the pathogenesis of diabetes, and he introduced the concept of lipotoxicity, the process by which an overaccumulation of fat products causes tissue damage responsible for Type 2 diabetes and metabolic syndrome."
A native of New York, Dr. Unger came to UT Southwestern in 1956 and was one of the institution's longest-serving faculty members before retiring in July. He was elected to the National Academy of Sciences in 1986 and to the American Academy of Arts and Sciences in 1994. His many distinguished honors include the Rolf Luft Award in 2014 from the Karolinska Institutet, the prestigious Swedish medical university that is also home to the Nobel Assembly. At UT Southwestern, he served as Director of the Touchstone Center from 1986 to 2007 and held the Touchstone/West Distinguished Chair in Diabetes Research.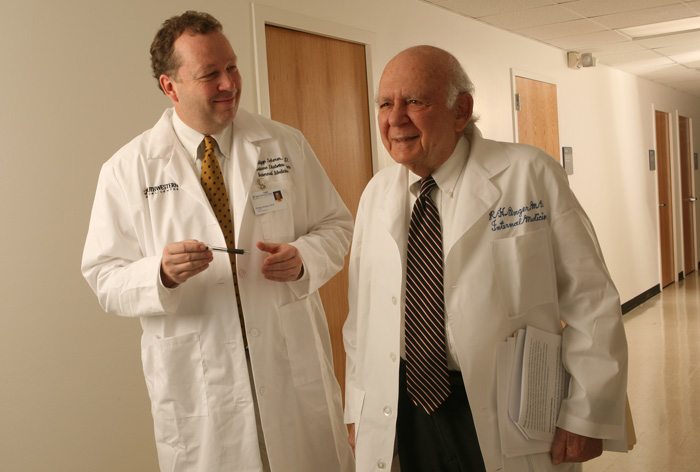 At UT Southwestern and at the Dallas Veterans Affairs Medical Center, where he also practiced as a physician, Dr. Unger focused on understanding and defining the interrelationships among obesity, diabetes, and metabolic syndrome, a collection of risk factors that increases an individual's chances of developing heart disease and Type 2 diabetes. Through decades of scientific investigation, Dr. Unger's work provided crucial insights into how glucagon, a hormone produced by the pancreas that raises glucose levels, plays a central role in causing diabetes.
"Roger was a fiercely independent thinker, and he had to fight to get his revolutionary ideas accepted," said Dr. Michael Brown and Dr. Joseph Goldstein, who shared the 1985 Nobel Prize in Physiology or Medicine for their groundbreaking discovery of the low-density lipoprotein (LDL) receptor that is the basic mechanism of cholesterol metabolism. "Roger's discoveries rewrote textbooks and forever changed our conception of glucose metabolism."
In 1959, Dr. Unger developed a test to measure concentrations of glucagon and established that glucagon was a true pancreatic hormone released in opposing partnership with insulin to maintain normal blood glucose (sugar) levels. In 1978, he and Dr. Philip Raskin, Professor of Internal Medicine, showed that the glucagon-suppressing hormone somatostatin normalized glucose levels of Type 1 diabetic patients.
"Roger used his radioimmunoassay to show that diabetes is a bi-hormonal disease. High blood glucose is caused not only by insulin deficiency which decreases glucose removal from blood, but also by elevated glucagon which increases glucose production," said Dr. Brown, Professor of Molecular Genetics and Internal Medicine, and Dr. Goldstein, Professor and Chair of Molecular Genetics and Professor of Internal Medicine.
In recognition of his seminal scientific discoveries, Dr. Unger won the 1964 Lilly Award from the American Diabetes Association (ADA) before going on to receive the highest awards of the ADA, the European Association for the Study of Diabetes, and The Endocrine Society – the Banting Medal (1975), the Claude Bernard Memorial Medal (1980), and the Fred Conrad Koch Award (1983), respectively. He also held honorary degrees from the Universities of Liege and Geneva.
Dr. Raskin said lab life with Dr. Unger was exciting and fulfilling. "He was a kind, sweet man who took me under his wing when I was young. He taught me about science, diabetes, and also about life," Dr. Raskin recalled. "Working with Roger was always fun. He was so full of ideas about what to study, and ideas flowed from him like water from a duck's back."
Dr. Philipp Scherer, Professor of Internal Medicine and Cell Biology and Director of the Touchstone Diabetes Center, said Dr. Unger had an unsurpassed intellectual curiosity and was invaluable as a colleague, mentor, and friend.
"Dr. Unger was thinking outside the box before it became fashionable. His willingness to question established dogmas and to ask simple but pointed questions were eye-opening to our research," Dr. Scherer said. "His groundbreaking research, along with his mentorship to many past and current leaders on campus and a large number of scholars throughout the world, establish him as one of the founding pillars on which the reputation of this institution is built."