Ho Din Award winner aspires to be an advocate for women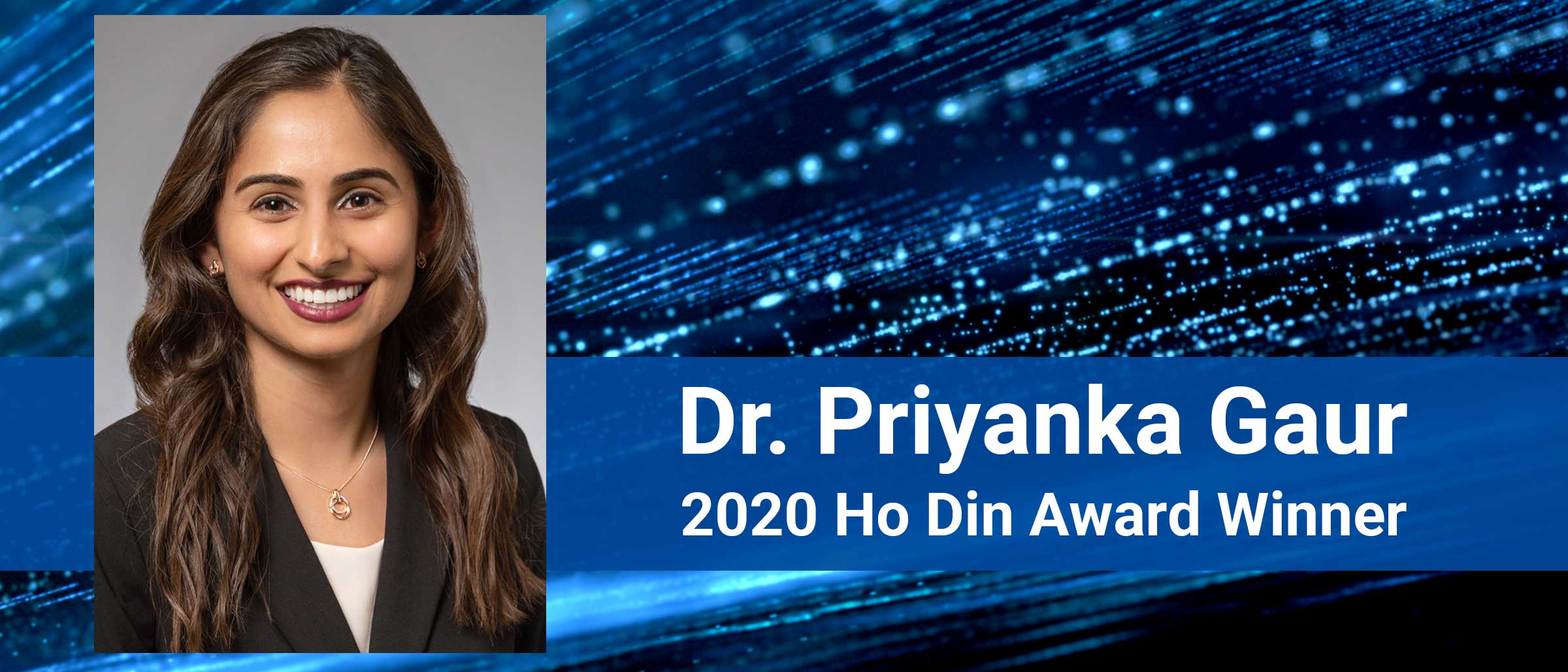 Dr. Priyanka Gaur came from a family of engineers on her father's side and doctors on her mother's. She headed off to the Massachusetts Institute of Technology (MIT) for college thinking she would explore engineering, but her desire to care for patients led her to medicine instead.
"In the end, it really came down to wanting to build therapeutic relationships with patients and a fascination for the human body and health care system," explained the recent UT Southwestern Medical School graduate and winner of this year's Ho Din Award, the school's most prestigious and oldest prize for a medical student.
Established in 1943 by Southwestern Medical Foundation, the Ho Din Award recognizes a student with the attributes inherent in great physicians. Presented by a member of the Foundation's Board of Trustees, it comes with a medal, a certificate, and a $10,000 scholarship.
"Dr. Gaur is well-deserving to join the group of previous Ho Din winners," said Dr. Richard Hoffman, Southwestern Medical Foundation Trustee and presenter of the 2020 Ho Din Award.​ "From the excellent academic achievement she has accomplished at UT Southwestern, to her diverse extracurricular activities, to concurrently earning a Master of Public Health degree, it is obvious that she cares deeply for her community, patients, and colleagues."
Dr. Blake Barker, Associate Dean for Student Affairs and Associate Professor of Internal Medicine, spoke highly of Dr. Gaur's traits resulting in the honor.
"Her patients will be thankful to have Priyanka Gaur as their physician," Dr. Barker said. "She truly represents the exemplary qualities of a modern physician, including her clinical acumen, ability to work effectively within a team, and – most of all – her humanism at the bedside."
The aspiring Ob/Gyn is a first-generation American. Her parents met in India and moved here so her mom could complete a medical residency and become a doctor just like her sister and brother, and so her father could complete his master's degree in computer science and work as an engineer, just as his father had.
She grew up in Austin, where she received the Outstanding Student Award for the Department of Sciences her senior year of high school. Still, medicine was not a given. "I really liked math as well," she said.
But by her sophomore year at MIT, Dr. Gaur had decided to pursue medicine. "My heartstrings were pulling me to this profession," she said. After suffering a mild concussion while playing on MIT's soccer team, she became interested in the brain and graduated with a bachelor's degree in brain and cognitive science.
"I could never have guessed when I entered medical school that I would go into Ob/Gyn," she said recently. But while working her way through rotations in the various specialties at UT Southwestern, her heart tugged at her again.
She recalls helping deliver her first baby during her third year. The mother was an 18-year-old giving birth to her first child with her husband by her side. The baby was large and the labor long, but once the baby boy arrived, "I just remember the mom tearing up with happiness."
"Seeing the mom's face is the best feeling in the world," Dr. Gaur said. "They just have so much love in their eyes."
For Dr. Gaur, it was also love – and not just because of the chance to witness new life. "Obstetrics and gynecology allows the physician to follow women throughout their lifetime. You're able to counsel, educate, empower, and build continuity through both exceptional and routine moments," she said. "I don't think any other specialty allows you to partake in such a rich depth of surgery and medicine and in all stages of a patient's life. With so much potential for human impact, that in itself is stimulating and exciting."
There was yet another attraction. Dr. Gaur combined a Master of Public Health with her medical degree, receiving an M.D./M.P.H., and plans to use that expertise to pursue public policy research. While in medical school, she founded a group called SPARC (Student Patient Advocates for the Rights of Our Communities) to get fellow students involved in political, economic, and social issues surrounding access to health care.
She was also active in FROGS (Future Residents of Obstetrics & Gynecology) and wants to study topics such as access to contraception and why the maternal mortality rate is so much higher for black mothers.
During her third year, Dr. Gaur did a study at Parkland Health & Hospital System that found the lack of child care was a major reason women miss medical appointments. Now Parkland is adding a hospital-based child care facility, expected to open this fall.
In addition to the Ho Din, Dr. Gaur received the 2020 Southwestern Gynecologic Assembly Award, given annually to an outstanding UT Southwestern graduate pursuing a career in obstetrics and gynecology.
"I want to be the fiercest advocate for women and the best clinician, and I think Ob/Gyn allows me to do all those things," Dr. Gaur said.
"Not only has Priyanka excelled academically and clinically, she has demonstrated a clear passion for patient and peer advocacy in many roles," said Dr. Angela Mihalic, Dean of Medical Students, Associate Dean for Student Affairs, and a Distinguished Teaching Professor in Pediatrics. "I have no doubt that she will be a force of nature advocating for her patients, and that she will make an impact on a grand scale to improve the health of her community and society at large."
Kathleen M. Gibson, President and CEO of Southwestern Medical Foundation, said the Foundation is delighted to present the Ho Din Award and scholarship to a physician of the character and courage of Dr. Gaur. "Her wisdom and insights are inspiring as she commits to a career in public health to address significant unmet needs in women's health," she added.
Dr. Gaur will begin her Ob/Gyn residency at Johns Hopkins Hospital this July.
Before that adventure begins, however, she has another waiting. On May 30 – public health issues permitting – Dr. Gaur will marry Akash Agarwal, whom she met her freshman year at MIT and is now an engineer.