Doctoral student Cody Ruhl to receive UT System research fellowship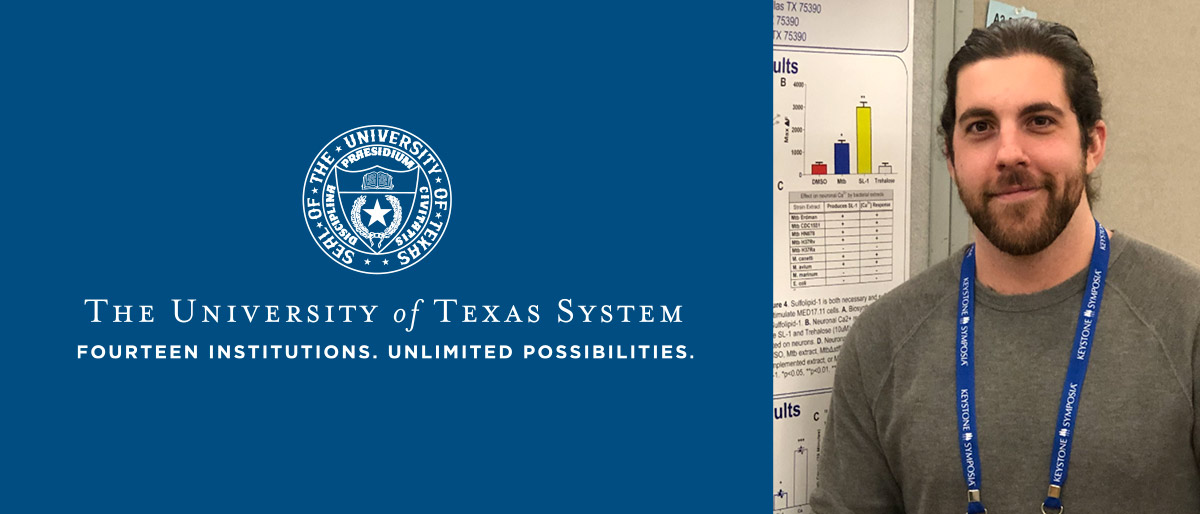 Cody Ruhl, a fourth-year doctoral student in the Biological Chemistry Graduate Program at UT Southwestern, has been selected to receive a Jess Hay Chancellor's Graduate Student Research Fellowship award from the UT System for 2020-2021.
Mr. Ruhl is pursuing his dissertation research in the laboratory of Dr. Michael Shiloh, Associate Professor of Internal Medicine and Microbiology. Dr. Shiloh is an infectious disease specialist who focuses on tuberculosis (TB), which kills about 1.5 million people worldwide each year.
The Hay Research Fellowships are designed to tie graduate education to timely and high-quality research. Two annual $15,000 fellowships rotate among 12 applicable UT institutions, benefiting both an academic and health institution each year. At UTSW, the institutional nominee is approved by Dr. W. P. Andrew Lee, Executive Vice President for Academic Affairs, Provost, and Dean, UT Southwestern Medical School.
"I feel incredibly honored to have received the Jess Hay Fellowship knowing the amount of great research being done throughout the UT system," Mr. Ruhl said. "This support will help continue our lab's research on the transmission biology of airborne infectious diseases, which seems more important than ever during this pandemic."
His research project relates to the cause of cough during tuberculosis infection, Dr. Shiloh explained. He identified a molecule called sulfolipid-1 produced by the bacteria that causes tuberculosis, Mycobacterium tuberculosis, that triggers coughing and that this mechanism is likely responsible for the very high rate of transmission of Mycobacterium tuberculosis. Furthermore, Dr. Shiloh said, the principles uncovered by Mr. Ruhl's work have the potential to affect studies of cough and transmission of other pathogens such as coronavirus, measles, influenza, and whooping cough.
"I am thrilled that Cody is being recognized for his hard work and creativity during his graduate studies. This award is also a testament to the strength of science at UT Southwestern, the encouragement of his thesis committee, and outstanding collaborators at UT Southwestern and UT Dallas," Dr. Shiloh said. "In this era of COVID-19, it is critical to continue to support basic studies on infectious diseases both old, like tuberculosis, and new, like COVID-19. Cody and I greatly appreciate the support of the Jess Hay Endowment."
The fellowships were established by former Regent Jess Hay, a Dallas financial executive who passed away in 2015. Mr. Hay was an advocate and visionary leader for the UT System, serving from 1977 to 1989 as a member of the Board of Regents and for 2½ years as its Chairman.
Mr. Ruhl, who is from a military family, grew up near Fort Hood, cultivating an ongoing love of music, dogs, and science. The latter really kicked in when he majored in biochemistry at Texas A&M University, mentored other students, and gained two years of experience in an infectious disease drug discovery lab at A&M.
Mr. Ruhl's graduate biological chemistry work will continue for at least another year, adjusting for any COVID-19-related delays in his lab-based investigations. After earning his doctorate degree, he plans to secure a postdoc position at a drug discovery/drug design lab that has an emphasis on structural biology.
"I have been interested in drug design for a long time now," Mr. Ruhl said. "I truly love the excitement of making new discoveries and being able to help the scientific community better understand the complex systems going on around all of us every day."