Abraham, Champine honored as 'outstanding' educators by UT System Board of Regents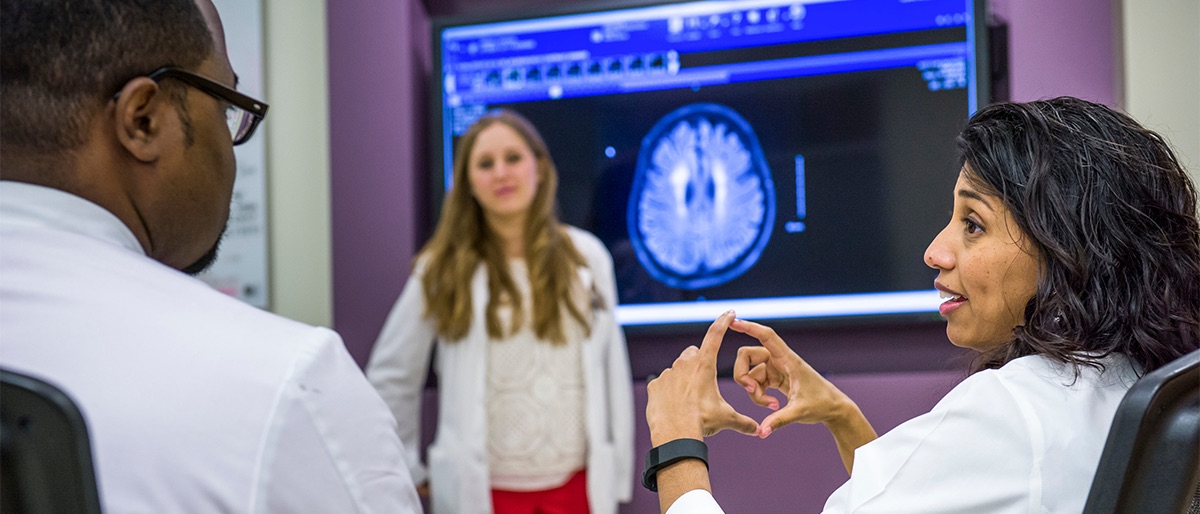 Dr. Reeni Abraham, Associate Professor of Internal Medicine, and Dr. Julie Champine, Professor of Radiology, have been recognized with the UT System's highest educational honor – the Regents' Outstanding Teaching Award – for their academic prowess and mentoring talent.
With their selection as recipients of 2020 Regents' Outstanding Teaching Awards (ROTA), UT Southwestern now has 53 faculty members who have been honored with the Regents' award, which recognizes outstanding teaching, mentoring, and personal commitment to students and the learning process.
"Dr. Abraham and Dr. Champine are exemplary scholars and educators, as evidenced by their inclusion in the UT Southwestern Academy of Teachers, and we are delighted that the Board of Regents has recognized their commitment to our students and other learners. Their dedication and talents as teachers enable UT Southwestern to prepare outstanding future physicians and scientists who will improve the health and well-being of our community and those beyond," said Dr. Daniel K. Podolsky, President of UT Southwestern.
Drs. Abraham and Champine, both Distinguished Teaching Professors at UTSW, are among 11 educators receiving health awards this year. Due to ongoing COVID-19 safety protocols, the 2020 ROTA event was presented virtually to UT System faculty members during the Board of Regents' Aug. 20 meeting. This year's honorees were recognized with a video during the Regents' meeting, which can be viewed on the ROTA website.
"These awards demonstrate the Board's appreciation for exceptional educators at each of the 14 UT institutions," Board of Regents Chairman Kevin P. Eltife said. "Their dedication to teaching excellence and student success is instrumental to achieving our education, research and health care missions."
Recipients receive a certificate, a medallion, and $25,000 in appreciation for their impact on students and their institutions.
"Great teachers inspire, motivate and challenge their students," UT System Chancellor James B. Milliken said. "We honor these outstanding educators for their service to Texas and Texans."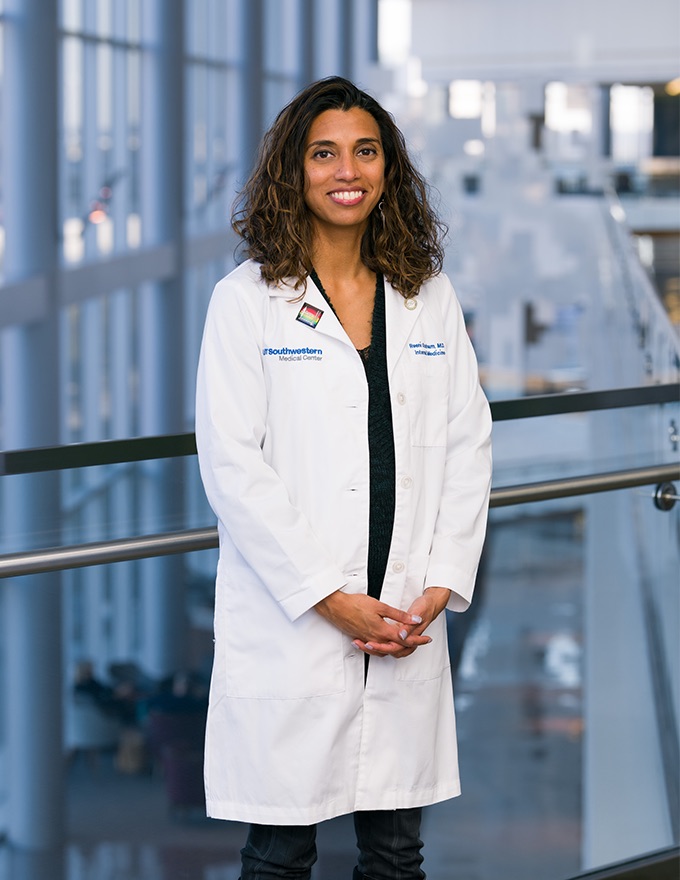 Dr. Reeni Abraham
Dr. Abraham, who joined the UTSW faculty in 2009, serves as the Internal Medicine Clerkship Co-director and as a Colleges mentor. She passionately strives to create a safe educational environment in which learners continually grow in the application of evidence-based medicine, aspire to view medicine with empathy from their patients' perspectives, and employ reflection in their daily practice. 
She has worked as a perioperative specialist, coordinating the care of patients with many co-morbidities across health care systems. Most recently, she has focused clinically as an academic hospitalist at both William P. Clements Jr. University Hospital and Parkland Memorial Hospital, as well as a palliative care physician at Parkland.
Dr. Abraham is winner of the 2018 Gold Humanism Scholar Award, a 2019 inductee into the UT System' s Kenneth I. Shine Academy of Health Science Education, and a 2020 selection into the UT Southwestern Academy of Teachers (SWAT). The Academy represents an elite group of UTSW educators who strive to provide an academic and organizational environment that fosters excellence in teaching at all levels. Dr. Abraham said that three words – "joy in practice" – serve as the inspiration for the medical education system she aims to create for UTSW learners and the future patients and society they will serve.
"Autonomy – the principle that all people desire to direct their own life and need the freedom to try out and test new ideas – is the foundation of my central teaching philosophy: Set the bar high and show them the map," said Dr. Abraham, who has been selected by graduating students as a faculty marshal for four Medical School commencements. "Encouraging learners to reach a little higher to achieve their mission and embrace the journey along the way is my ultimate teaching goal."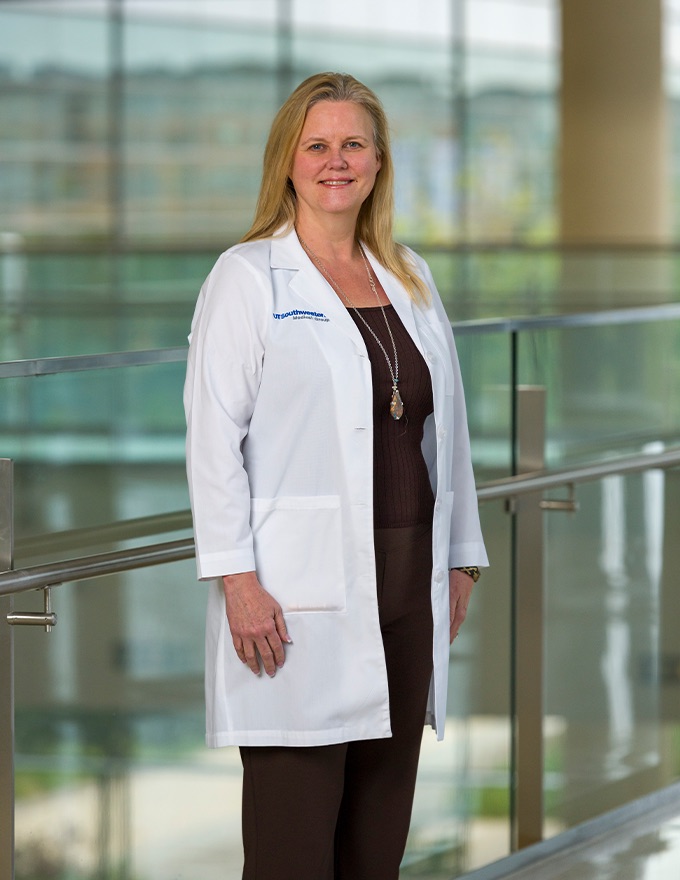 Dr. Julie Champine
Dr. Champine leads the Medical School's Radiologic Anatomy course and serves on numerous educational groups, including the Radiology Residency Curriculum Committee, the Future of Radiology Medical Education Committee, and the Curriculum Reform Committee. Her affiliation with UTSW began in 1989 with her diagnostic radiology internship, followed by her residency, as well as a fellowship, in advanced MRI training.
She has been recognized with Outstanding Teacher Awards from the Medical School Classes of 2009, 2011, 2014, 2015, 2019, and 2020, and received the UTSW Radiology Resident Teaching Award in 1998 and 2019. As testament to her dedication and accomplishments, in 2017 she was inducted into SWAT.
A member of Radiology's Abdominal Imaging Division, her clinical interests include genitourinary radiology, contrast media, and information technology. Dr. Champine's investigations on abdominal imaging, Doppler ultrasound, genitourinary imaging, and percutaneous abdominal interventional procedures have led to multiple publications and contributions to textbooks.
"My teaching philosophy is rooted in progressive experiential learning, collaboration, and adaptability of educational methodologies to evolving environments," Dr. Champine said. "Flexibility is something we have all had to especially embrace in the past few months. I'm still excited to integrate new technology and new methods into instruction, resulting in the collective shared enthusiasm for learning by both the student and the teacher."