Nephrologist Palmer scales educational heights with prestigious Piper Professor Award recognition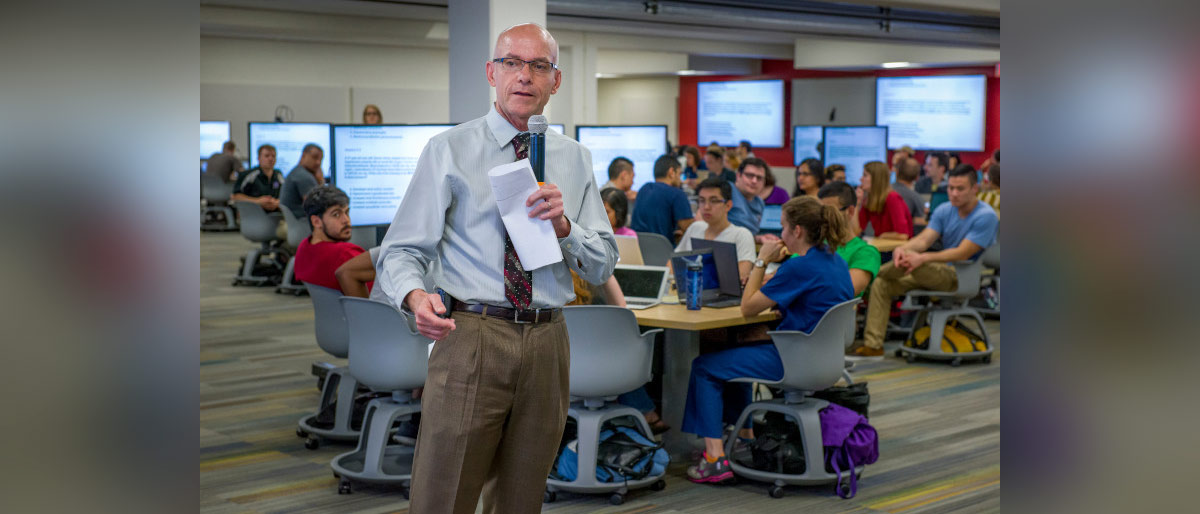 Dr. Biff F. Palmer, Professor of Internal Medicine, has been selected to receive the Minnie Stevens Piper Foundation's 2020 Piper Professor Award, an elite honor that recognizes outstanding college professors across Texas.
Previously honored as a Distinguished Teaching Professor by the University, Dr. Palmer is the 16th UT Southwestern faculty member to receive the award, established in 1958 to highlight dedication to teaching and outstanding academic achievement. This year's recognition marks the sixth time in the past eight years that a UTSW faculty member has been so honored.
"Dr. Palmer is an outstanding choice for the prestigious Piper Professor Award," said Dr. W. P. Andrew Lee, Executive Vice President for Academic Affairs, Provost, and Dean of the Medical School. "He excels in the breadth and variety of his educational acumen, the quantity and quality of his teaching abilities, his innovation in curriculum development, and his strong commitment to improving the quality of medical education at UT Southwestern."
Dr. Palmer, a 1981 graduate of UT Southwestern Medical School and an avid mountain climber who has ascended the Seven Summits – the tallest mountains on each of the seven continents – said his appreciation of teaching and climbing are a shared passion.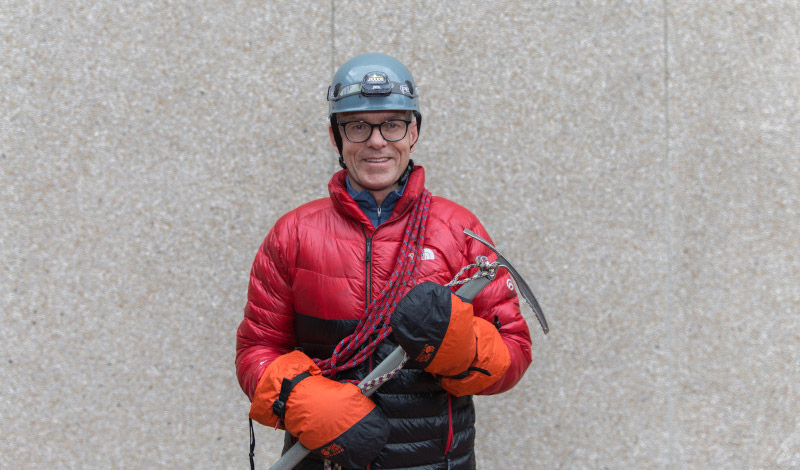 "I am so incredibly honored and so humbled that I have been able to achieve my lifelong goals," he said. "As both a medical student and faculty member at UT Southwestern, I am grateful to the many mentors who influenced my career, most notable Dr. Donald Seldin who saw in me the ability to take complex subject matter and present it in such a way that makes it understandable. I am also blessed because, like climbing Mount Everest, I have been afforded the opportunity to accomplish things that I am truly passionate about. I very much appreciate the opportunity to educate and touch so many people's lives."
As part of the nomination, Dr. David Johnson, Professor and former Chair of Internal Medicine, said Dr. Palmer is uniquely qualified for this award as he has consistently made outstanding contributions in all phases of medical education since joining the faculty in 1989.
"He has been recognized locally, nationally, and internationally as an outstanding educator and has brought distinction to UT Southwestern through his accomplishments not only as a teacher and an educator, but also through all of his academic achievements," Dr. Johnson said.
Dr. Palmer, a faculty member in the Division of Nephrology, completed his residency in internal medicine at Walter Reed Army Medical Center in Washington, D.C. He then pursued a research fellowship in nephrology at the Walter Reed Army Institute of Research and a clinical fellowship in nephrology at UT Southwestern-Parkland Memorial Hospital.
Returning to the UTSW campus, Dr. Palmer said, was fortuitous in his career.
"My mentors recognized my skills and worked with me to become the scholar I am today," he said. "They instilled in me that in order to really attain knowledge, you must teach it. I had the opportunity to be exposed to some of the greatest educators of their time, and they taught me the importance of not only presenting in the classroom, but also the importance of publications and teaching through writing."
Dr. Palmer has written more than 260 articles and chapters, including four first author papers in the New England Journal of Medicine. He serves as an Associate Editor for the American Journal of Nephrology and is on the editorial boards of Clinical Nephrology, the American Journal of Kidney Diseases, and the Clinical Journal of the American Society of Nephrology. He served six years on the nephrology subspecialty board for the American Board of Internal Medicine.
"Throughout my career I have relied on two words – why not? I ask this of myself whenever I am challenged. This simple phrase pushes me forward and away from what might be 'comfortable.' I believe when we push ourselves into realms that are less comfortable, we are perfectly positioned to learn more about ourselves and how best to help and mentor those around us," he said.
After more than three decades serving as a preeminent UTSW teacher and mentor, Dr. Palmer strives to continuously reciprocate the energy and enthusiasm he feels and obtains from faculty colleagues and the learners around him.
"My mentors have instilled in me the importance of sharing knowledge," Dr. Palmer noted. "I am energized when I teach in education's different forms – large didactic classrooms, small groups, one-on-one mentorship, and publications. My goal is to ignite passion and enthusiasm for subject matter, thereby developing and facilitating a foundation for lifelong learning."
Piper Professor Award
The Piper Foundation was created in 1950 by Randall Gordon Piper and Minnie Stevens Piper. In 1951, it launched a loan program that allowed economically disadvantaged students in Texas to attend college. After the Pipers died in 1955, their Foundation initiated the Piper Scholars Program for undergraduates, the Pipers Fellows Program for graduate students, and the Piper Professors Program to recognize inspiring educators. For Professors, each university in Texas is allowed one nomination per year, with 10 being selected for recognition. Previous Piper Professors on the UTSW faculty include: