Q&A with Dr. Elan D. Louis, Chair of Neurology and Neurotherapeutics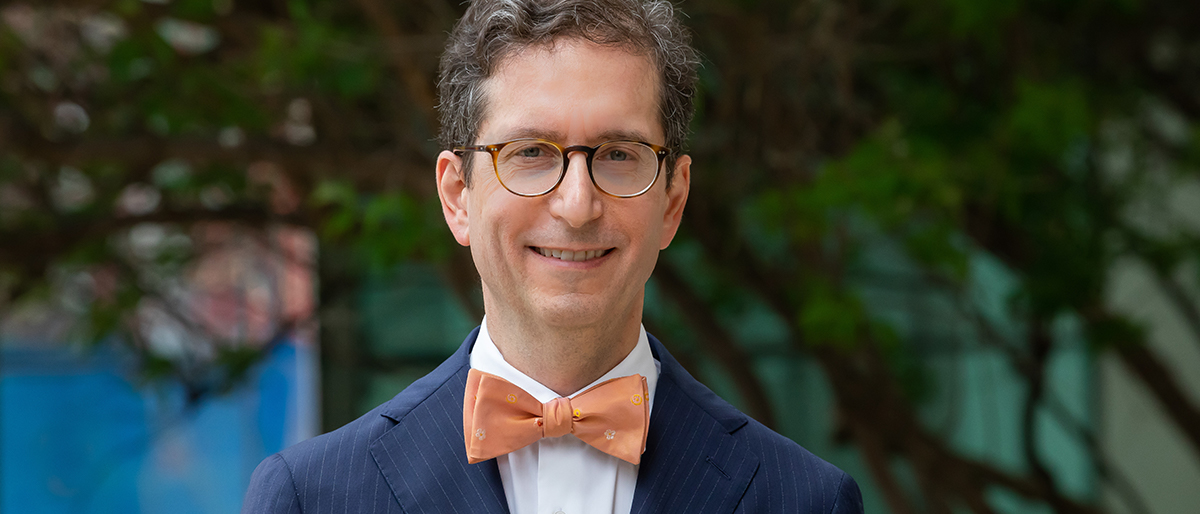 In April, Dr. Elan D. Louis joined UT Southwestern as Chair of Neurology and Neurotherapeutics. Considered by many to be the world's leading scholar on tremor disorders, particularly the most common of these, essential tremor (ET), Dr. Louis has conducted pioneering investigations on the epidemiology, genetics, and underlying pathology of ET and related tremor disorders.
Dr. Louis came to UTSW from the Yale School of Medicine, where he served from 2015 to 2020 as Professor of Neurology and Epidemiology, Chief of the Division of Movement Disorders, Associate Chair for Outpatient Research in Neurology, and co-Director of the Center for Neuroepidemiology and Clinical Neurological Research. Previously, he was a Professor of Neurology and Epidemiology at Columbia University's College of Physicians and Surgeons, where he once worked with Dr. William T. Dauer, now Director of UT Southwestern's Peter O'Donnell Jr. Brain Institute.
Dr. Louis is committed to raising the national profile of the Department of Neurology and Neurotherapeutics.
"Now is the time to appraise and reexamine everything in the Department, a time to redesign, to build and create," he said. "We are on the move."
Shortly after arriving on campus, Dr. Louis answered some questions for Center Times about his vision for the Department.
What are your goals as Chair of the Department of Neurology and Neurotherapeutics?
My goals are to enhance the clinical, research, and educational efforts of the Department. We will develop a broad and vibrant research portfolio and increase the number of faculty who are receiving external grant support, particularly from the National Institutes of Health. In the next five years, I would like to catapult the Department to be among the top 15 neurology departments in NIH funding, and in the next 10 years to reach the top 10. We will aim high and we will succeed.
Additionally, I would like us to design and put in place new destination clinical programs and programs of excellence to enhance and enrich what we as neurologists do best – take care of our patients. In education, which involves medical students, residents, and fellows, the Department already does wonderful things, and I would like to extend our reach so we draw in the best applicants from all over the country.
When trainees come here, I would like them to come to a Department that is as vibrant as possible and which offers unique opportunities for growth and development. Trainees should feel like kids in a candy store – wherever they look there is something that is interesting and enticing, something to learn more about, to delve into, and to explore. I'd like there to be as many varieties of candies as possible.
How is the field of neurology evolving?
Across the country, neurology is undergoing a period of tremendous growth, a renaissance, with more subspecialization and new treatments coming into being. This is the result, in part, of greater collaborative efforts, both within and across institutions. With the rise of the O'Donnell Brain Institute, and our own efforts, I believe that UT Southwestern Neurology will be propelled to a new level in the clinical, research, educational, and scholarly spheres. Now is our time.
How do you see the partnership between Neurology and the O'Donnell Brain Institute evolving?
Dr. Dauer (Director of the O'Donnell Brain Institute) and I go back many years. We were residents together and junior faculty in the same department at Columbia, so we are spun from the same cloth and have a similar vision of promoting excellence within the institution. Dr. Dauer and I meet on a weekly basis to discuss our goals for jointly building new programs and leveraging strengths that Neurology and OBI bring to these joint efforts.
Will you continue your research projects studying essential tremor?
Yes. We have the largest tremor research program in the world, and this is by a long shot. Being at UT Southwestern will open additional opportunities for collaboration with talented investigators here, and our research will continue to evolve into the future. Essential tremor is a neurological disease that affects about 7 million people in the United States and is as much as 20 times more common than Parkinson's disease. Tremors can be mild in some patients or severe in others, and very debilitating. There are only two front-line medications for this incurable condition, which is progressive, and there are no neuroprotective agents. So, there is a great need for better treatment options for patients. These can only evolve out of research and discovery.
What other areas of research would you like to strengthen?
My background is in clinical and epidemiological research, so I would like to strengthen both of those domains. I would also like to enhance laboratory-based research efforts, and then I would like to build bridges between the laboratory and the clinic. By this I mean translational research and experimental therapeutics. There is so much we can do as neurologists and as a Department to advance our field. We stand at the center of the pathway into the future.