Record number of UTSW researchers elected to prestigious National Academy of Sciences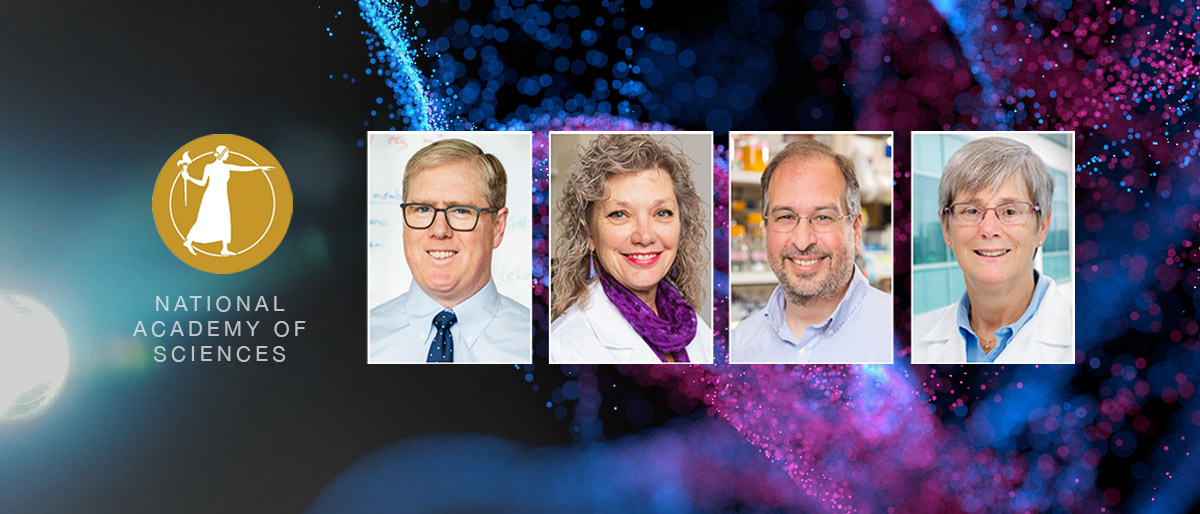 UT Southwestern celebrated a record achievement on April 27 when four faculty members – Drs. Sean Morrison, Kim Orth, Michael Rosen, and Sandra Schmid – were elected to the National Academy of Sciences (NAS), one of the highest honors for American scientists.
The accomplishment marks the first time more than two UTSW scientists have been elected to NAS in a single year. UT Southwestern now has 25 NAS members, including seven women, and the highest overall total of any institution in Texas.
The four scientists were among 120 new U.S. members and 26 international members selected by their peers in recognition of distinguished and continuing achievements in original research at the organization's 157th annual meeting, which was held virtually. They will be formally inducted at next year's event.
Related video: Faculty celebrate with virtual reception

Because of COVID-19 restrictions on large campus gatherings, UT Southwestern leaders instead congratulated the honorees at a virtual reception that included a champagne toast. UT Southwestern President Dr. Daniel K. Podolsky told the new NAS members that he hopes to hold an in-person celebration later.
"Election to the prestigious National Academy of Sciences recognizes the pioneering contributions these scientists have made to advance our understanding of basic cellular function and molecular processes with application to addressing a broad spectrum of unmet medical needs, including cancer and treatments for bacterial infections," Dr. Podolsky said. "Their election enriches the National Academy of Sciences' efforts to provide data and advice on the nation's most critical issues in science, health, and medicine."
"This important recognition by their peers reflects the breadth and quality of research underway at UT Southwestern, and serves as inspiration for new generations of trainees and scientists to carry on the tradition of discovery that is the hallmark of distinguished academic medical centers," added Dr. W. P. Andrew Lee, Executive Vice President for Academic Affairs, Provost, and Dean of UT Southwestern Medical School.
The reception, attended by executive leaders, department chairs, other NAS members, and community philanthropists, was a joyous event honoring the University's history and the illustrious careers of the new NAS members.
Introducing Dr. Orth, Dr. Eric Olson, founding Chair of Molecular Biology, noted that she started as a lab technician at UT Southwestern, then earned her Ph.D. at the University. Following her postdoctoral research, she was his third recruit to the new department.
"I could tell from my initial impression that she was highly excitable, enthusiastic, not shy, and would be a real live wire in our department, that she would be a good recruit. I think I got that right," he said.
Here are the new NAS members, and their reactions at the virtual reception to this high honor:
Dr. Sean Morrison
Director of the Children's Medical Center Research Institute (CRI) at UT Southwestern and Professor of Pediatrics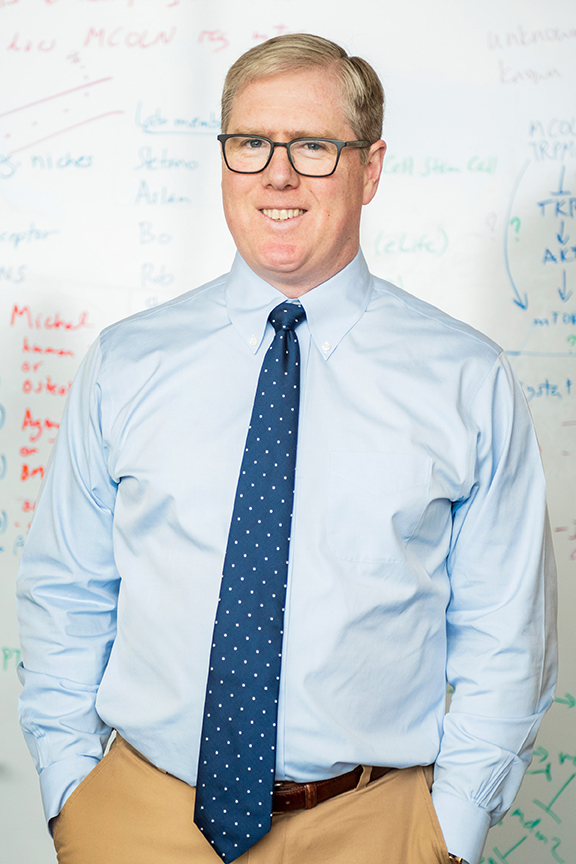 Dr. Morrison, who joined UT Southwestern in 2011 to direct the Children's Medical Center Research Institute at UT Southwestern, has contributed trailblazing discoveries in the fields of stem cell biology and cancer. The Morrison laboratory studies the mechanisms that maintain stem cell function in adult tissues and the ways in which cancer cells hijack these mechanisms to enable the formation of tumors. His achievements include pioneering new methods to purify stem cells from multiple tissues and discovering molecular mechanisms that allow stem cells to persist throughout life and regenerate tissues after injury.
A Howard Hughes Medical Institute (HHMI) Investigator, he was elected to the National Academy of Medicine (NAM) in 2018. He majored in biology and chemistry at Dalhousie University in Canada, received his doctorate in immunology from Stanford University, and completed a postdoctoral fellowship in neurobiology at Caltech. Before coming to UT Southwestern, he was a Professor at the University of Michigan, where he directed its Center for Stem Cell Biology. He is a Cancer Prevention and Research Institute of Texas (CPRIT) Scholar in Cancer Research and member of the Harold C. Simmons Comprehensive Cancer Center.
His reaction: "This recognizes, first and foremost, the work of many talented people over the years in my lab, most of whom have now gone on to their own laboratories at UT Southwestern and other institutions. Many of the key insights for the important discoveries that were made came from them … so this really recognizes their work. I'd also like to acknowledge all my colleagues, all of you at UT Southwestern and at Children's Health, for the incredible environment that you created for science."
Dr. Kim Orth
Professor of Molecular Biology and Biochemistry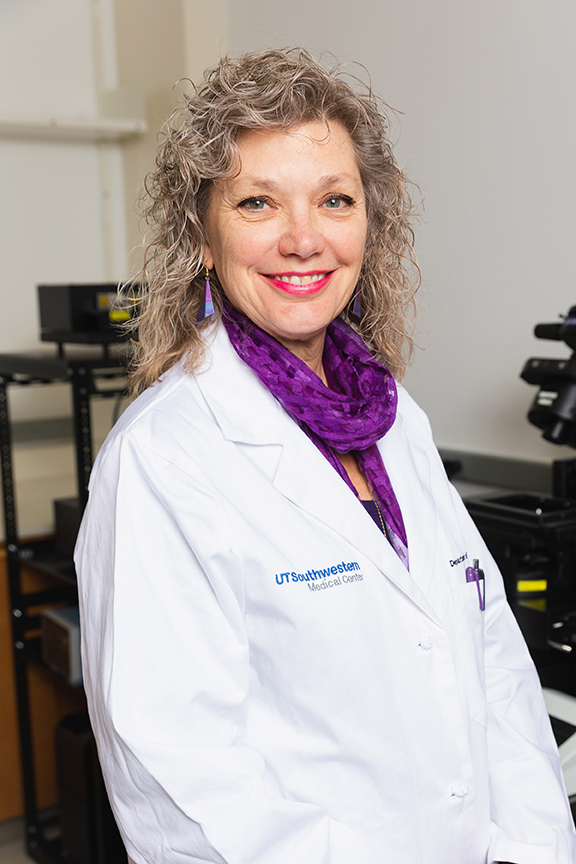 Dr. Orth's discoveries have advanced the understanding of the basic biochemical mechanisms underlying many bacterial infections by identifying new ways that invading bacteria hijack and deregulate a cell's signaling systems. The Orth lab studies how pathogens manipulate host cells for their own benefit, providing insights into bacteria that cause foodborne illnesses.
Also an HHMI Investigator, Dr. Orth earned her undergraduate degree at Texas A&M University. She received her Ph.D. in biochemistry and molecular biology from UT Southwestern, and joined the University's faculty as an endowed scholar in 2001. She has received many honors, including a Burroughs Wellcome Investigator in Pathogenesis of Infectious Disease in 2006, the Norman Hackerman Award in Chemical Research from The Welch Foundation in 2010, the Edith and Peter O'Donnell Award in 2011 from The Academy of Medicine, Engineering and Science of Texas, the American Society for Biochemistry and Molecular Biology (ASBMB) Young Investigator Award in 2012, and the ASBMB Merck Award in 2018.
Her reaction: "I want to thank you all for this wonderful celebration, even though we have to 'Zoom.' Thanks to this amazing institution, UT Southwestern, the wonderful administration – including Drs. Podolsky and Russell and the other administrators and staff. As Eric Olson said, I have moved up the ranks here, starting as a technician, to a student, a postdoc, and now Professor. And this path has driven my success. Another major key to my success is all of the talented people who have worked in my lab and my mentors, friends, collaborators, and, of course, my family."
Dr. Michael Rosen
Chair of Biophysics and Professor in the Cecil H. and Ida Green Comprehensive Center for Molecular, Computational, and Systems Biology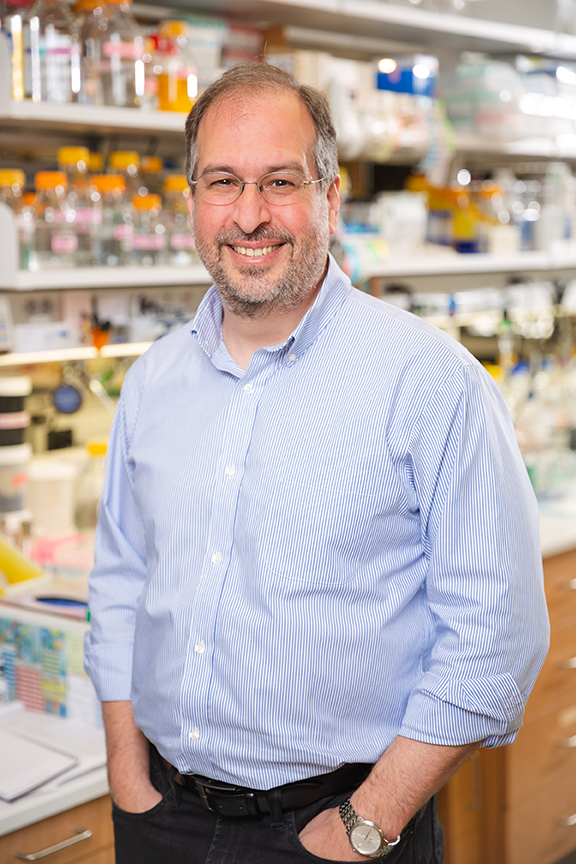 Dr. Rosen, who joined UTSW in 2001, investigates how cells compartmentalize processes without the use of membranes. These phase-separated structures are involved in many cellular mechanisms in health and disease, and represent a fundamental process by which proteins function within the cell. His lab uses biophysical techniques to understand the formation, regulation, and functions of biomolecular condensates – cellular compartments that arise much like the way oil and water droplets separate in a flask.
An HHMI Investigator as well, Dr. Rosen received undergraduate degrees in chemistry and chemical engineering from the University of Michigan, then spent a year as a Winston Churchill Foundation Scholar at the University of Cambridge before earning his Ph.D. from Harvard University in 1993. His many honors include receiving an Edith and Peter O'Donnell Award from The Academy of Medicine, Engineering and Science of Texas in 2006, becoming the University's first Allen Distinguished Investigator in 2018, and winning the 2020 Wiley Prize in Biomedical Sciences.
His reaction: "When we began our work on phase separation about a decade ago, it really was not obvious at all whether this was going to be some weird, esoteric little thing that a few proteins did or (if) it was going to become a more general principle in biology. So it was a tremendous risk that many of us took in making a move in this new direction. More than anything, I want to thank the various people who joined me in taking this great risk a decade ago that I think has proved to be very much worthwhile."
Dr. Sandra Schmid
Professor and Chair of Cell Biology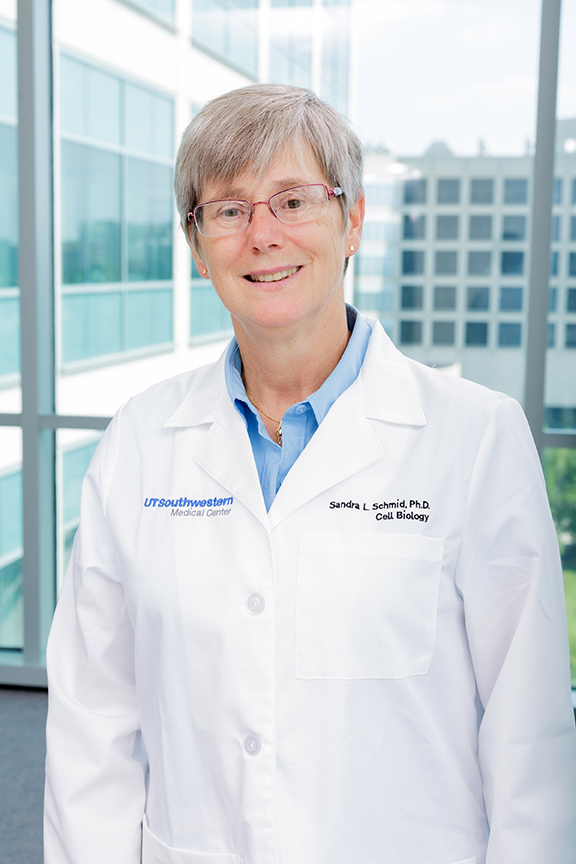 Dr. Schmid, who has announced that she will be joining the Chan-Zuckerberg Biohub in San Francisco as its inaugural Chief Scientific Officer, is internationally recognized for her research on endocytosis – how cells take in nutrients and other molecules. She studies the molecular mechanisms and regulation underlying clathrin-mediated endocytosis, the major pathway for uptake into the cell. A pioneer in defining the GTPase dynamin as a catalyst of membrane fission, Dr. Schmid recently discovered isoform-specific functions of dynamin that are activated in cancer cells.
A UTSW faculty member since 2012, she majored in cell biology at the University of British Columbia and received her doctorate in biochemistry from Stanford University. After a postdoctoral fellowship at Yale University, Dr. Schmid moved to The Scripps Research Institute, serving as Chair of the Department of Cell Biology before being joining UT Southwestern. She is a former President of the American Society for Cell Biology and was elected to the American Academy of Arts and Sciences in 2015. Her numerous honors include the American Society of Biochemistry and Molecular Biology's William C. Rose Award and the Biophysical Society's Sir Bernard Katz Award.
Her reaction: "I've been lucky to start and end my academic career at two unique institutions. As a Ph.D. student in the early '80s, I was supported and challenged by my peers and faculty in the Biochemistry Department at Stanford to ask important questions and do the most impactful research. Over decades, the leadership at UT Southwestern has inspired, supported, and celebrated the very best research creating a collegial culture that breeds success."