Half a century later, Dr. Steven McKnight reflects on how war and a dog changed his life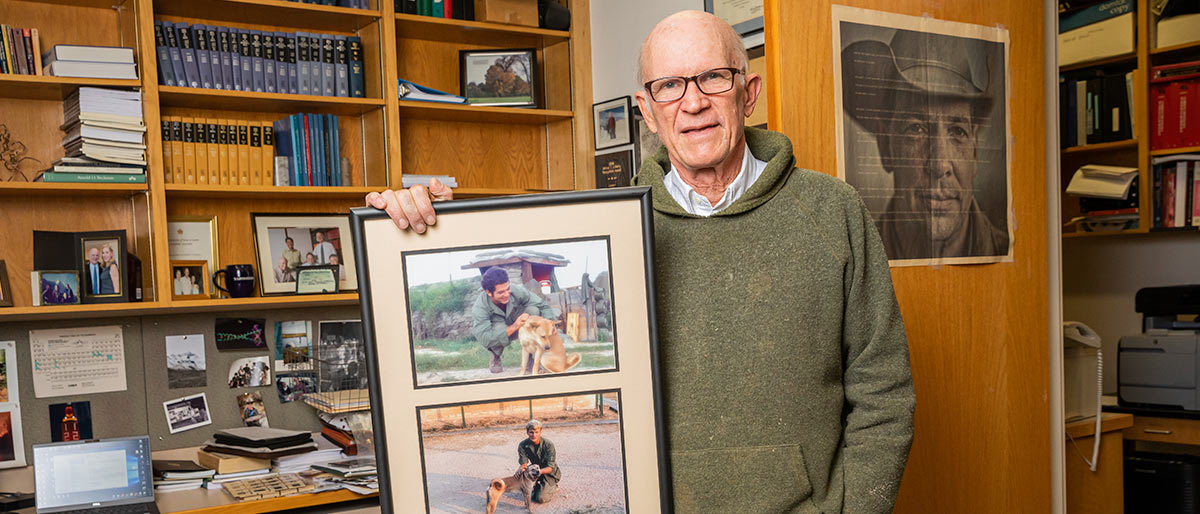 In honor of Veterans Day, Center Times Plus interviewed Dr. Steven McKnight, a longtime faculty member and one of the many UT Southwestern employees who served in the military. UTSW employs nearly 800 veterans, all of whom will be celebrated in a virtual event on Nov. 11.
Dr. Steven McKnight describes himself as "a bumpkin from El Paso, Texas" who went to fight in the Vietnam War because he flunked out of college.
When the esteemed scientist, Professor, and former Chair of the Department of Biochemistry started his first year of college in 1968, he didn't take his studies seriously. "I wasn't interested in studying," Dr. McKnight said. "I was interested in the whole college experience – anything but studying."
After dropping out of UT Austin, his father, a World War II veteran, suggested that Dr. McKnight join the Army to get straightened out. He credits the military with giving him the discipline he would need to become a successful scientist.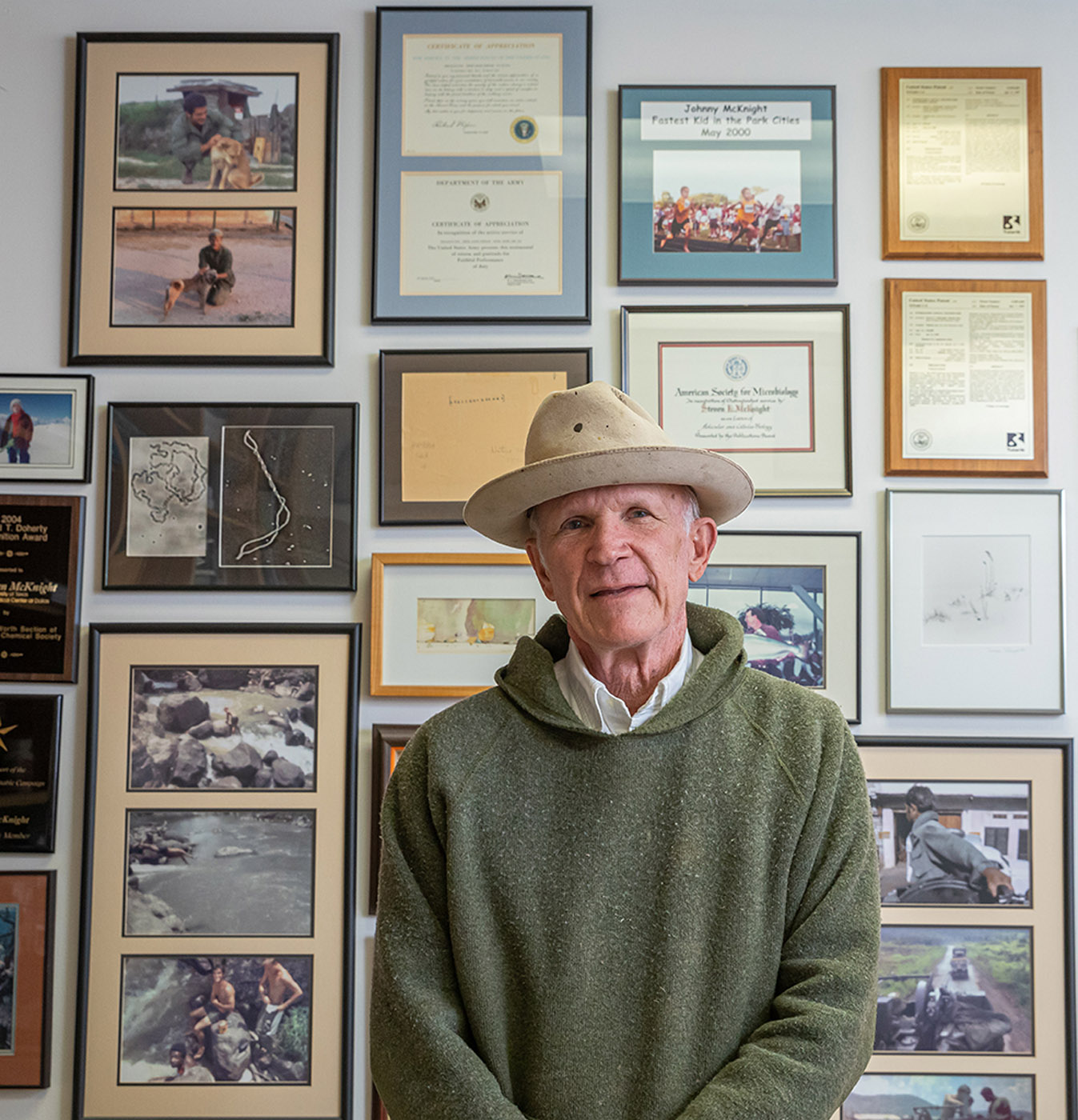 Fifty years ago last month, Dr. McKnight arrived in Vietnam to join the crew of an M42 "Duster," an armored, tracked vehicle with "pom-pom" guns mounted on an open washtub turret.
The 20-year-old Pfc. McKnight joined as an ammo loader in 1970 with five others on the crew – another ammo loader, the tank commander, a gunner, a tank driver, and a beloved dog named Sam, the tank mascot. Sam stuck with the tank wherever it went and was believed to have been with the vehicle for several years, through multiple crews as soldiers cycled in and out of Vietnam on one-year tours of duty.
Running for cover
Just a month into his tour, Dr. McKnight's tank was sent to lead an escort bringing supplies to a fire support base northwest of Saigon. They unwittingly sprung a trap the enemy had set for a convoy exiting the base, and Dr. McKnight's tank hit a land mine. The entire crew, the dog, rifles, and ammo flew into the air. Crew members landed hard, then dashed into the jungle for cover as the enemy unleashed its ambush.
"It changed me. It turned me into a man. Without that, I couldn't have imagined what I would have become because the service teaches you discipline."
U.S. helicopter gunships swooped in, and the enemy quickly retreated because their surprise attack had been sprung from the wrong direction.
The entire crew survived, with some injuries. The dog, Sam, also survived and continued to stick with the crew even though their tank had been destroyed.
Dr. McKnight, his Army buddy Jimmy Poole, and Sam loaded onto a truck to head to their next assignment at a fire support base on the Cambodian border. This time the dog, not the crew, was in for an ambush; the artillery unit at the fire support base had its own mascot, and it was bigger and meaner looking than Sam, complete with a scarred face. The dog took one look at Sam and immediately attacked him. The artillery soldiers cheered on their dog as Dr. McKnight and Mr. Poole watched helplessly. Then, to everyone's surprise, Sam prevailed.
The next morning, the base commander sent Dr. McKnight and Mr. Poole on a fruitless reconnaissance mission. When they returned to the base, Sam was missing. Dr. McKnight asked around, looking for the dog that had come to mean the world to him. A sergeant told him he saw Sam being loaded onto a re-supply truck. Dr. McKnight, still just a private first class, went to the commander, a captain, seeking more answers.
The captain confirmed that he ordered the dog off the base and abandoned near a faraway village; he did not want another dog on the base. Dr. McKnight said he flew into a rage and lunged at the captain as other soldiers dashed in to pull him back and calm him down.
Searching for Sam
Incredibly, he was not punished. Instead, the commander allowed Dr. McKnight to take the next supply truck out to the village and spend much of the day looking for the dog – by himself – in an area known to be infiltrated by the enemy. He could search until the supply truck circled back on its return route. With only a helmet and a rifle, he walked around the village calling Sam's name and asking villagers if they had seen the dog.
"It was a really stupid thing for me to do because I'm a lone GI," Dr. McKnight said. "It was really stupid, but you know when you're young, you're stupid."
His search was unsuccessful, and Dr. McKnight returned to the post where he and Mr. Poole were ordered to take up guard duty for the night. Early into their shift, they got the shock of their lives; they looked out over the terrain and saw Sam trotting toward them. Dr. McKnight said nothing in his life matched that moment's feeling of joy other than the birth of his children and watching his son make a spectacular interception in a Texas state high school football championship game. Somehow the dog had found its way back over more than 30 miles to a fire support base he had been to only once before.
"How in the world he could have found that again, to me, is like magical," said Dr. McKnight, sitting in his office under a framed photo of Mr. Poole wearing fatigues, kneeling down on the ground with his arms wrapped around Sam.
Dr. McKnight decided Sam would not be lost again. He paid two months' wages to get the dog its required shots and arrange to have him flown from Saigon to El Paso for safekeeping with his family until he finished his tour in Vietnam. The dog was shipped off, and Dr. McKnight and Mr. Poole were sent to man machine guns in the Central Highlands for the last three months of their time in Vietnam.
In those final months, the Army seemed to lose track of them, and they did not receive a single piece of mail from friends or family. Dr. McKnight said he felt another surge of joy when it was finally time to return home. As soon as he landed in the United States, he called his family and learned the devastating news: On Sam's way to the United States, he was accidentally let out of his cage at the San Francisco airport and lost. Never seen again.
"It broke my heart," Dr. McKnight said, declining to elaborate.
Serving during an unpopular war
About his service in the war itself, Dr. McKnight said he has mixed feelings.
"I feel that I served my country, so I'm proud of myself for not being a coward, not dodging the draft – not that I have anything against people who were smart enough not to go. But I know it was a bad war. It was a mistake. It was something our country never should have done, so it's a mixed feeling," he said.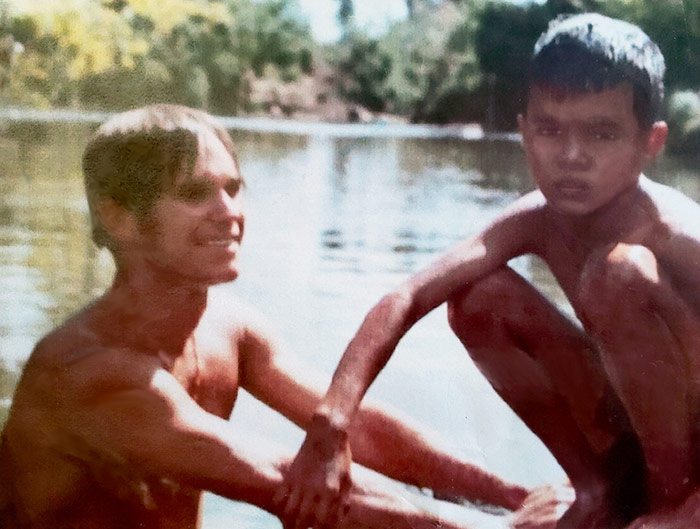 While the war was bad, the long-term effect of his military service was not.
"It changed me. It turned me into a man. Without that, I couldn't have imagined what I would have become because the service teaches you discipline," he said.
As an enlisted man on a tank crew in a failing war, Dr. McKnight said he felt like he was at the bottom of the barrel.
"When I came back, I had a new attitude toward education. Education was useful, so I studied hard," he said. He re-enrolled at UT Austin as a biology major. "I had no idea I was going to be a scientist. I just wanted to somehow get through college, see if I could compete in college, get a degree. That's all I wanted to do."
Falling in love with science
With the goal of eventually becoming a high school science teacher, he took his studies more seriously and was particularly enthralled by a class in developmental biology taught by Gary Freeman.
"I couldn't believe how cool it was, so I took his second course and I just loved it. And after I did well in his second course, he said, 'Would you like to have a job working in my lab this summer?' I said, 'Sure.'"
"After working in this guy's lab for one summer, he said, 'You know, you're pretty good at this. Have you ever thought about being a scientist?' I said, 'No. What do you have to do?' He said, 'Well, you have to get the union card.' I said, 'What's the union card?' He said, 'It's called a Ph.D.' And I said, 'Well, what is a Ph.D.?'"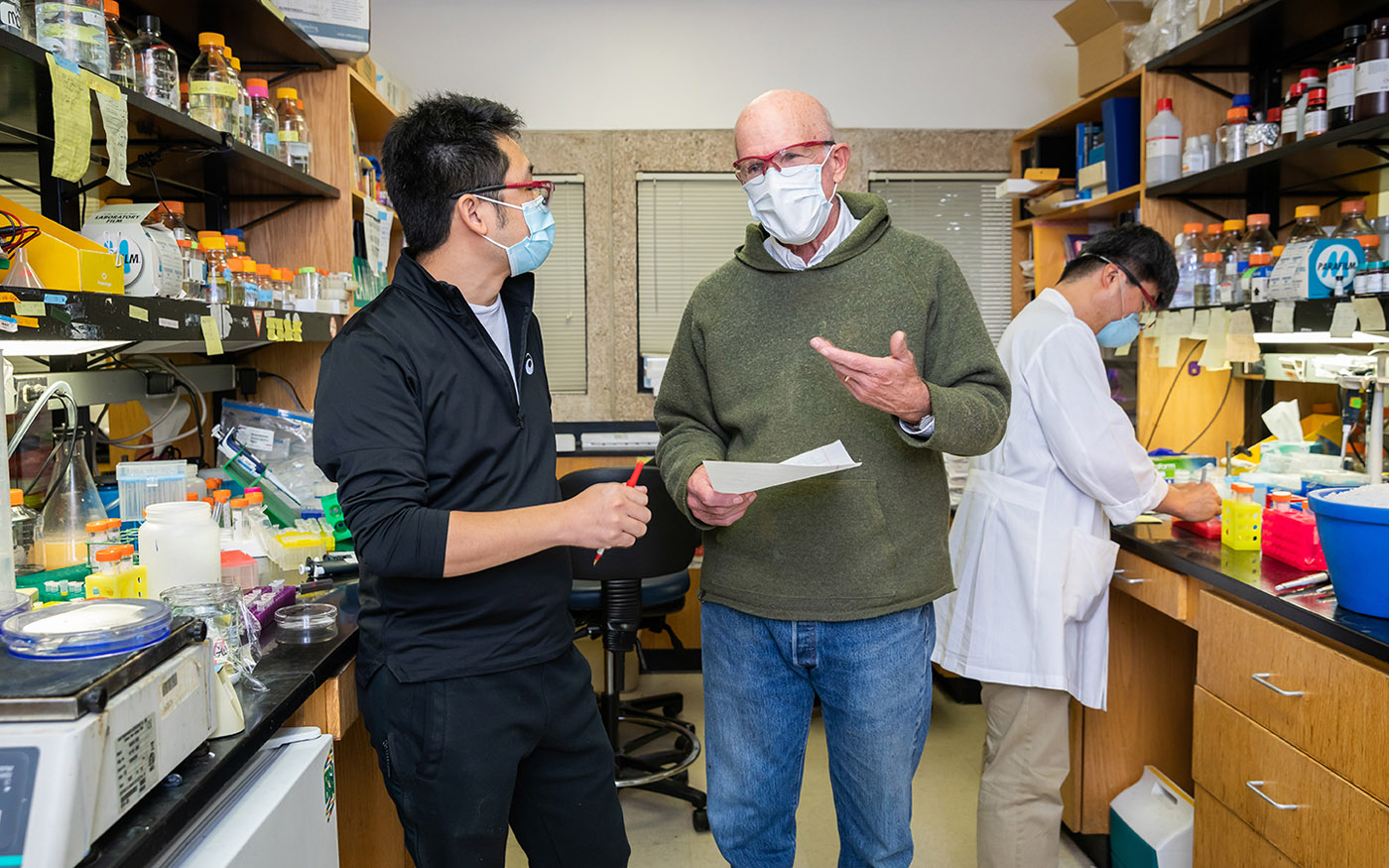 Dr. McKnight followed his mentor's advice, earned a Ph.D. and went on to a distinguished career in science at Johns Hopkins University and later UT Southwestern, where he served as Chair of Biochemistry for 21 years. He pursued science with the philosophy that excessive caution is the road to mediocrity.
"The vast majority of scientists take no risks. They'll never make discoveries. They wouldn't know discoveries if it bumped them in the face," he said. "I don't want to do anything that anyone else is doing. If someone else is doing it, I quit – that day. If someone else is studying the same thing as me, I quit. Let them have it."
Groundbreaking discoveries
In 1997, Dr. McKnight and fellow researcher Dr. David Russell, now Vice Provost and Dean of Research, discovered the HIF-2α protein and identified its role in increasing oxygen supply needed for kidney cancer growth. That led to two decades of continued research at UT Southwestern and elsewhere to find a drug that could inhibit the protein. In 2010, UT Southwestern licensed several chemicals as cancer drug candidates to Peloton Therapeutics, a biotech company founded by Dr. McKnight. That company was purchased by Merck & Co. last year, and a promising HIF-2α inhibitor known as MK-6482 is now in phase two and phase three clinical trials. The Food and Drug Administration has granted it Breakthrough Therapy and orphan drug designations to expedite its development and review.
Over the years, Dr. McKnight has been honored many times for his research. A member of both the National Academy of Sciences and National Academy of Medicine, he has received the Monsanto Award from NAS, the Eli Lilly Award from the American Society for Microbiology, the Wiley Prize in Biomedical Sciences, and the National Institutes of Health Director's Pioneer Award. In October, he was named the 2020 recipient of the Robert A. Welch Award in Chemistry.
Dr. McKnight continues to lead a lab of about five people – no bigger than his Vietnam tank crew – and said he views the work the same way he did when he studied developmental biology at UT Austin.
"As I got into it, I just loved it. It never felt like work, even to this day," he said. "It's not work. It's just incredibly fun."