Maddrey named Professor Emeritus of Internal Medicine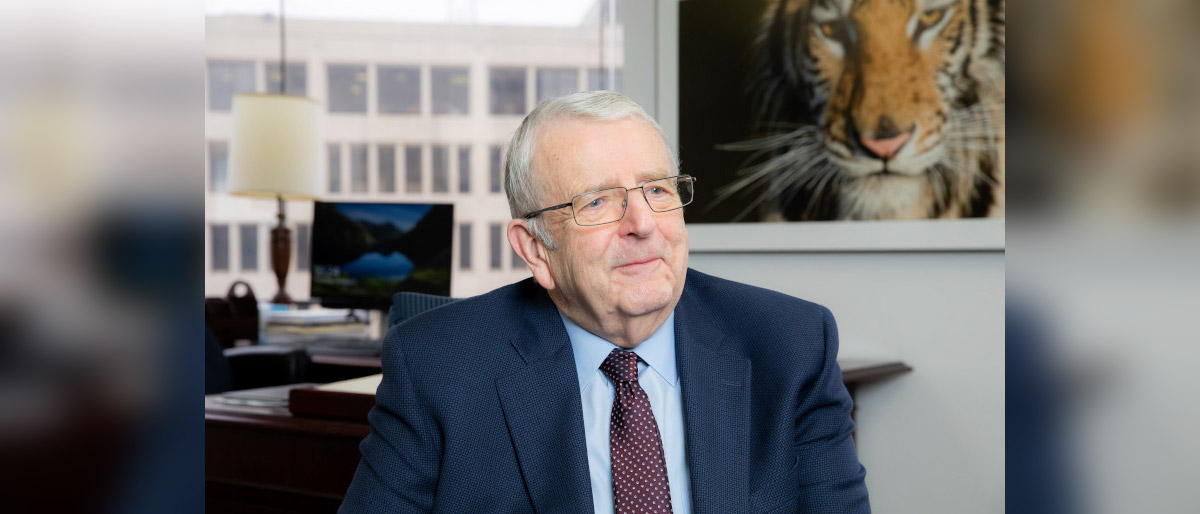 Dr. Willis Crocker Maddrey, an accomplished academic and clinical leader at UT Southwestern for three decades, has been named Professor Emeritus of Internal Medicine. Recognized as one of the world's leading authorities on liver disease, he has also served with distinction in the Medical Center's administration as Special Assistant to the President for the past 11 years.
Following his recruitment to UT Southwestern in 1990 as Vice President for Clinical Affairs and Professor of Internal Medicine, Dr. Maddrey led the integration of private clinical care at the Medical Center while continuing a distinguished academic career. He has authored seminal textbooks and pursued extensive research in the areas of drug- and alcohol-induced liver disease, liver transplantation, chronic viral hepatitis, and primary biliary cholangitis.
His national leadership roles include serving as President of both the American College of Physicians and the American Association for the Study of Liver Diseases (AASLD). His career accomplishments have been recognized with the Distinguished Service Award of the AASLD, Distinguished Educator Award from the American Gastroenterological Association, and the Distinguished Alumnus Award of the Johns Hopkins University School of Medicine. He is a member of the Johns Hopkins Society of Scholars.
"Dr. Maddrey's contributions to our understanding of liver disease have aided countless patients directly and indirectly as well as generations of physicians," said Dr. Daniel K. Podolsky, President of UT Southwestern, who appointed Dr. Maddrey as Special Assistant to the President in 2009. "I am also tremendously grateful for his thoughtful counsel and exceptional leadership in developing UT Southwestern's clinical enterprise. He has had a profound impact on the Medical Center."
At UTSW, Dr. Maddrey held the Arnold N. and Carol S. Ablon Professorship in Biomedical Science and the Adelyn and Edmund M. Hoffman Distinguished Chair in Medical Science.
He began his 30-year affiliation with UT Southwestern tasked with filling the then-newly opened Zale Lipshy University Hospital.
"UT Southwestern, in conjunction with the Dallas community, had just established its first private hospital, and my job was to make our clinical services up to par with the biomedical sciences and the education and training at UT Southwestern," Dr. Maddrey said of the challenge set before him by then-President Dr. Kern Wildenthal, now President Emeritus, and then-Dean Dr. William Neaves.
Since then, Dr. Maddrey's influence proved invaluable in helping to recruit legions of UT Southwestern clinicians, researchers, administrators, deans, and executives.
"We were interested in attracting the very best physicians to allow us to compete with the best," he said. "We wanted to be able to continue our scientific leadership while developing and delivering excellent clinical care."
The Medical Center's clinical enterprise has blossomed with the opening of the 460-bed William P. Clements Jr. University Hospital in 2014, and the opening of the third tower at Clements next fall will expand inpatient operations to more than 750 beds.
The son of a physician, Dr. Maddrey grew up in the small North Carolina community of Roanoke Rapids. He graduated summa cum laude from Wake Forest University and earned his medical degree in 1964 from Johns Hopkins University School of Medicine.
"My father, Milner Crocker Maddrey, was a superb physician, surgeon, and role model," Dr. Maddrey said. "While in medical school, I developed my interest in internal medicine and, subsequently, hepatology."
He completed his residency on the Osler Medical Service of The Johns Hopkins Hospital, where he was chief medical resident in 1969, followed by two years in India as a U.S. Public Health Service officer with the National Institutes of Health. His subsequent fellowship was in liver disease at Yale University School of Medicine, under the influence and leadership of Dr. Gerald Klatskin.
Dr. Maddrey joined the Johns Hopkins faculty in 1971, served as Assistant Dean from 1975-1979 while directing the liver unit, and subsequently served as Associate Physician-in-Chief. He became Magee Professor and Chairman of the Department of Internal Medicine at Thomas Jefferson University's Jefferson Medical College (now the Sidney Kimmel Medical College) in 1982 and served in that capacity until his recruitment to UT Southwestern. Dr. Maddrey served as Executive Vice President for Clinical Affairs from 1993 to 2009.
In addition to numerous teaching awards from Johns Hopkins, Jefferson Medical College, and UT Southwestern, he is a Fellow of the Royal College of Physicians of London, Royal College of Physicians of Glasgow, Royal College of Physicians of Edinburgh, and Royal Australasian College of Physicians.
An accomplished lecturer, Dr. Maddrey published extensively and has edited or co-edited nine books, including Transplantation of the Liver and Schiff's Diseases of the Liver, considered authoritative texts in the field. He has also served on editorial boards and held editing positions at numerous journals including Medicine, The American Journal of Medicine, Gastroenterology, and Hepatology.
Dr. Maddrey has contributed as well to numerous professional and community organizations, serving on the boards of the American Liver Foundation, Dallas County Medical Society, Senior Citizens of Greater Dallas, Dallas Zoo, and Dallas Opera. He served as Chairman of the Board of both the Moncrief Cancer Institute and the UT Southwestern Health System.
"I have been fortunate to work with leaders with great vision," Dr. Maddrey said. "I hope I'll be remembered for helping young physicians develop their careers. My tenure at UT Southwestern has been gratifying. It has been an honor and a great pleasure to participate in the further emergence of UT Southwestern as one of the leading medical universities in the world."