In Memoriam: Dr. Kenneth J. Leveno provided transformative obstetrics leadership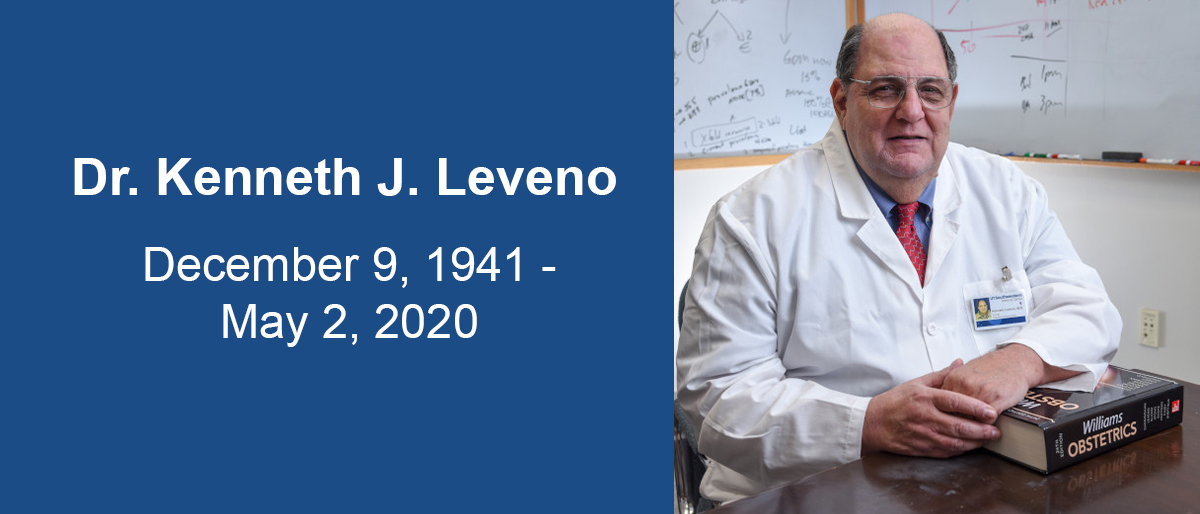 Dr. Kenneth J. Leveno, a Professor of Obstetrics and Gynecology at UT Southwestern whose leadership helped transform the obstetrical service at Parkland Memorial Hospital into a preeminent model of clinical care and educational opportunity, died May 2. He was 78.
Most recently Vice Chair for Clinical Research in the UTSW Department of Obstetrics and Gynecology, Dr. Leveno championed translational investigations throughout his 44-year career at the University, often challenging colleagues and learners to think big about their work. He also was revered for his compassionate bedside care and highly respected as an academic mentor who supported the career development of countless residents, fellows, and junior faculty.
"Dr. Leveno was a true leader in American obstetrics and helped to shape its practice through his groundbreaking clinical research and opinions, hundreds of peer-reviewed publications, and participation in numerous national debates," said Dr. W. P. Andrew Lee, Executive Vice President for Academic Affairs, Provost, and Dean of UT Southwestern Medical School. "In addition to his impact on patients, Dr. Leveno had a profound influence on the careers of many in science and medicine."
Dr. Steven Bloom, Chair of Obstetrics and Gynecology, counts himself among those he influenced, having interacted with Dr. Leveno while a UT Southwestern Medical School student, as an OB/Gyn intern and resident at Parkland, and as a faculty colleague.
"Dr. Leveno was a true triple threat – he was a highly skilled clinician, a brilliant researcher, and an inspiring teacher. For me as a student and trainee, and for many of my peers, we were drawn to the health care system that he was the key architect of," Dr. Bloom said. "He created an exemplary public health program for pregnant women. And as passionate as he was about patient care, he was equally passionate about measuring that care and analyzing outcomes to discover what worked and what didn't."
The son of Italian immigrants, Dr. Leveno came to UTSW in 1976 as a fellow in maternal-fetal medicine and became an Ob/Gyn faculty member in 1978. Dr. Leveno also served as an editor for Williams Obstetrics, the authoritative text in the field. He co-authored the 19th through 25th editions.
In 1984, Dr. Leveno became the third Chief of Obstetrics at Parkland, a position he would keep for more than 20 years. Through his leadership, Dr. Leveno helped transform the obstetrical (OB) service into a gold standard model that led the nation in deliveries for several years. Many elements of today's Parkland OB service – practice guidelines, labor and delivery triage operations, the midwifery service, and a computerized database that measures the quality of care delivered – were the result of his commitment to the highest quality of care. Dr. Leveno demanded excellence from every resident, reminding them to treat every patient with respect and dignity, no matter their social circumstances.
A University of Notre Dame graduate, Dr. Leveno earned his M.D. from Creighton School of Medicine in 1968 where he completed a general surgery internship. He served in the U.S. Army Medical Corps from 1969 to 1973. Stationed in Army hospitals in Europe, the would-be heart surgeon was called upon to perform all medical services for military families, including delivering babies. That soon became his career-long calling.
Dr. Leveno is survived by Margie, his wife of 54 years, four sons and one daughter and their spouses, and five grandchildren. One son and daughter-in-law – Dr. Matt Leveno, Assistant Professor of Internal Medicine, and Dr. Teresa Chan-Leveno, Associate Professor of Otolaryngology – Head & Neck Surgery – serve on the UTSW faculty.