Celebrating UT Southwestern's 'Leaders in Clinical Excellence'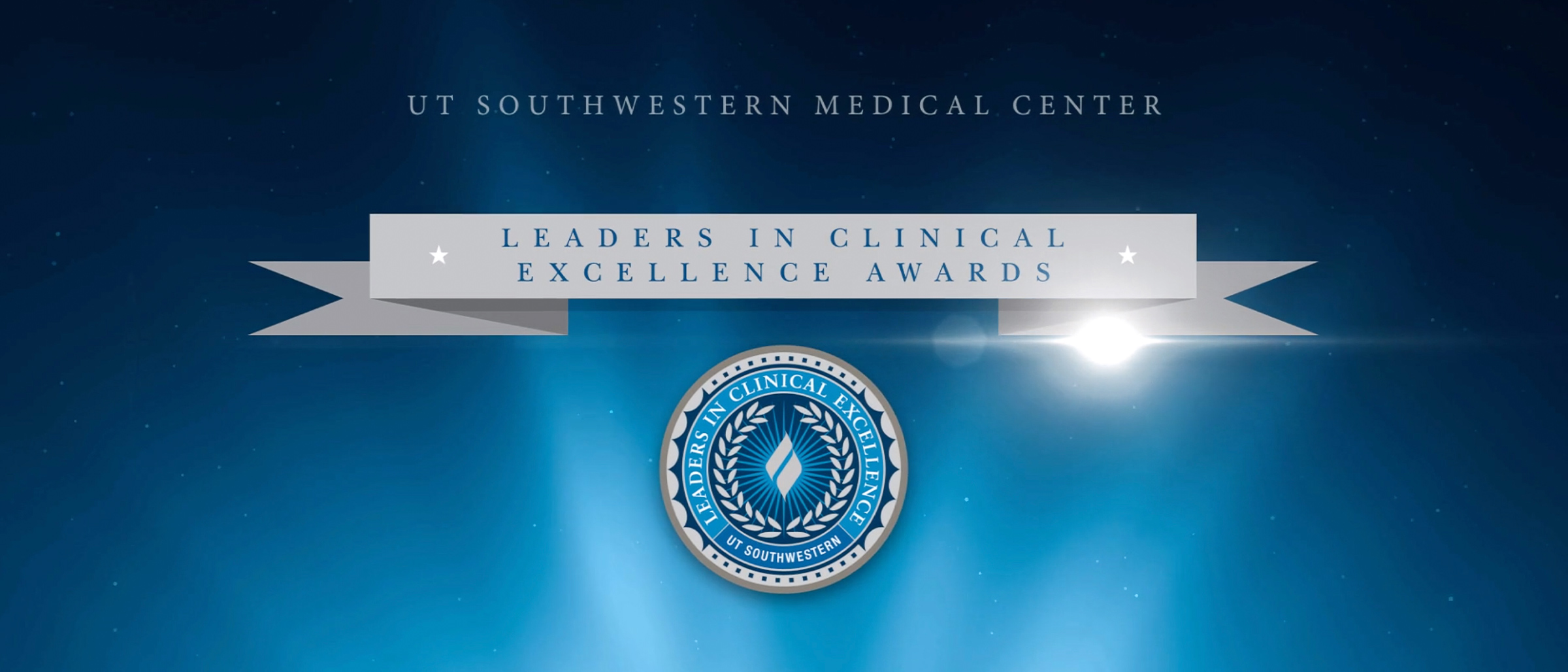 More than a dozen outstanding clinical faculty were honored at UT Southwestern's third annual Leaders in Clinical Excellence Awards, which were established in 2018 to recognize the exceptional contributions of clinical faculty to the care of our patients, to the education of the next generation of health care professionals, and to UT Southwestern overall.
Each award recipient serves as an inspiration to all of us in the delivery of care to our patients and in service to our institution. Learn more about each of the 19 award recipients in seven categories – and what motivates them toward patient care excellence.
As the Dec. 2 event was virtual, awardees submitted heartfelt responses from the comfort of their homes that highlighted their passion and pride for their work.
To enlarge any video below, click on the "fullscreen" icon at the far right of the video player.
---
Presented by Dr. W. P. Andrew Lee, Executive Vice President for Academic Affairs, Provost, and Dean, UT Southwestern Medical School
Rising Star Award
Jaime Almandoz, M.D., MBA
Assistant Professor of Internal Medicine
"It's a privilege to work in a collegial environment and to feel support from every level. Helping people to make the changes that are right for their health and their body is a very rewarding experience, and I think it's a real privilege to be on that journey with them."
Neil Desai, M.D.
Assistant Professor of Radiation Oncology
"Being part of something bigger than yourself is very much a part of being in a profession like medicine. That ability to support risky ventures, innovative thinking, and push you out of your comfort zone, that's been the biggest gift that UT Southwestern has given me."
Brad Lega, M.D.
Associate Professor of Neurological Surgery, Neurology, and Psychiatry
Peter O'Donnell Jr. Brain Institute
"Working at UT Southwestern, the collaborations are what make my job very enjoyable. All the other people involved in the care of the patient are all working so hard, and you want to feel like you're living up to that standard."
Megan Maxwell, M.D.
Assistant Professor of Anesthesiology and Pain Management
"We work at an academic center where we have such strong leadership and such strong female leadership, and I hope that I can perpetuate that throughout my career.."
Mentoring Award
Susan Hedayati, M.D., M.H.Sc.
Professor of Internal Medicine – Nephrology
Director, Nephrology Clinical and Population Health Research
Associate Vice Chair, Research and Faculty Development
"Whether they're medical students, residents or fellows, or even junior faculty, I'm really, really grateful to have the opportunity to influence young lives. It's kind of like a relationship with your children. I realize that the time is very limited. It goes by really fast, so I try to make the largest impact that I can while I have them."
Una Makris, M.D., M.Sc.
Associate Professor of Internal Medicine and
Population and Data Sciences
Division of Rheumatic Diseases
"By sharing our expertise and our experiences in the clinical setting, in education, and in research, we can not only train the next generation but also improve outcomes for our patients and our communities. I'm really accepting this award on behalf of all of the mentees and mentors who invest their time, their energy, and their expertise in these important roles."
---
Presented by Dr. John Warner, Executive Vice President for Health System Affairs:
Patient and Family Recognition Award
Kevin Courtney, M.D., Ph.D.
Associate Professor of Internal Medicine – Hematology and Oncology
Co-leader of the Genitourinary Oncology Disease-Oriented Team
Harold C. Simmons Comprehensive Cancer Center
"I am motivated every day by my patients and the outstanding colleagues with whom I work. This is a unique place where the delivery of compassionate and high-quality patient care is emphasized and appreciated among all of the providers and promoted by the institution."
A. Thomas Hyslop, M.D.
Assistant Professor of Obstetrics and Gynecology
"Sometimes it takes a little extra work to put in that extra few moments with a patient to really understand their life. Listen to your patients and the blessings will come back to you more than you could have ever known."
Catherine Ikemba, M.D.
Associate Professor of Pediatrics
Division of Cardiology
Director, Fetal Heart Program
"I learn from my patients, I teach my patients, and I hope that I make difficult situations a little bit easier. I went into medicine to help people, and it's really that longitudinal following of patients that I truly enjoy."
Joel Wells, M.D., M.P.H.
Assistant Professor of Orthopaedic Surgery
UT Southwestern Orthopaedic Surgery Clinic
Sports Medicine Clinic at Richardson/Plano
"I love to operate, but what I really truly love and strive for is improving a patient's quality of life. It doesn't matter how much you know, they want to know how much you truly care. I want every patient to be treated like they were a part of my family."
Program Development Award
Abdominal Transplant Program
Steven Hanish, M.D.
Associate Professor of Surgery and Surgical Director of Liver Transplantation
Jorge Marrero, M.D.
Professor of Internal Medicine and Medical Director of Liver Transplantation
Parsia A. Vagefi, M.D.
Associate Professor of Surgery and Chief, Division of Surgical Transplantation
David Wojciechowski, D.O.
Associate Professor of Internal Medicine and Surgery and Medical Director of Kidney Transplantation
Dr. Vagefi: "It is a true honor to be recognized by our peers for the work done in the Abdominal Transplant Program, particularly in such a challenging year as this past year. The abdominal transplant team is a wonderful group of individuals who come together to really help pass on the gift of life."
Care of the Vulnerable Elderly (COVE) program
Namirah Jamshed, M.D.
Associate Professor of Internal Medicine and
Family and Community Medicine
"It has been a team effort, with every team member working to their full potential. We're especially grateful to our patients and caregivers who put their trust in us and allowed us to be in their homes."
---
Presented by Dr. Daniel K. Podolsky, President of UT Southwestern Medical Center:
Institutional Service Award
Cecelia (Shiela) Brewington, M.D., FACR
Professor of Radiology
Vice Chair of Clinical Operations
Chief of Community Radiology
"It really takes a family to run an institution of this size. And every project, every initiative that I've been fortunate to participate in over these many years has included a team of like-minded people trying to make the difference."
Carol Croft, M.D.
Professor of Internal Medicine
"I share this recognition with a broad group of people from across UT Southwestern who've shown a great commitment to the mission of the institution. There is a sense of collaboration and mutual respect here that I think makes us more effective, and it's just nice to see that in my daily work."
The President's Award for Diversity and Humanism in Clinical Care
Naomi Winick, M.D.
Professor of Pediatrics
Division of Pediatric Hematology and Oncology
"It's important to listen, it's important to treat those you serve, those you work with, and everyone around you with the respect that they deserve."
Patricia and William L. Watson Jr., M.D. Award for Excellence in Clinical Medicine
Mark Drazner, M.D., M.Sc.
Professor of Internal Medicine
Clinical Chief of Cardiology
"In medical school, I liked what I was doing, but when I came to UT Southwestern for medicine residency, that's really when I fell in love with medicine. The fact that we strive for excellence here but at the same time do it in a fun, supportive environment, that's really when it left from being a job to a calling to be a physician."